Bitcoin just made another bull move, this time breaking the 2019 high of $9444 and reaching $9590 before a brief hourly consolidation. Volume however indicates the possibility of another leg up in the next hours. The RSI is overextended on the 1 hour chart, the 4 hour chart and the daily chart.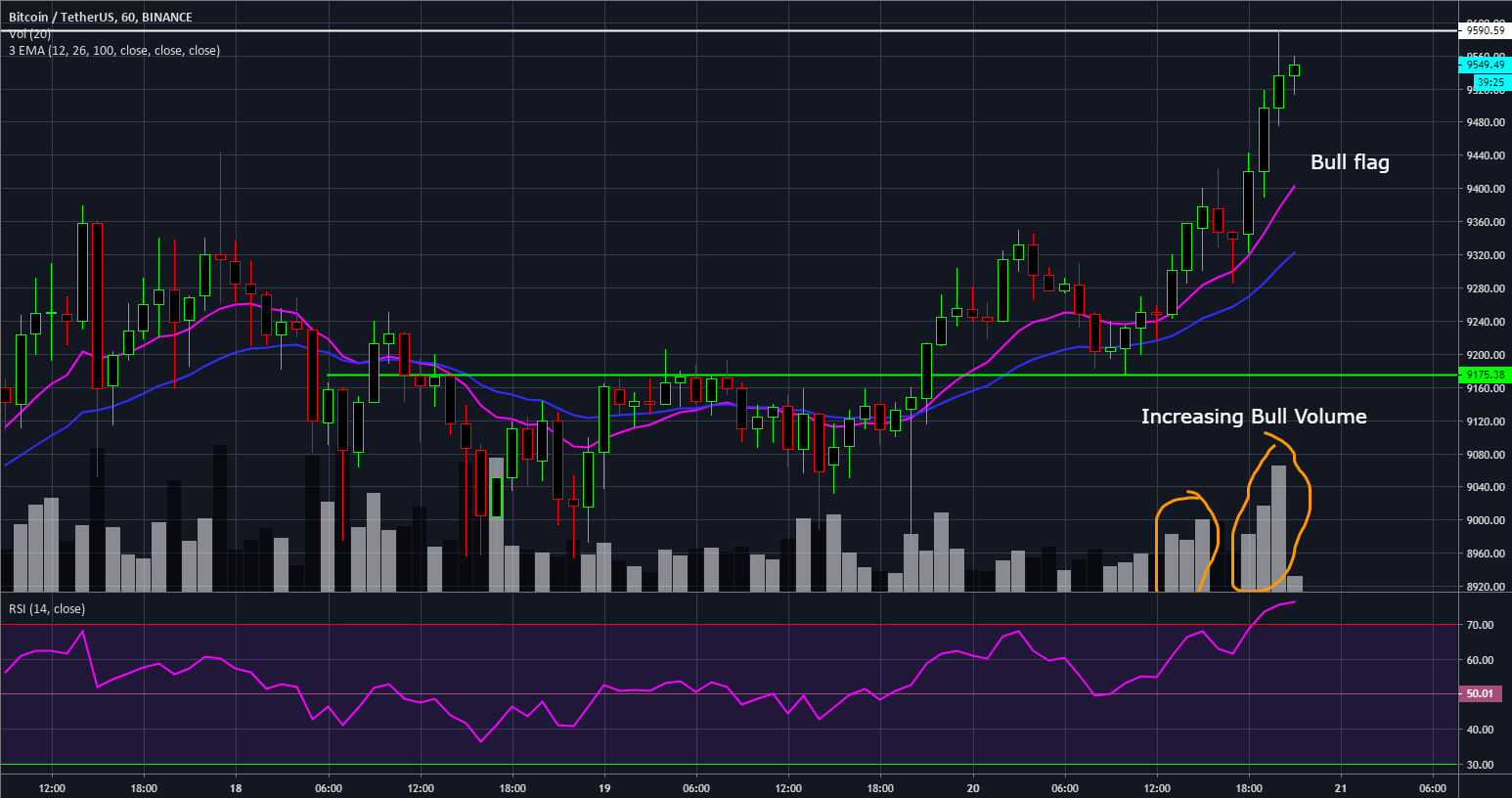 The hourly chart is forming a very clear bull flag that could be confirmed within 24 hours. There isn't much resistance ahead until $10000 which will certainly be a key point to break. A lot of FOMO will certainly settle in and we could see some wild action like back in 2017. Some consolidation however, is needed and would actually benefit Bitcoin.
Bitcoin is clearly dominant over the rest of the cryptocurrencies and it's pretty much the only crypto to break bullish today besides BNB. The RSI for BTC/USD/Shorts is overextended and historically this has always translated to Bitcoin climbing up. The possibility of a short squeeze is very present right now, if we break the $10000 level, a short squeeze would be imminent considering how many shorts are opened right now.
$BTC – monthly MACD flirting with its first Bull cross in over 3 years…as well as first positive #bitcoin Hystogram in over a year…
Need month to close out for confirmation, initial touches tend to get rejected on the first attempt to cross… pic.twitter.com/Tgf529Ybcu

— Chonis Trading-⚔️ (@BigChonis) June 20, 2019
About Whaleagent
Whaleagent.club is the Most accurate crypto signals group in the world. We provide easy to follow educated signals that are based on Market research & Technical Analysis. Our signals are being shared to monitor our personal trades aka journey. We are trading at Bitmex, Bittrex, Binance. If you want to watch our Trades in live, simply subscribe via the website as a Premium Member.
Image Credits: TradingView