It's no surprise to see Bitcoin pullback after 13 weeks of higher lows. Bitcoin was forming another tightening pattern, this time it broke bearish after we broke the low of $8005. Bears had a good amount of continuation and were able to bring Bitcoin down to $7481.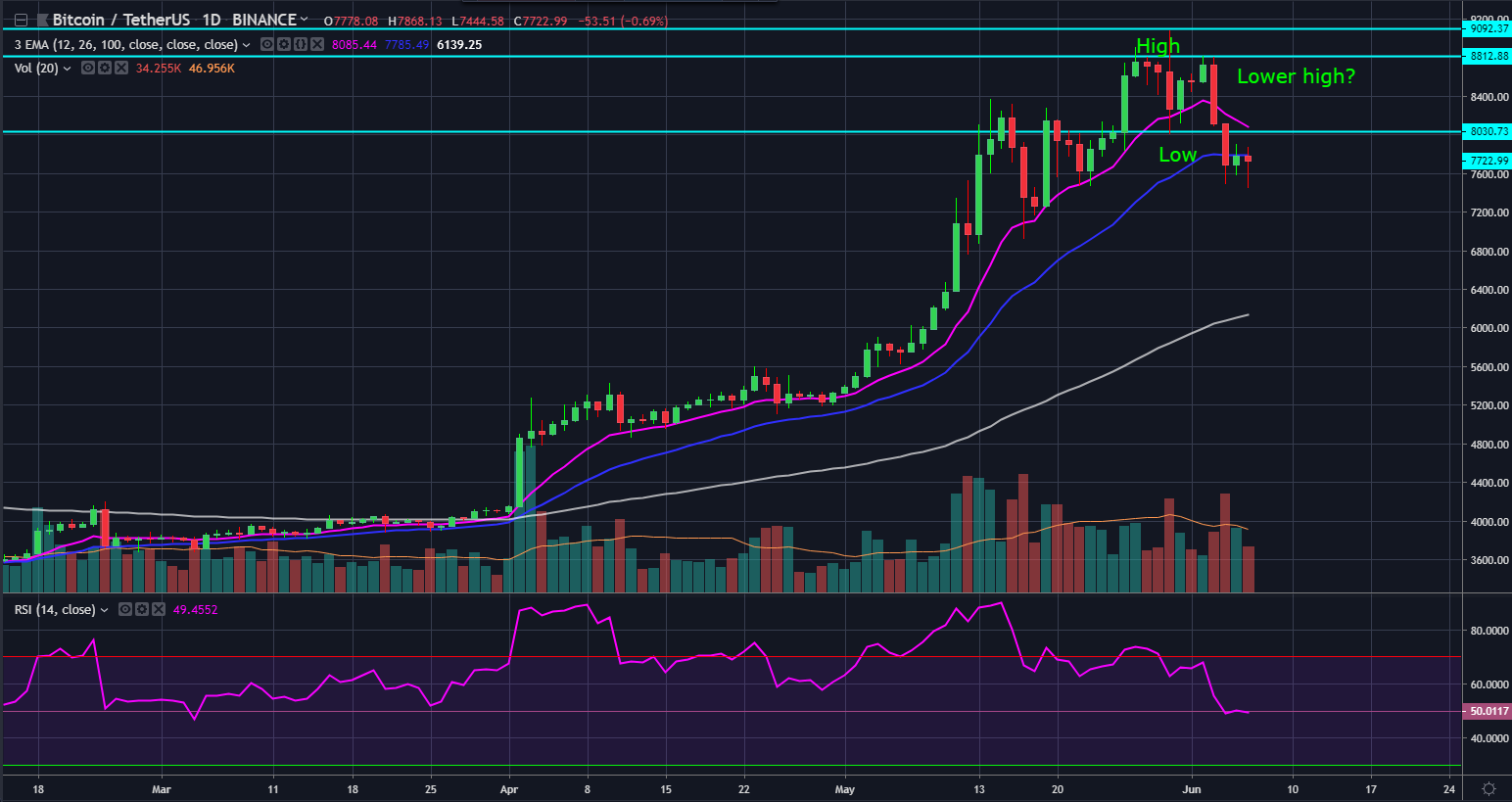 The daily chart is certainly showing signs of a trend change, we are now currently in a downtrend on the daily chart and bears are trying to form a bear flag. Long term, Bitcoin is still bullish and the weekly trend is still basically intact, the monthly chart can easily form a bull flag, which would be quite ideal for the bulls.
This pullback wasn't a surprise and a lot of analysts expected it for some time now, the RSI is now at 50 for the first time in 3 months. This move, however, might have been caused by a whale, a redditor found out that someone moved 25k BTC just before the crash, someone selling that amount of Bitcoin could certainly cause a crash and trigger a lot of stop loss orders. https://www.reddit.com/r/CryptoCurrency/comments/bwjdnw/btc_dump_pure_whale_manipulation/
Analysts are still quite optimistic about bitcoin and most of them think this is a healthy move even if it was caused by manipulation.
I see this similar pattern often on lower time frames.

– Consolidation of a bullish trend
– Breakdown or "fake out" from consolidation
– An abrupt buy back and a strong candle back above the breakdown area

Lastly, a steady drop to support and strong continuation. pic.twitter.com/MS18vNpXMb

— NebraskanGooner📈 (@nebraskangooner) June 6, 2019
About Whaleagent
Whaleagent.club is the Most accurate crypto signals group in the world. We provide easy to follow educated signals that are based on Market research & Technical Analysis. Our signals are being shared to monitor our personal trades aka journey. We are trading at Bitmex, Bittrex, Binance. If you want to watch our Trades in live, simply subscribe via the website as a Premium Member.
Image Credits: TradingView