Today Bitcoin bulls broke the magic $9000 level with a huge 1 hour spike, however bears quickly jumped in and stopped the bulls before $9100. Bearish pressure was big enough to push Bitcoin down to $8500 in the next hour.
This move is quite weird, though, we could be looking at some sort of manipulation attempt that went wrong, clearly a lot of shorts and longs were liquidated with this move. The daily chart has now formed a bearish candlestick, although we can't really trust it as it only happened in 2 hours. Essentially we are at the same level as yesterday.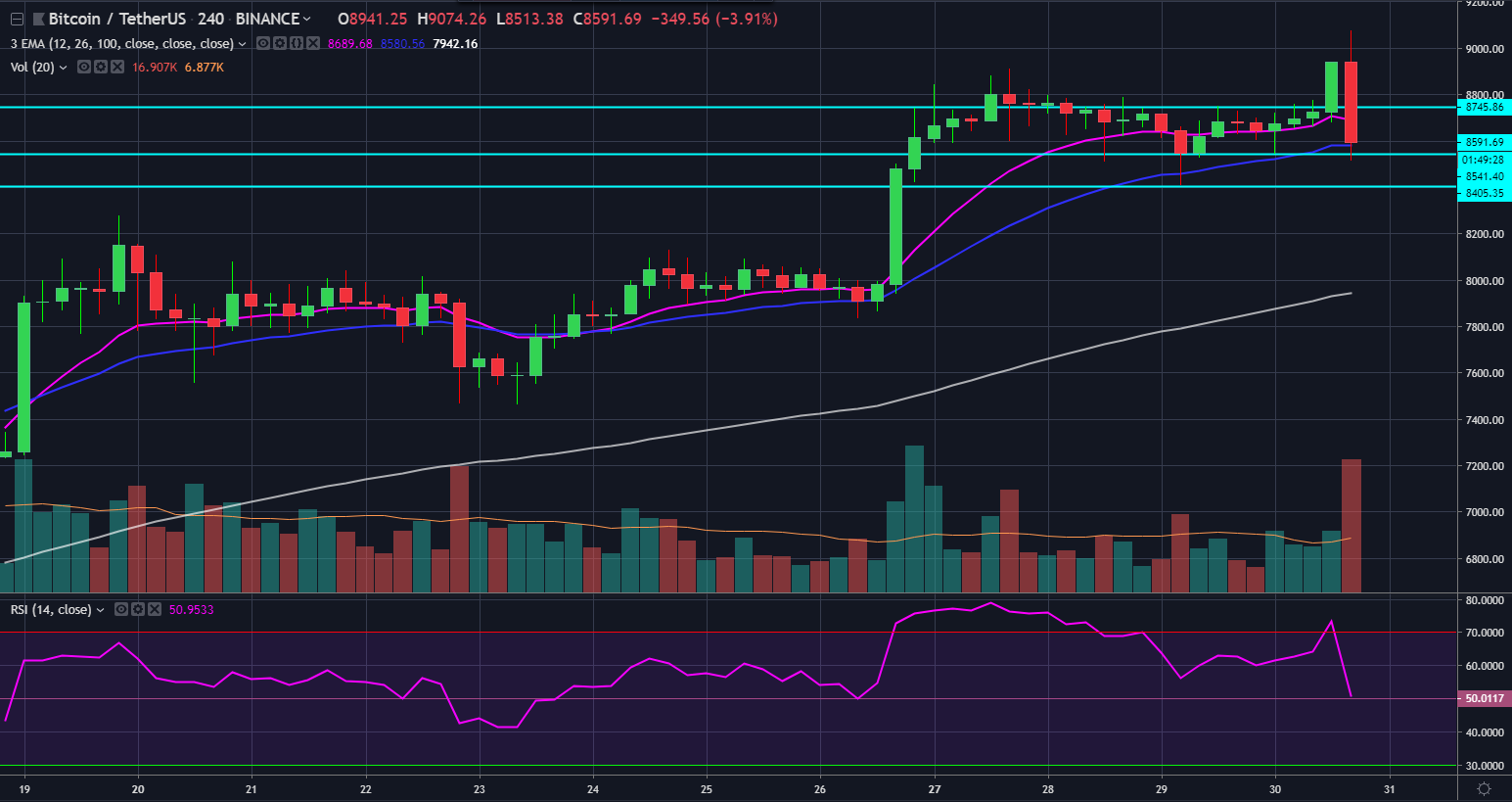 Looking at the 4 Hour chart, a tightening pattern was forming, perhaps this was the spark for the bull move but we don't know just yet what sparked the heavy bearish pressure. This move could be actually helpful and Bitcoin might need to consolidate for a bit before another leg up. In the weekly chart Bitcoin has been doing higher lows every week for 13 weeks in a row now and the RSI is overextended past 80.
A lot of tweets and media hype was created with the recent move and sentiment is certainly changing, more than 90% of people now believe the bottom is in at $3000 and we will not see that level again this year.
It's time to get back to the important topics, like #Bitcoin going to the MOON! When 9k? 😎 pic.twitter.com/STfLijRgmo

— Samson Mow (@Excellion) May 30, 2019
About Whaleagent
Whaleagent.club is the Most accurate crypto signals group in the world. We provide easy to follow educated signals that are based on Market research & Technical Analysis. Our signals are being shared to monitor our personal trades aka journey. We are trading at Bitmex, Bittrex, Binance. If you want to watch our Trades in live, simply subscribe via the website as a Premium Member.
Image Credits: TradingView