Bitcoin finally broke out of the tightening pattern and it was a bull break. After breaking $8280 the price rocket jumped up to $8677 in just 35 minutes and it's currently in a small consolidation trading at $8480.
The bull momentum seems to be great enough for bitcoin to touch or even break $9000. The hourly and 15 minute charts are both forming a bull flag. We also broke 3 resistances including the monthly resistance of $8500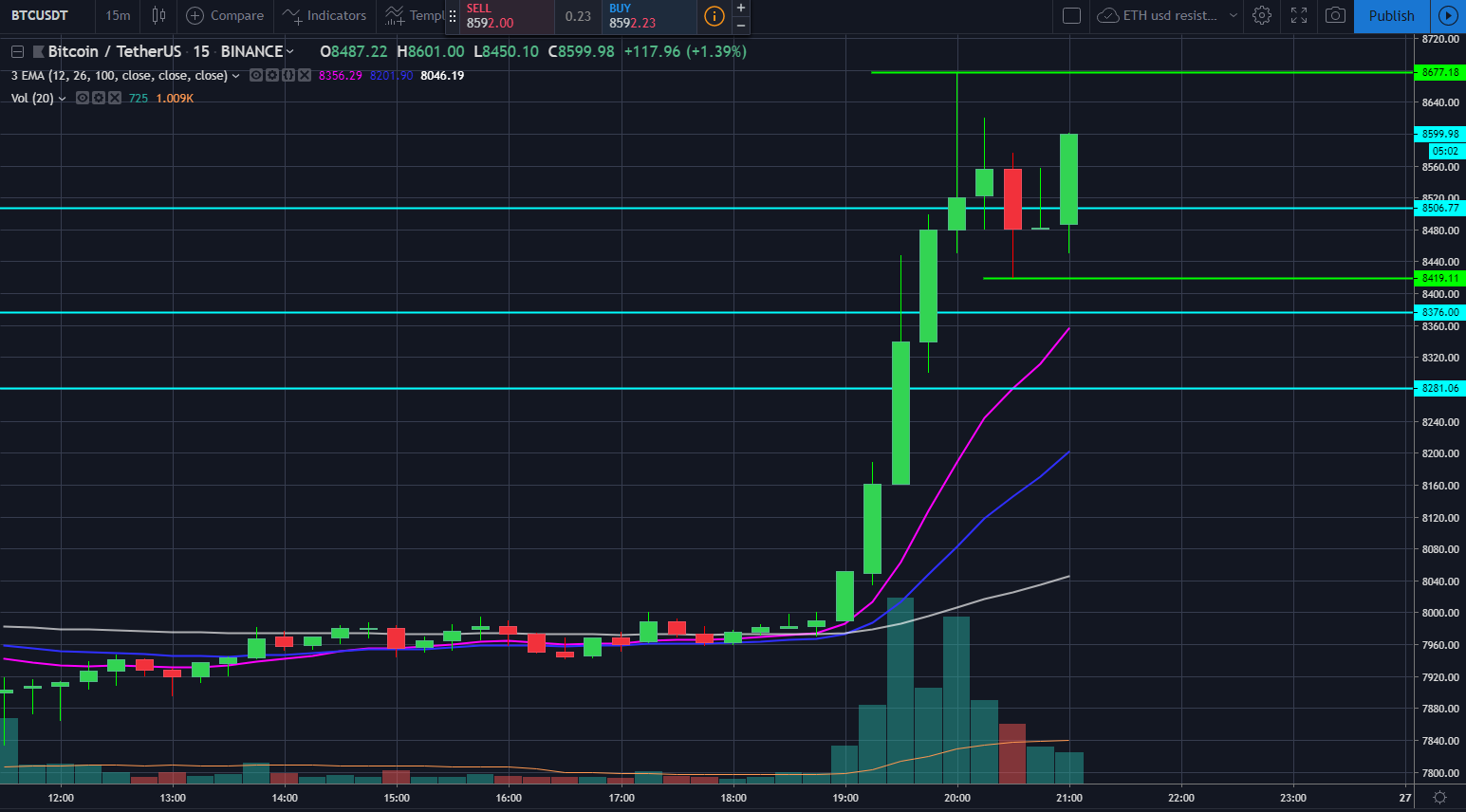 Looking at the 15 minute chart we can see there is currently another tightening pattern forming with clear lower highs and higher lows. Considering the strength of the recent move it's fair to assume it will most likely break bullish. However we do need to see some follow through and continuation of this bull move to be sure of it. Bears could still take over and push the price back to $8000 although it's unlikely. There was a 7% increase in shorts in the past hours, however this number is fairly low considering the magnitude of the bull move. Shorts usually are far more aggressive which shows this time they are still afraid to jump in.
Binance CEO himself believes bitcoin will break from $8000 and it certainly seems like he was right.
When (not if) btc breaks from that 8000… https://t.co/FA26PORSY5

— CZ Binance (@cz_binance) May 25, 2019
About Whaleagent
Whaleagent.club is the Most accurate crypto signals group in the world. We provide easy to follow educated signals that are based on Market research & Technical Analysis. Our signals are being shared to monitor our personal trades aka journey. We are trading at Bitmex, Bittrex, Binance. If you want to watch our Trades in live, simply subscribe via the website as a Premium Member.
Image Credits: TradingView
Astargath again : )