The market has been fairly silent the past few days and we have seen some consolidation happen for most top cryptocurrencies with the exception of BNB. Bitcoin has now pretty much confirmed an equilibrium pattern. An equilibrium pattern occurs when an asset forms a lower high and a higher low compared to the previous ones.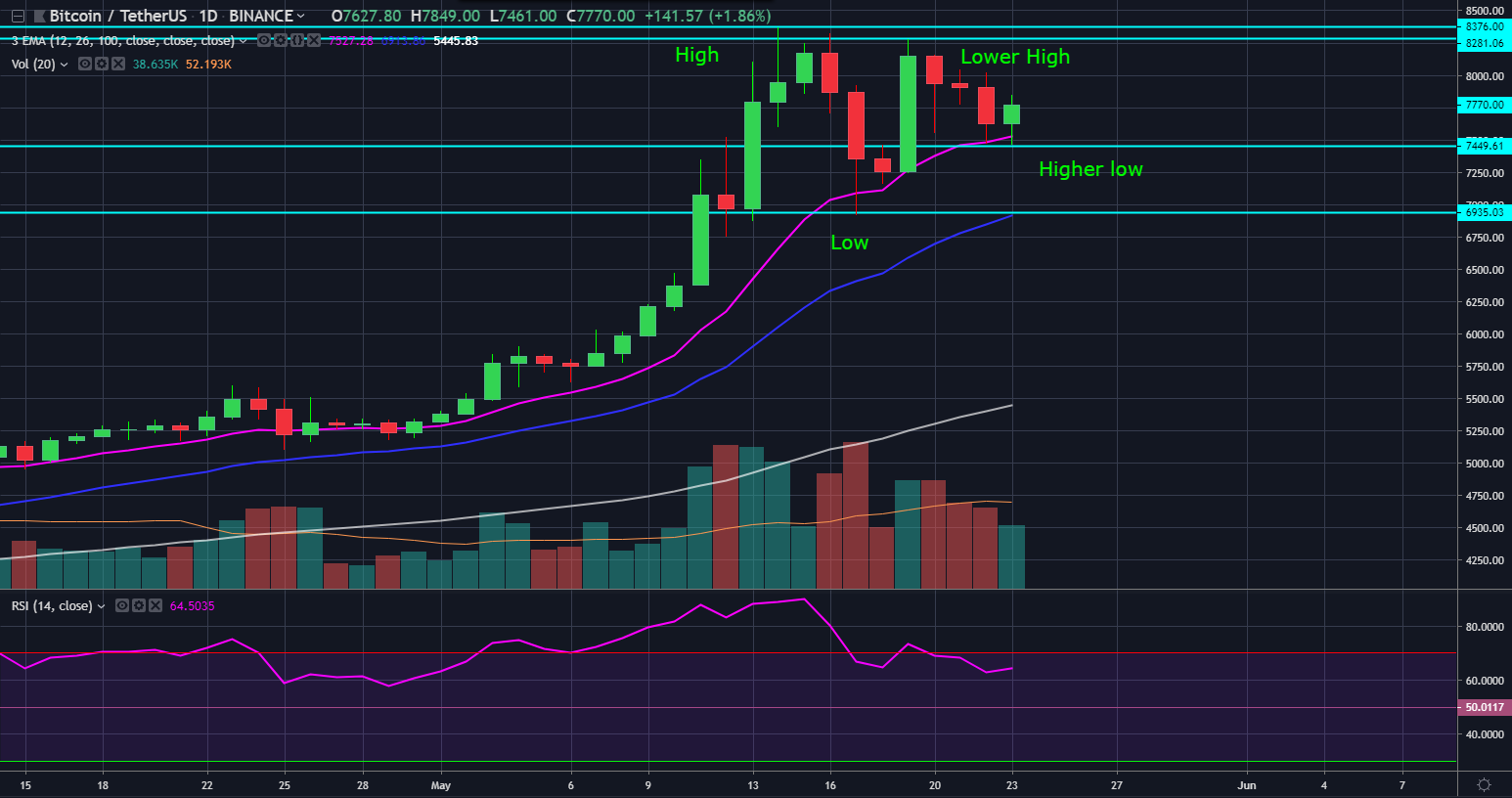 Considering the overall state of the market, it is fair to assume bitcoin will most likely break bullish from this pattern. Notice how the last lower high is really close to the high and the low is really far away. It's also important to notice that the RSI has cooled off a bit and it is now below the overbought zone. If Bitcoin were to break bullish it would be quite a huge break considering how close both high and higher low are from each other. Bulls would have enough momentum to break both resistances with ease. Furthermore the monthly resistance is also extremely close at $8491, only $100~ away from the high.
As we mentioned above, Bitcoin would have enough momentum and would break all 3 resistances pretty much at once, the follow through afterwards would be huge. Tons of shorts would be liquidated and we would probably touch $10000 in the next few days.
Jack Dorsey CEO of twitter is close to launching its long awaited crypto project and will help the crypto market expand more.
We are close to making our first hire. So let's set some expectations. True to @jack's founding tweets, we are building open source projects that will make mass adoption not just possible but inevitable.

Our goal isn't to make money, but to improve it.

— Square Crypto (@sqcrypto) May 21, 2019
About Whaleagent
Whaleagent.club is the Most accurate crypto signals group in the world. We provide easy to follow educated signals that are based on Market research & Technical Analysis. Our signals are being shared to monitor our personal trades aka journey. We are trading at Bitmex, Bittrex, Binance. If you want to watch our Trades in live, simply subscribe via the website as a Premium Member.
Image Credits: TradingView
Hey miles, it's astargath