Bitcoin momentum doesn't seem to have an end and continues its strong uptrend. The cryptocurrency market was hit by quite a few bad news lately but the price doesn't seem to react at all. In fact it seems to become stronger even though recently Binance was hacked and lost $40 million.
The weekly chart has been nothing but higher lows and we still need to see some consolidation, eventually, otherwise this bullrun will crash just as hard as the last one. Bulls are clearly very comfortable and bears are exiting their positions as fast as possible.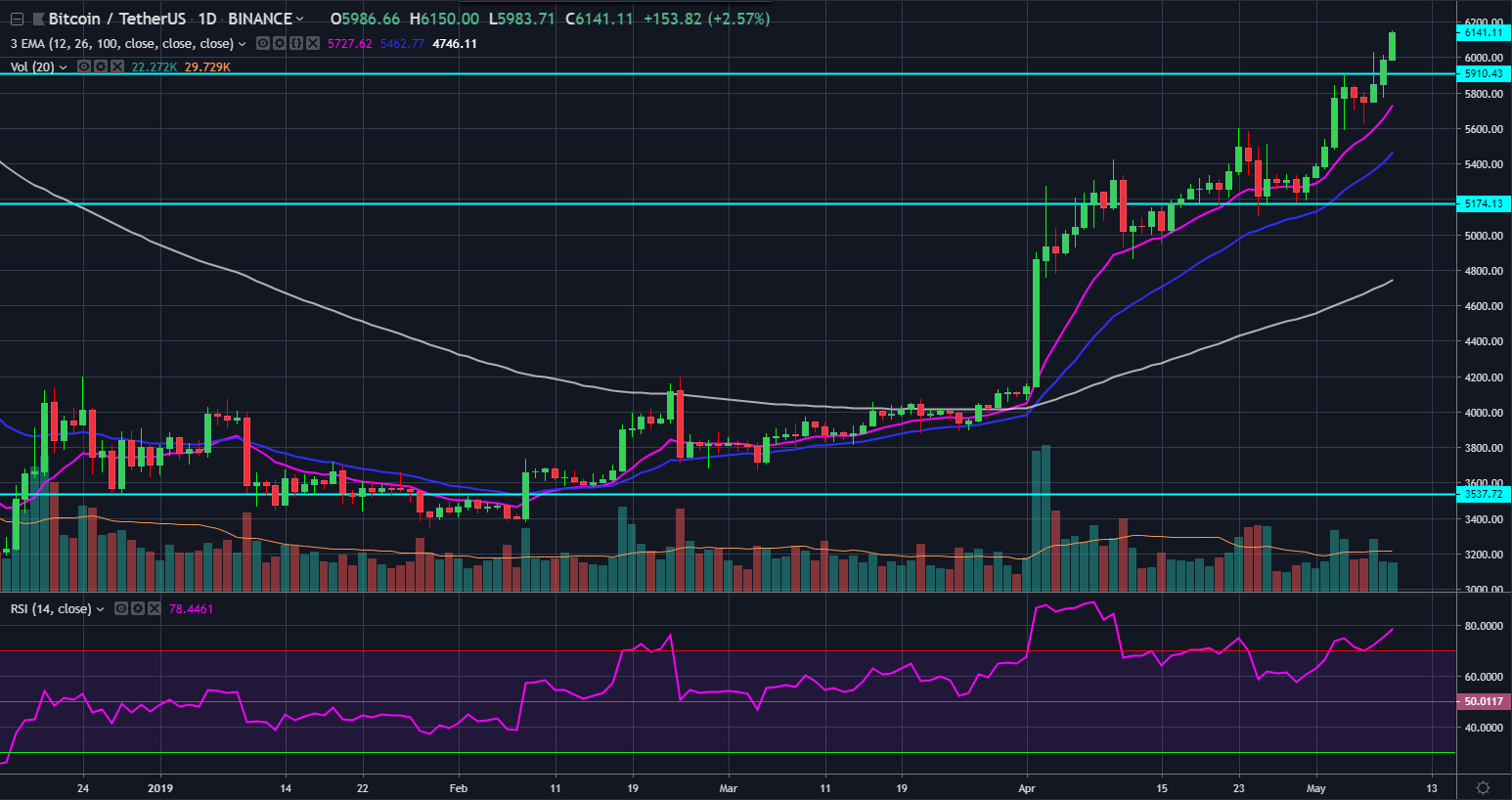 We can see, on the daily chart a new higher high of $6136 breaking the previous of $6014. The RSI is overextended again, however this isn't necessarily very concerning for the bulls and it's in no way an indication that we will see a sell off. The 12 and 26 day EMA are still held and we will likely see a re-test of the 12 day EMA fairly soon, perhaps in the next 2-3 days. It's not clear how high bitcoin will go since there isn't really any significant resistance nearby. The $6000 level was broken convincingly which was a big resistance level, now the only significant resistance level might be the $7000 psychological level.
$BTC #Bitcoin we have broken $6,000 – I repeat, we have broken $6,000 pic.twitter.com/rAzQjqDr4G

— Dr. Big Cheds "Lil Pump" (@BigCheds) May 9, 2019
About Whaleagent
Whaleagent.club is the Most accurate crypto signals group in the world. We provide easy to follow educated signals that are based on Market research & Technical Analysis. Our signals are being shared to monitor our personal trades aka journey. We are trading at Bitmex, Bittrex, Binance. If you want to watch our Trades in live, simply subscribe via the website as a Premium Member.
Image Credits: TradingView