After the significant crash, 3 days ago, Bitcoin has been slowly recovering and it's now trading at $8700. The support is currently at $8005 although we could just call it $8000.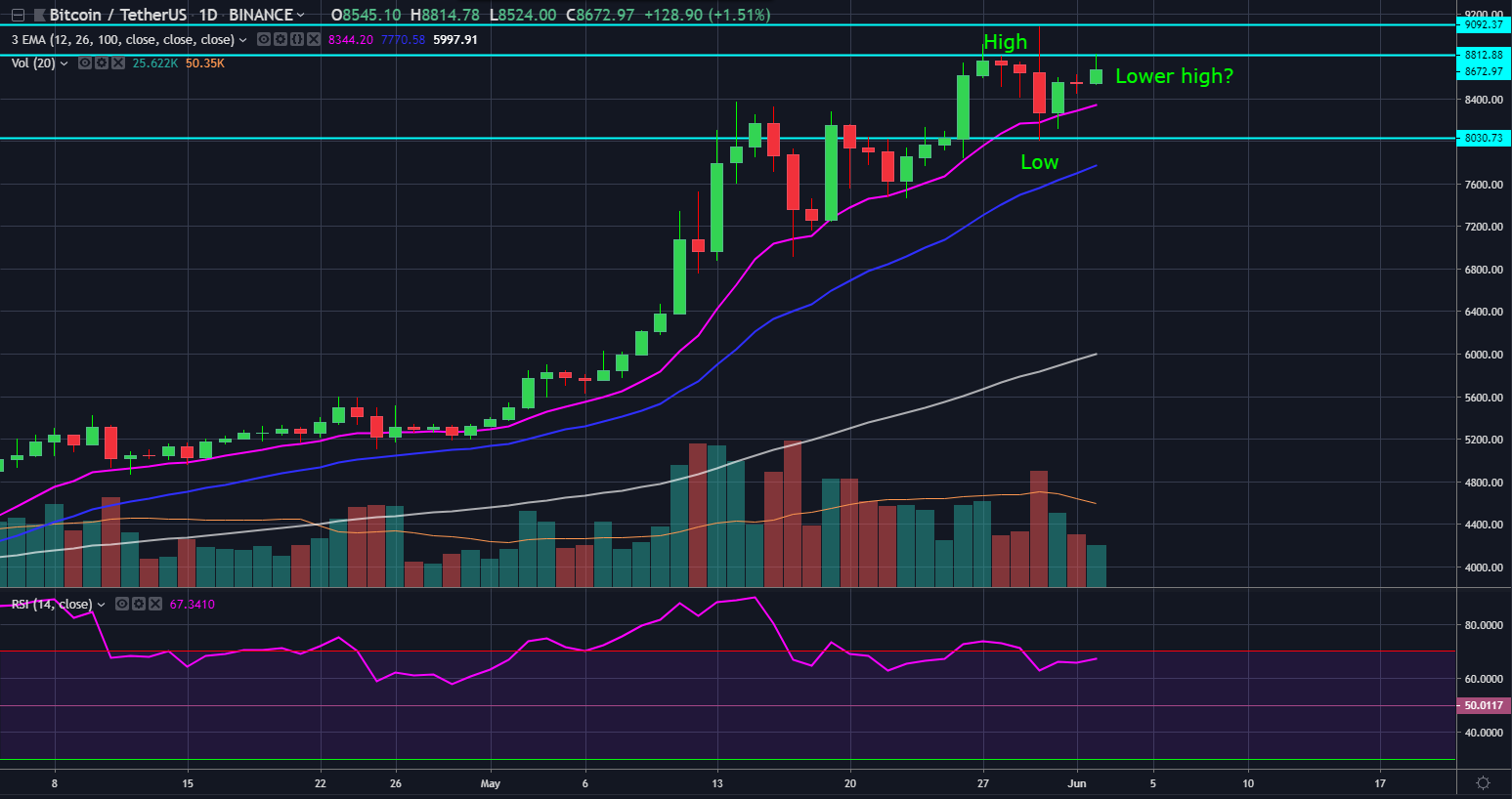 Looking at the daily chart Bitcoin seems to be forming an equilibrium pattern with a high of $9074 and a low of $8005. A lower high seems to have been formed at $8814 but we still need a higher low to confirm the pattern. If confirmed, this pattern could break quite soon within the next week considering how small the range is ($800).
The RSI is now cooled off although still quite high, the clear resistance is now at $9074 and if we were to break it, we could see the $10000 level really soon as there is no real resistance past that point. We have to keep in mind that the tightening pattern could break bearish too, the chances of this are lower but still in the realm of possibilities. Another real possibility is a bear trap if the pattern breaks bearish, bulls could take advantage of it and let bears get confident to pump the price right after, similarly to what happened when $9000 level was rejected.
It's also worth noting that we held the 12 Day EMA and we are again trading above it confidently, even on the 4 hour chart. Additionally, the next halving is now only 11 months away and it's something worth noting every time a pattern forms since it favors the bulls quite a lot.
#bitcoin chart update: 11 months to next halving (May 2020).https://t.co/n5P5uMCKHT pic.twitter.com/oZNanKJpVA

— planB (@100trillionUSD) June 1, 2019
About Whaleagent
Whaleagent.club is the Most accurate crypto signals group in the world. We provide easy to follow educated signals that are based on Market research & Technical Analysis. Our signals are being shared to monitor our personal trades aka journey. We are trading at Bitmex, Bittrex, Binance. If you want to watch our Trades in live, simply subscribe via the website as a Premium Member.
Image Credits: TradingView