Bitcoin continues its strong bullish uptrend and continues breaking crucial resistance levels like the $7000 resistance level. Shortly, after breaking the $7000 level, bitcoin continued to show steady gains up to $7521 when a big sell off was triggered down to $6750 but it's now trading at +$7000.
Clearly the strength of bitcoin is unmatched right now and most alt-coins are bleeding which is quite normal in these situations. Bitcoin bullish trend will eventually help the other coins.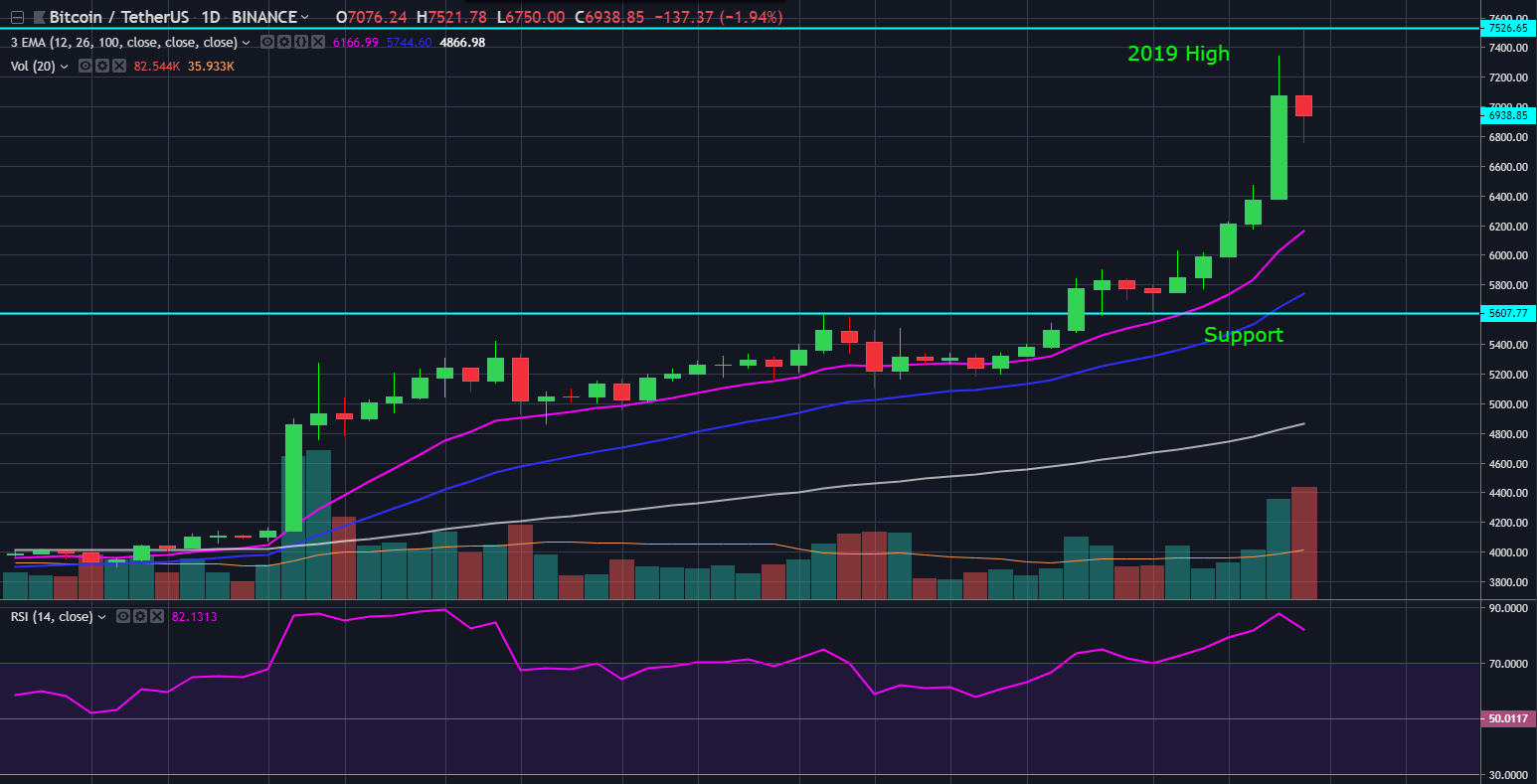 As we can see on the chart above on the daily chart, the last day of trading formed an indecisive candlestick which means bears and bulls are still fighting over the $7000 level. This however isn't concerning at all since the RSI is still overextended to all time highs at 88 points and yesterday bitcoin saw 11% gains. It's quite difficult to tell what's next for bitcoin since FOMO (fear of missing out) is definitely here and a lot of people are buying at any price just to not miss the bull run. Some consolidation is clearly needed, though and the last support is all the way down at $5607.
Tom Lee, a very well known analyst and bitcoin bull reminded us that Bitcoin is capable of generating huge returns in very short periods of time which also reminds us that the crypto market is quite different than classic ones.
This week's strong move on #crypto and especially #bitcoin is reminder $BTC historically generates its annual performance in 10 days. Miss those 10 days and average return is -25%.

Reminder to #HODL https://t.co/DMF5QLi5kH

— Thomas Lee (@fundstrat) May 11, 2019
About Whaleagent
Whaleagent.club is the Most accurate crypto signals group in the world. We provide easy to follow educated signals that are based on Market research & Technical Analysis. Our signals are being shared to monitor our personal trades aka journey. We are trading at Bitmex, Bittrex, Binance. If you want to watch our Trades in live, simply subscribe via the website as a Premium Member.
Image Credits: TradingView