After significant gains the past 2 weeks, Bitcoin looked for some consolidation, however bulls showed up faster than expected and pushed the price to a new high 6190$ in 2019. Tether news couldn't stop the strong momentum and the lead exchange is in fact Bitfinex, others, like Binance, have been trading $200-300 lower.
As it stands, Bitcoin daily uptrend is still intact and remains quite strong. The likelihood of a short squeeze is increasing everyday. The $6000 level is perhaps the most important resistance level to be watching. It was broken on Bitfinex but not on Binance and the others. If the $6000 resistance breaks across all exchanges, a short squeeze will be perhaps inevitable.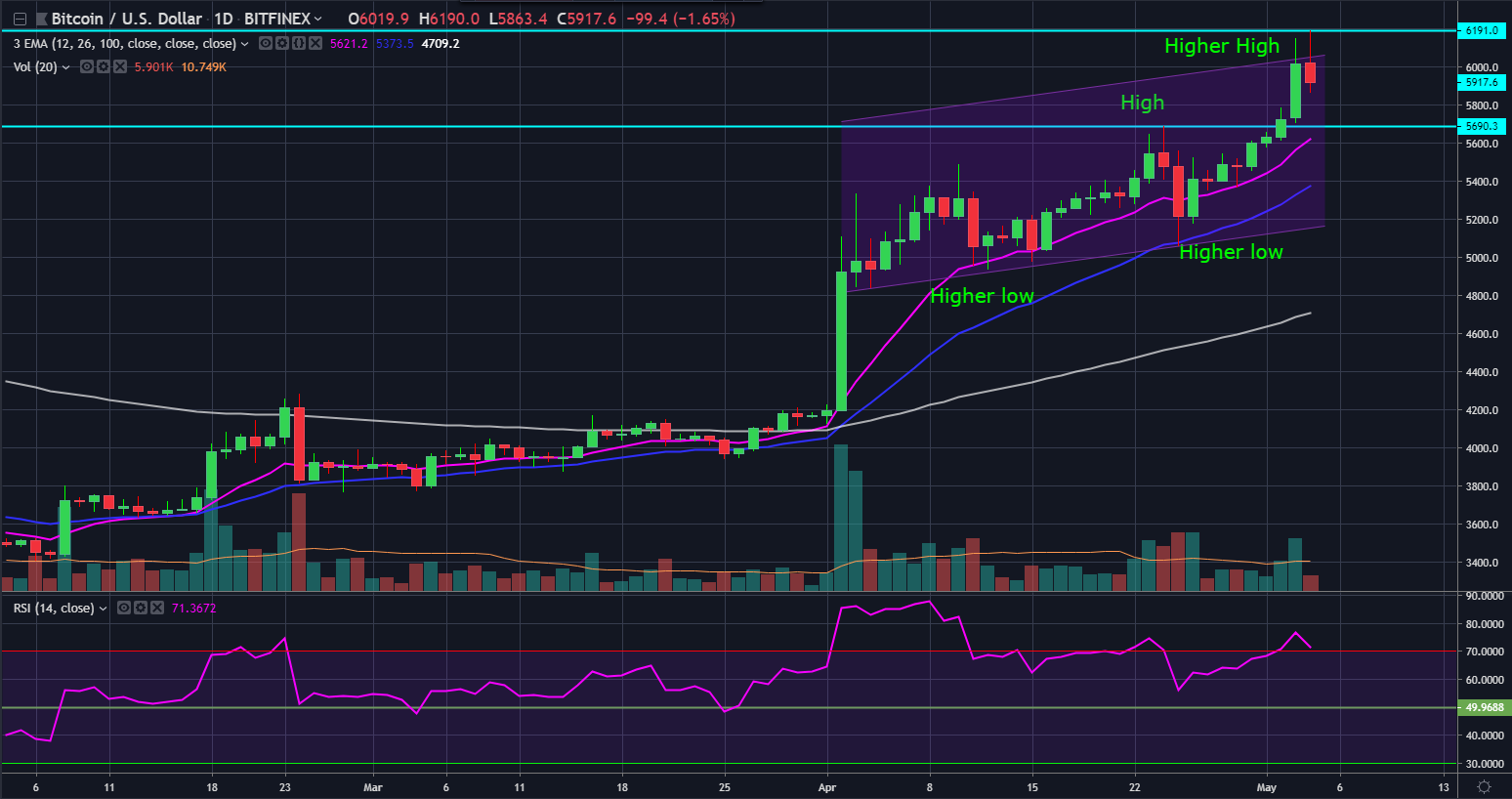 We can see from the chart above the last higher low stands at $5055. The new high of $6190 has taken a break and some bearish action is ongoing. This is nothing to be worried about and it's in fact a healthy move and needed for further upside action. The most likely scenario for the next few days is going to be further consolidation. Perhaps testing the $5690 previous resistance level now turned into support. The 12 and 26 day period EMA are the best indicators so far and the bears have not been able to break them on the daily chart.
John McAfee known for his outrageous claims, tweeted recently about bitcoin. He stands by his predictions and confirms Bitcoin will worth $1 million within the next 2 years.
Bitcoin over $400,000 in two years??? Anyone who can add and subtract, and who has even the slightest comprehension of point-set topology, knows, absolutely, that it can't be less than one mil within two years. Does no-one study math anymore?? WTF people?https://t.co/Jcj3C3SXP4

— John McAfee (@officialmcafee) May 3, 2019
About Whaleagent
Whaleagent.club is the Most accurate crypto signals group in the world. We provide easy to follow educated signals that are based on Market research & Technical Analysis. Our signals are being shared to monitor our personal trades aka journey. We are trading at Bitmex, Bittrex, Binance. If you want to watch our Trades in live, simply subscribe via the website as a Premium Member.
Image Credits: TradingView