Click Here To Join Our Signals Channel
BNB experienced a huge crash of about 11% due to the news of US exclusion from Binance. Binance team already announced they will not allow US customers on their DEX, however, now, US customers will be excluded from Binance itself as well. Users will have 90 days before their access to the trading platform ceases.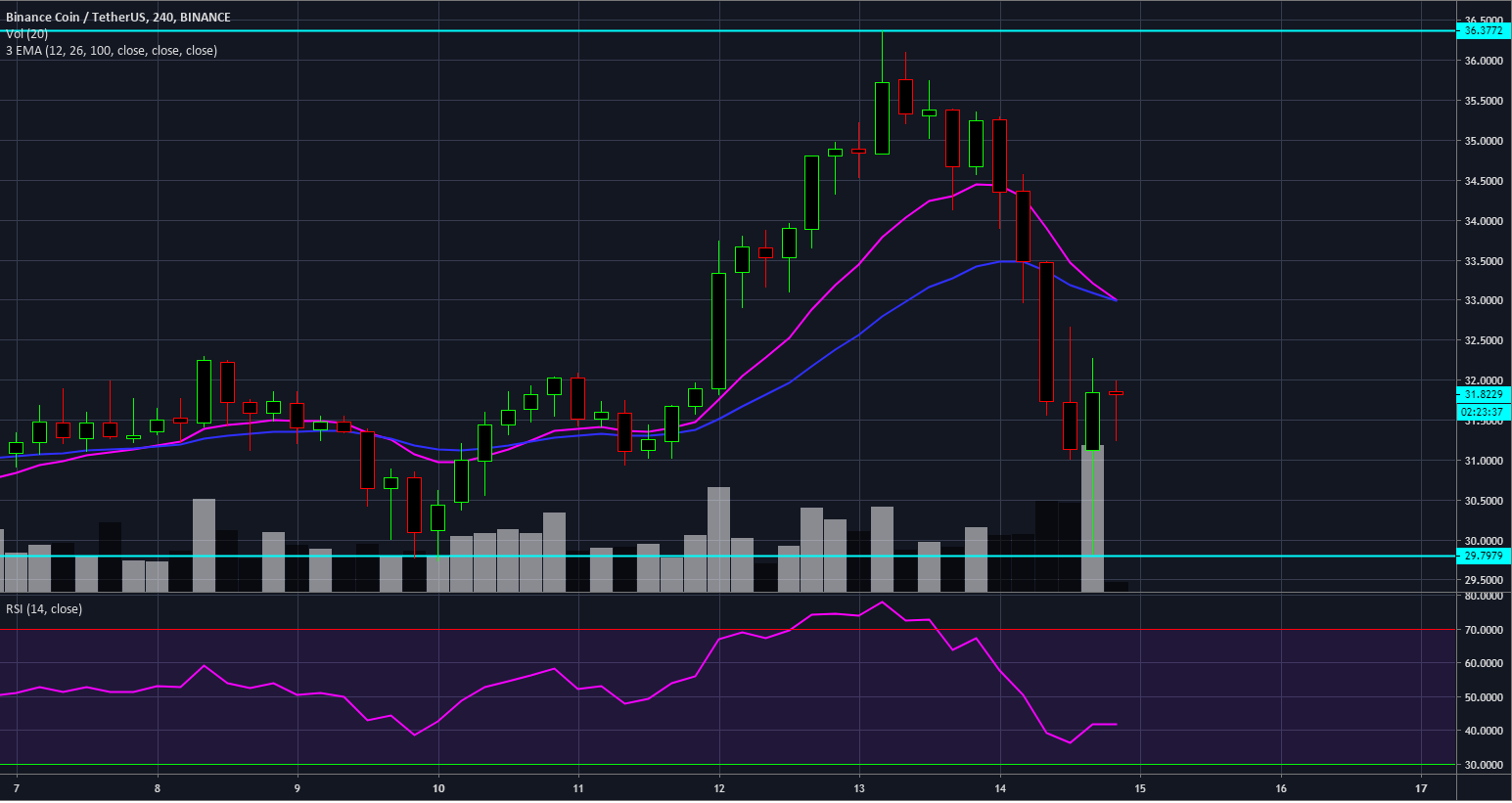 BNB of course had a very explosive reaction to the news and saw a pretty steady crash in the span of 16 hours. Amazingly though, bulls were able to hold the daily support of $29.72 and so, the daily trend is still 'intact'. We have lost the 12 day EMA but we are holding the 26 EMA currently while trading at $31.61. The 4 hour chart is showing a bearish cross of both EMA's which is significant and the RSI is still not in oversold territory so we could still see further downside.
Of course a lot of people didn't take the news very well and Binance will certainly lose a significant amount of users. It seems that 20% of the traffic Binance receives is from the US, however this doesn't necessarily mean they will be losing the whole 20% since users will still be able to access Binance through a VPN.
Notice how everyone is freaking out about #Binance not accepting U.S. customers?!?!

They literally created a U.S. specific exchange AND, DEX without borders in case KYC really isn't your thing.

You think for 1 second @cz_binance didn't see this coming?

😏😏

— The Crypto King (@JBTheCryptoKing) June 14, 2019
Click Here To Join Our Signals Channel
About Whaleagent
Whaleagent.club is the Most accurate crypto signals group in the world. We provide easy to follow educated signals that are based on Market research & Technical Analysis. Our signals are being shared to monitor our personal trades aka journey. We are trading at Bitmex, Bittrex, Binance. If you want to watch our Trades in live, simply subscribe via the website as a Premium Member.
Image Credits: TradingView