BNB has slowed down slightly during the past week and bears have taken advantage of it. The support level was broken and bears have seen a good amount of follow through action. This small bearish movement was no surprise however, the RSI in the weekly chart was still overextended and some consolidation was needed. Overall the bulls are still comfortable and BNB is at no risk.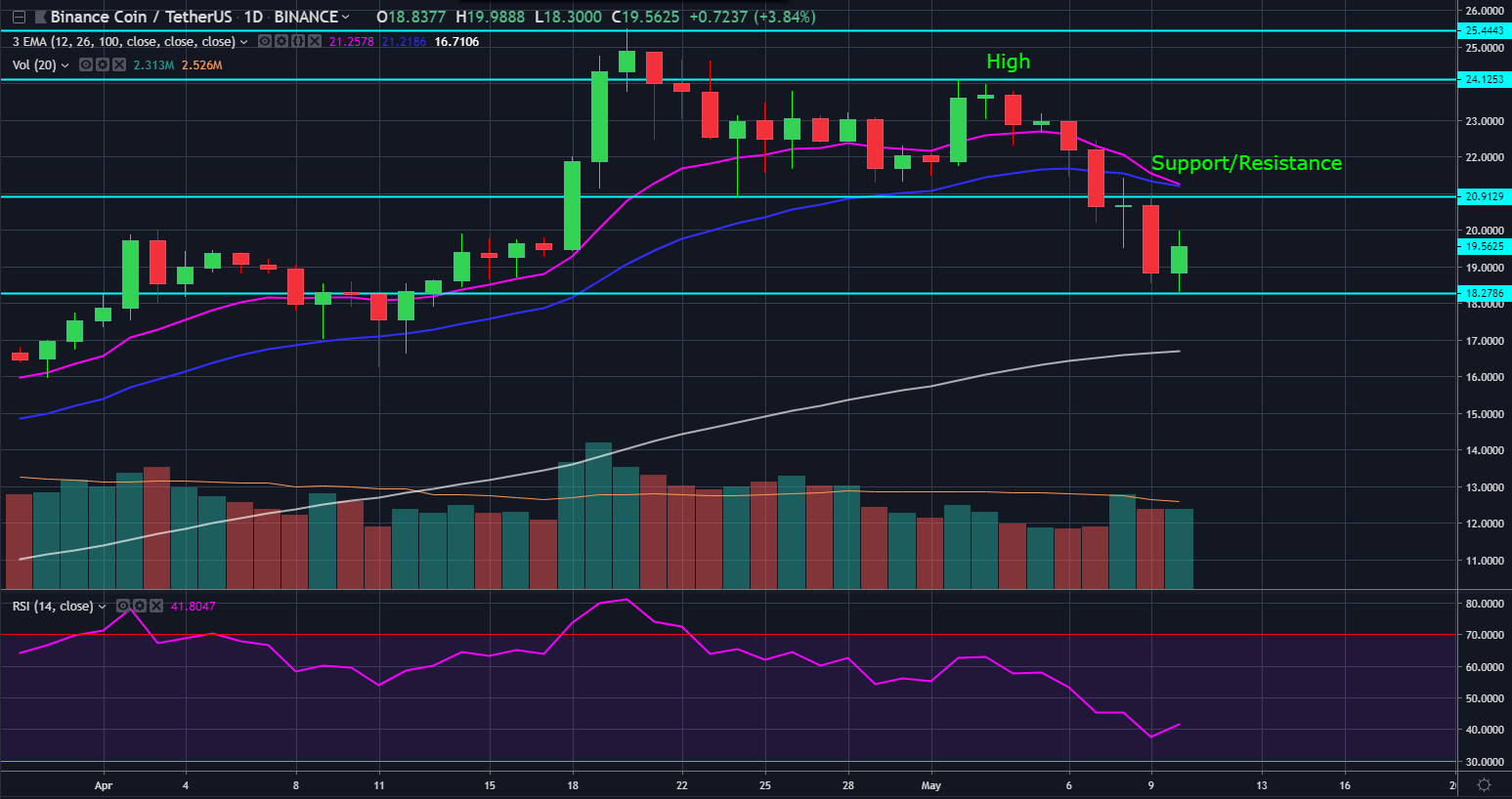 On the daily chart we can see the strong support at $23.12 was broken 13 days later and bulls tried one more time to defend it on the 14th. Bears however were able to break through and peaked at $18.3 where a convincing bounce is on-going. The bulls would like to see the $23.12 level, previous support broken as it is now considered resistance. The whole market is still experiencing big gains across a lot of coins and it is very likely for BNB to continue its strong bullish uptrend.
The recent Binance hack was certainly a trigger for this bearish move and although the market reacted quite well to the hack, BNB was definitely affected directly. This however isn't cause for concern and Binance still has a lot of improvements coming soon like Margin Trading and a DEX.
#Binance hacked for 7000 #Bitcoin worth almost 42 Million Dollars prompting $BTC & $ETH to dump instantly

— Trading Room (@tradingroomapp) May 7, 2019
About Whaleagent
Whaleagent.club is the Most accurate crypto signals group in the world. We provide easy to follow educated signals that are based on Market research & Technical Analysis. Our signals are being shared to monitor our personal trades aka journey. We are trading at Bitmex, Bittrex, Binance. If you want to watch our Trades in live, simply subscribe via the website as a Premium Member.
Image Credits: TradingView