Finally, after several weeks of bullish movement, the market has taken a break and bears jumped right in, some of the top cryptocurrencies experienced 10-15% losses. BNB however saw a much stronger bullish reaction to the recent dip. Trading as low as $23.14 bulls bought the dip and pushed the price back up to $26.86 which is where it's currently trading.
We have to keep in mind that BNB is facing no real resistance since it's trading at ATH's regularly and the price can be extremely volatile at these levels.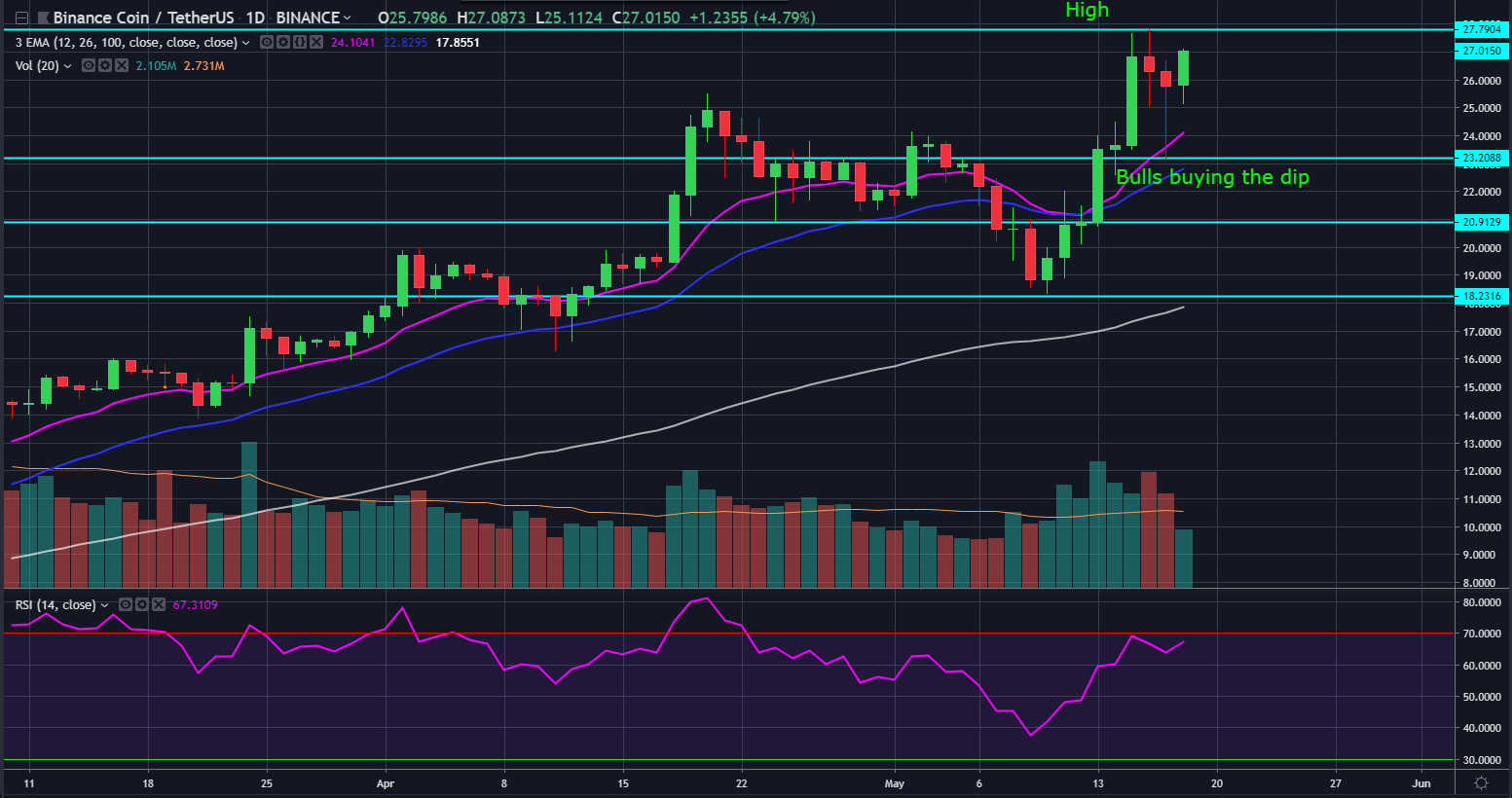 Looking at the chart above, we can see that BNB is really close to the all time high again at less than $1 away. Considering the significant dip buying and the volume behind it, BNB is set to break the all time high in the next few days or perhaps even today. The RSI is still overextended but that hasn't stopped BNB from reaching the ATH over and over again so it's not an indicator we trust right now. It's also clear that BNB is moving alone and doesn't necessarily follow the rest of the market. BNB started its bullish momentum way before any of the other top cryptos did.
Binance continues its tsunami of good news announcing their partnership with a few sports team in order to tokenize them.
More sports teams on @Binance Chain (@Binance_DEX). Go @Chiliz https://t.co/KcB3yvWqjR

— CZ Binance (@cz_binance) May 17, 2019
About Whaleagent
Whaleagent.club is the Most accurate crypto signals group in the world. We provide easy to follow educated signals that are based on Market research & Technical Analysis. Our signals are being shared to monitor our personal trades aka journey. We are trading at Bitmex, Bittrex, Binance. If you want to watch our Trades in live, simply subscribe via the website as a Premium Member.
Image Credits: TradingView