Click Here To Join Our Signals Channel
Binance Coin (BNB) has been in a weekly equilibrium pattern for the last 2 months and the pattern is getting really tight with a range of around only $4 now. BNB is currently trading at $28.11 and the bulls were just rejected from the daily EMA's.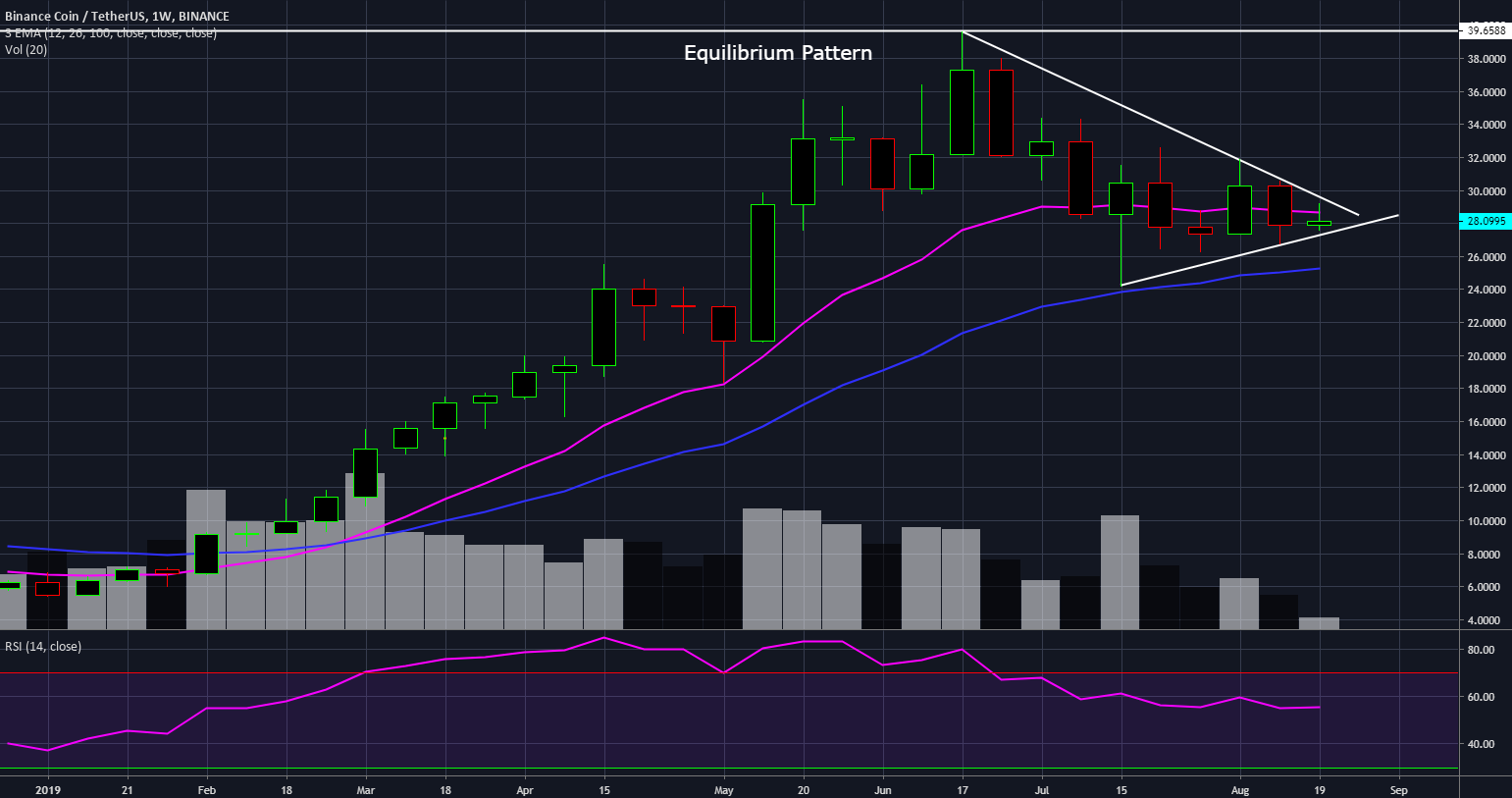 The bears seem to have taken control back on the daily chart. The weekly chart as mentioned is in a tight pattern, currently a bit more in favor of the bears, however, the long term should be favoring the bulls. It's really hard to predict in which direction the price will break. What we know for sure is that when it does, it will be a huge break and will determine the direction of BNB for the rest of the year.
The 4-hour chart bull flag was rejected and bears saw a good amount of continuation, however, the EMA's are still crossed bullish and the bulls did buy the dip and are currently trying to trade above the EMA's. The RSI is pretty much in the middle.
𝗧𝗵𝗶𝘀 𝗶𝘀 𝗕𝗜𝗚!

Binance is ready to dominate the world with by launching Project "𝘝𝘦𝘯𝘶𝘴" and Rival Facebook's Libra, by developing localized stablecoins worldwide!

Don't bet against Bitcoin, and don't bet against B… – @cz_binance 🔥🔥$BNB #Crypto $BTC $ETH pic.twitter.com/3dHarkfJDO

— CryptosBatman ⚡ (@CryptosBatman) August 19, 2019
About Whaleagent
Whaleagent.club is the Most accurate crypto signals group in the world. We provide easy to follow educated signals that are based on Market research & Technical Analysis. Our signals are being shared to monitor our personal trades aka journey. We are trading at Bitmex, Bittrex, Binance. If you want to watch our Trades in live, simply subscribe via the website as a Premium Member.
Image Credits: TradingView