What is Enjin Coin (ENJ)?
Enjin is a platform that uses the blockchain technology to enable games to operate in a decentralized way as well as providing gamers with true ownership.
Enjin is focused mainly on the Gaming Industry and allows developers to craft DApp games, mint custom tokens for e-sports audiences or rewards for users.
The Enjin coin is an ERC-20 token that can be used across different websites and online games and can be converted into digital items, gold, etc. Enjin Coin allows gamers to trade their assets from game to game.
Current Situation of ENJ
Enjin has been doing quite good and although it's only ranked 76th by Market Cap, the overall ROI for ENJ is more than 200%
The current price of ENJ is $0.076 with an All time high of $0.493 and a low of $0.0156.
Predictions for ENJ in 2019
ENJ is currently in a nice steady uptrend and the rest of the year looks bright.
DigitalCoinPrice
According to them, ENJ could hit $0.133 by the end of 2019, certainly very possible. DCP says ENJ is a profitable long-term investment and will only increase from now.
TradingBeasts
TradingBeasts has ENJ at $0.107 by the end of the year and an expected maximum of $0.134 which is really close to DCP's predictions.
WalletInvestor
WalletInvestor has a much safer bet for ENJ at only $0.0833 by the end of the year.
Our Prediction
Enjin Coin is clearly different from the rest of the cryptocurrencies as it's not in a daily downtrend. ENJ broke out from the downtrend almost 1 month ago and it's now enjoying a steady daily uptrend.
The bulls were able to break above both daily EMA's of 12 and 26 days which have crossed bullish just 1 week ago. The RSI is not overextended and the bulls are currently trying to hold the 12-day EMA as support.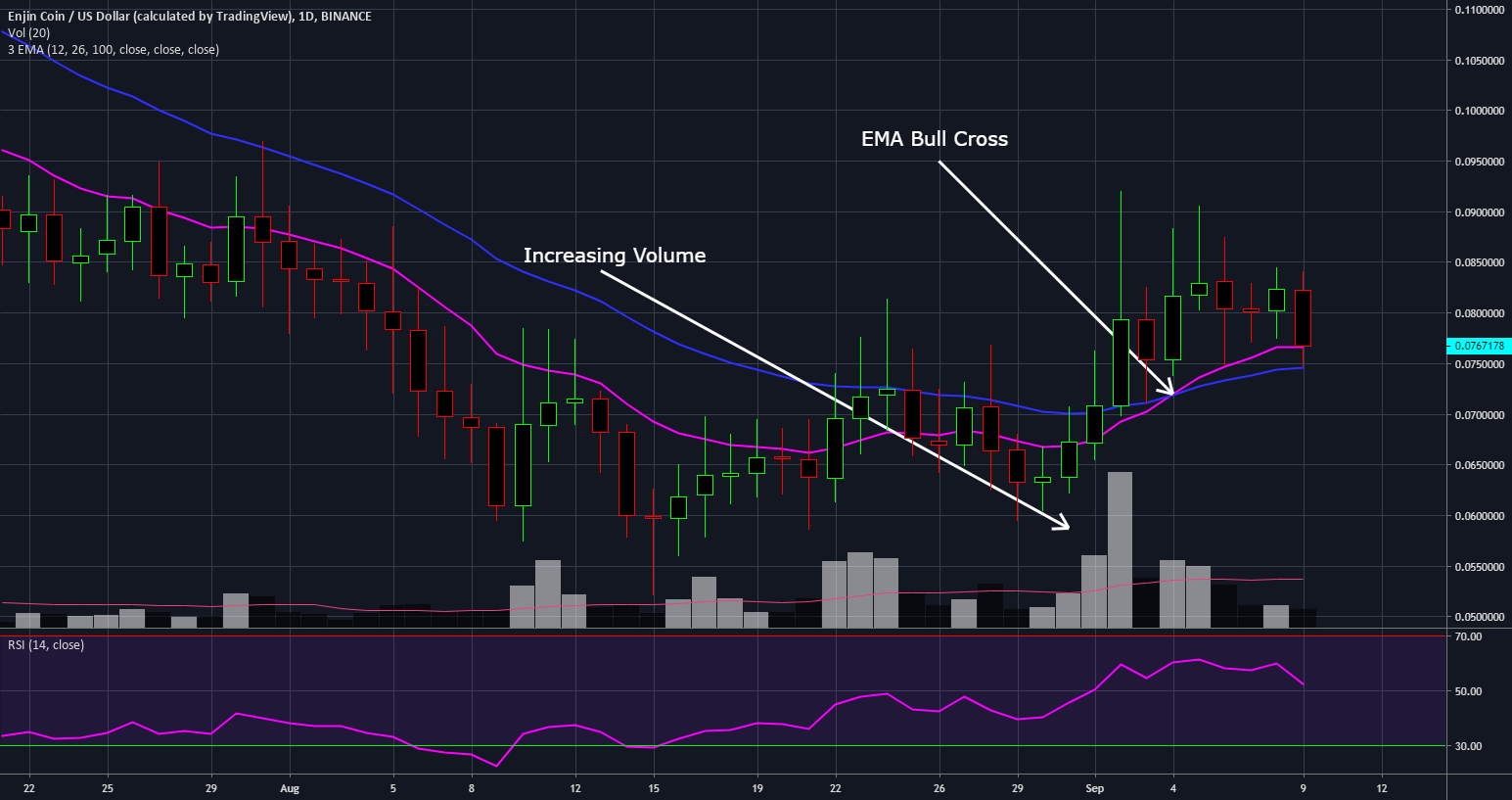 The weekly chart is, however, really similar to the rest of the market. The bulls were rejected last week from the 12-day EMA and the high of the weekly trend remains way above the current price at $0.139. The bulls have seen a nice increase in volume over the past 3 weeks, trading with 100% more volume than before. This indicates a good amount of strength for the bulls.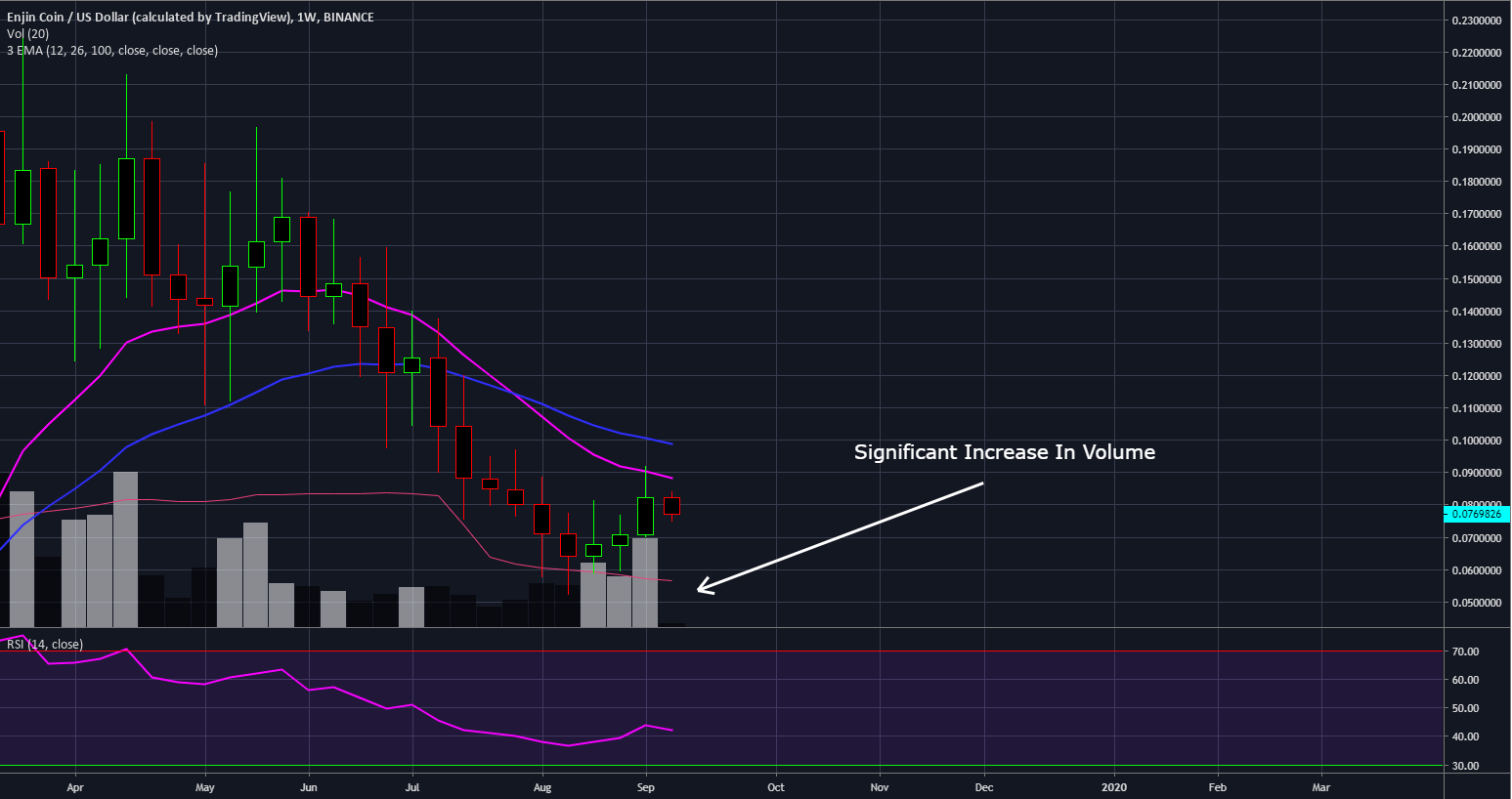 A weekly trend change is possible if the bulls can hold $0.052. The monthly chart is looking for a higher low compared to $0.02 which at this point seems quite possible. The bulls had a 185% and 83% surge during February and March of this year. The volume was also extremely high, the recent months of consolidation have had notably lower volume.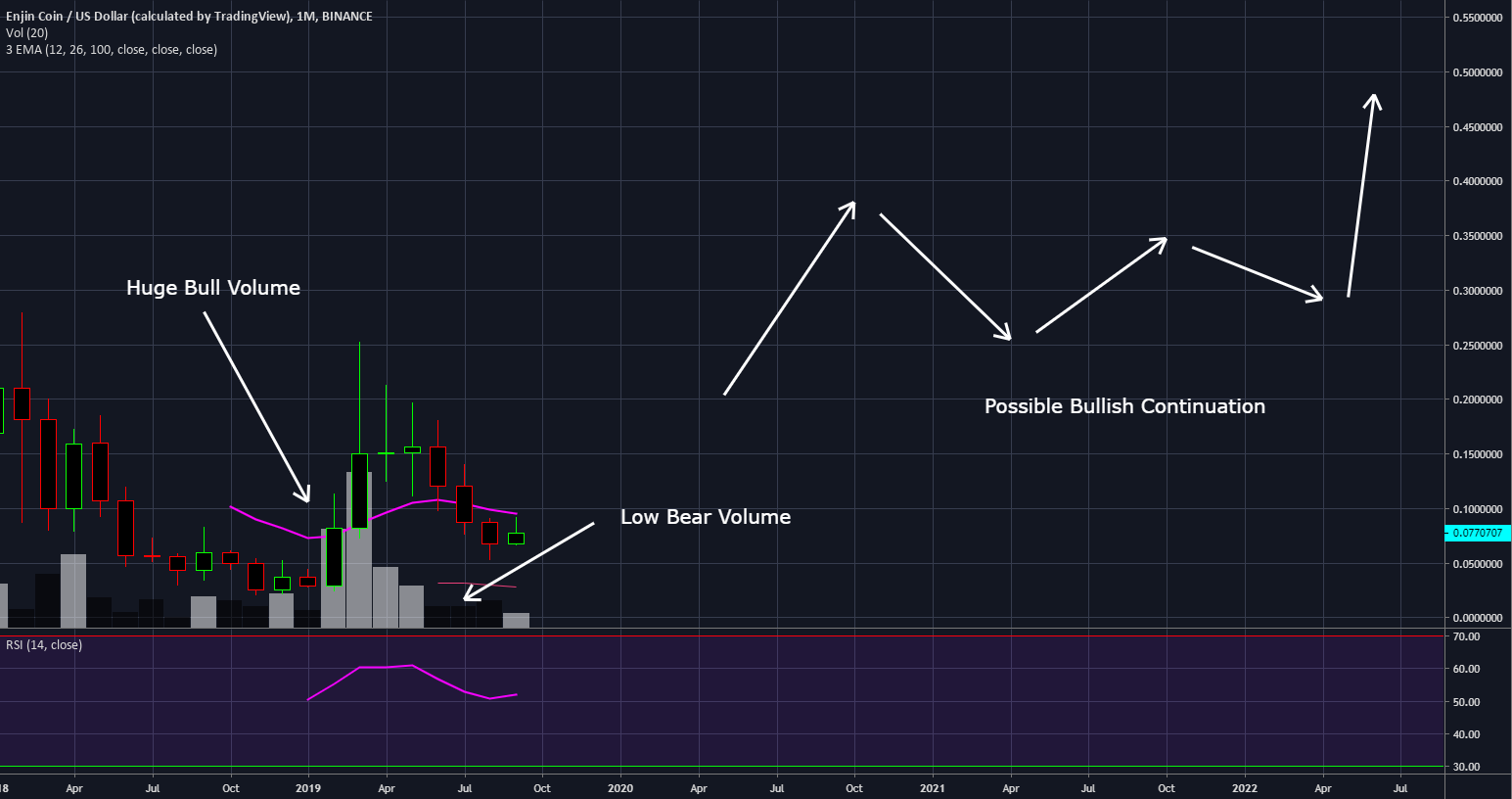 Overall this indicates that the bulls have a lot of strength and the recent consolidation is actually healthy. The bulls can easily turn around the weekly chart and they are looking to confirm a monthly uptrend. We think that ENJ can easily reach above $0.1 and most likely hit a high of $0.15 by the end of 2019.
Our Prediction for 2020
Enjin had some really big news in 2019, their partnership with Samsung was huge and helped ENJ surge for days and weeks.
Enjin has a very extensive roadmap for 2019 which has been completed on time. There have been numerous updates as well as meetups and new partnerships. Enjin has a lot of plans for 2020 too and the team is working hard and keeping everyone updated with blog posts about recent developments.
The Enjin platform was the first one to introduce a new ERC standard, the ERC-1155. This new standard is able to govern an infinite number of tokens through a single smart contract. This new standard has been officially recognized by Ethereum.
There has been a lot of interest for ERC-1155 tokens and Enjin provides users with the ability to easily create them by paying a small fee.
Considering all the amazing innovations, updates and future plans, ENJ could very easily hit a new ATH as the current All time high is not that far away.
Our Prediction for 2023
Are companies using Enjin right now? The answer is yes, ENJ is being used by upcoming games as well as more established games like Minecraft and Samsung. It's clear that ENJ has enough applications and works.
Enjin is also considering expanding to Japan after partnering with HashPort, a Japanese company.
If Enjin keeps up like this, it could easily hit $1 by the end of 2023.
Our Prediction for 2025
Enjin seems to have a bright future, the team is already working with big companies that will bring the blockchain to the mainstream public, video games have seen enormous growth over the last few years, this industry that Enjin is tapping into, is going to be one of the biggest if not the biggest industry in the world.
Considering all these factors, Enjin Coin could be worth $5-10 by the end of 2025.
About Whaleagent
Whaleagent.club is the Most accurate crypto signals group in the world. We provide easy to follow educated signals: based on Market research & Technical Analysis. Our signals are being shared to monitor our personal trades aka journey. We are trading at Bitmex, Bittrex, Binance. If you want to watch our Trades in live, simply subscribe via the website as a Premium Member.
Whaleagent.club content should not be considered as an investing parameter and the user should do their own research before investing. Price prediction is based on the data collected from various sources.