EOS came out as quite a surprise. EOS was looking to be quite weak, it was in a tightening pattern alongside the other cryptos, however EOS did have a fake breakout. The high was $6.59 and was broken up to $6.008 but with no continuation and quickly pulled back.
Amazingly 2 days later EOS bulls had another go at the $6.59 resistance and broke it in a big way. 9% gains the first day and a whooping 16% move the next day, currently trading at $8.16.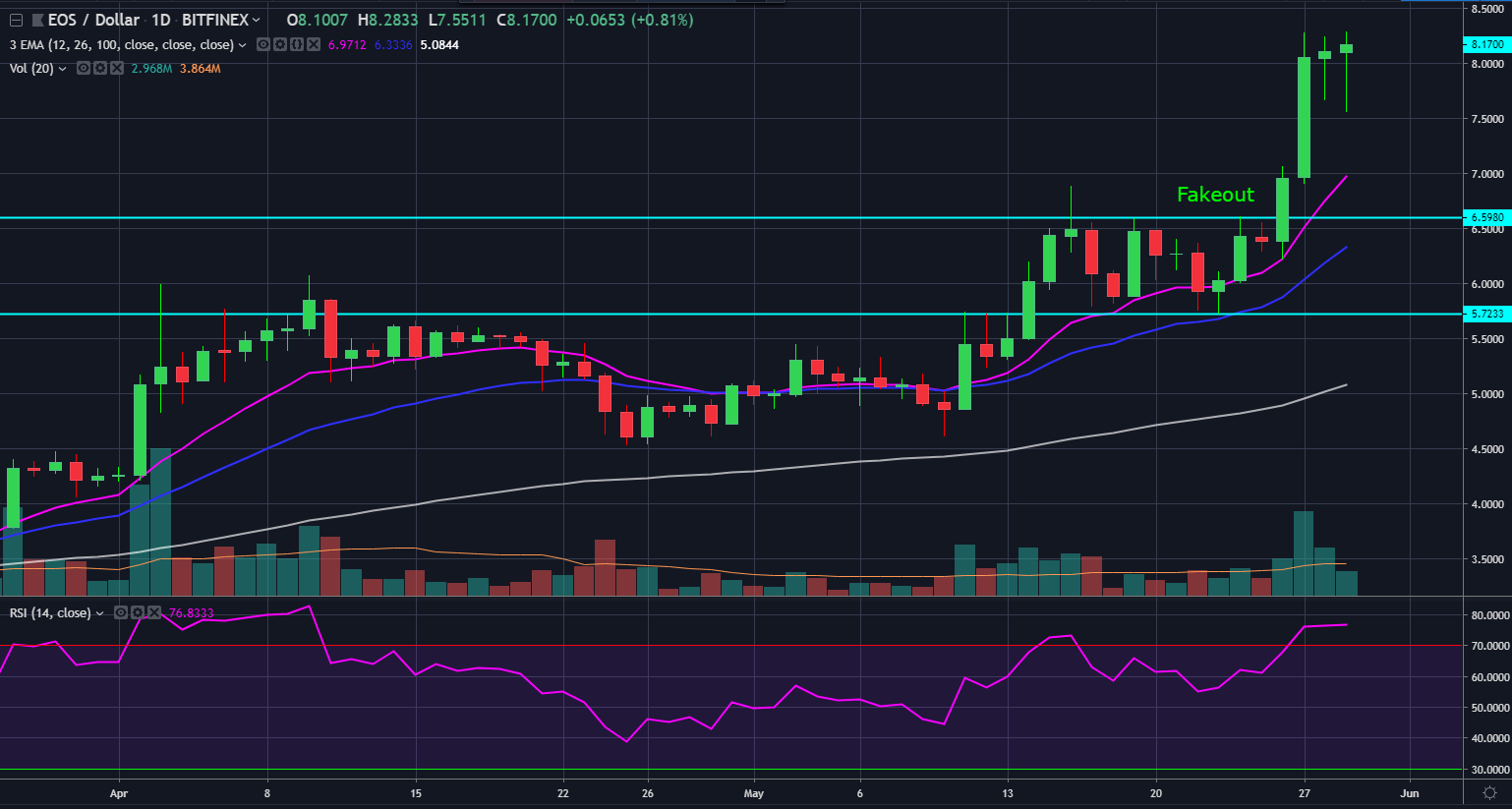 Looking at the daily chart we can clearly see the fakeout, the lack of volume is also quite remarkable. After such big moves, we expect a lot of volume, however this is not the case. The move is real, though, even with the low volume, we have had more than enough confirmation with 2 days of gains in a row and continuation the next 2 days, currently bulls are facing a bit of bearish pressure but as the chart shows, the dips are being bought strongly. At this rate it looks like we are going to see another leg up today or perhaps tomorrow. The overall market is still in an uptrend and will certainly help EOS for its next leg up.
Some bullish news coming from Block One may have fueled the recent bull move but it's unclear what exactly they are planning.
BREAKING: @block_one_ just purchased 3.3MM EOS worth of RAM ($20MM) on #EOS. Are they deploying a product on June 1? #bullish $eos https://t.co/coCCR3TCgA pic.twitter.com/tcsPrRtf6u

— EOS New York (@eosnewyork) May 27, 2019
About Whaleagent
Whaleagent.club is the Most accurate crypto signals group in the world. We provide easy to follow educated signals that are based on Market research & Technical Analysis. Our signals are being shared to monitor our personal trades aka journey. We are trading at Bitmex, Bittrex, Binance. If you want to watch our Trades in live, simply subscribe via the website as a Premium Member.
Image Credits: TradingView