Ethereum has been the weakest crypto during this mini bull run, however on May 6th Ethereum finally saw some big gains with 4 big green candlesticks on the 4-Hour chart amassing massive gains close to 12%. The big move started at $157.78 and peaked at $180.69 just 4 candlesticks later. This is definitely a switch in momentum and could push Ethereum back to the top. Ethereum is still currently Nr.2 by market cap and it is ahead of XRP by $6 billion currently.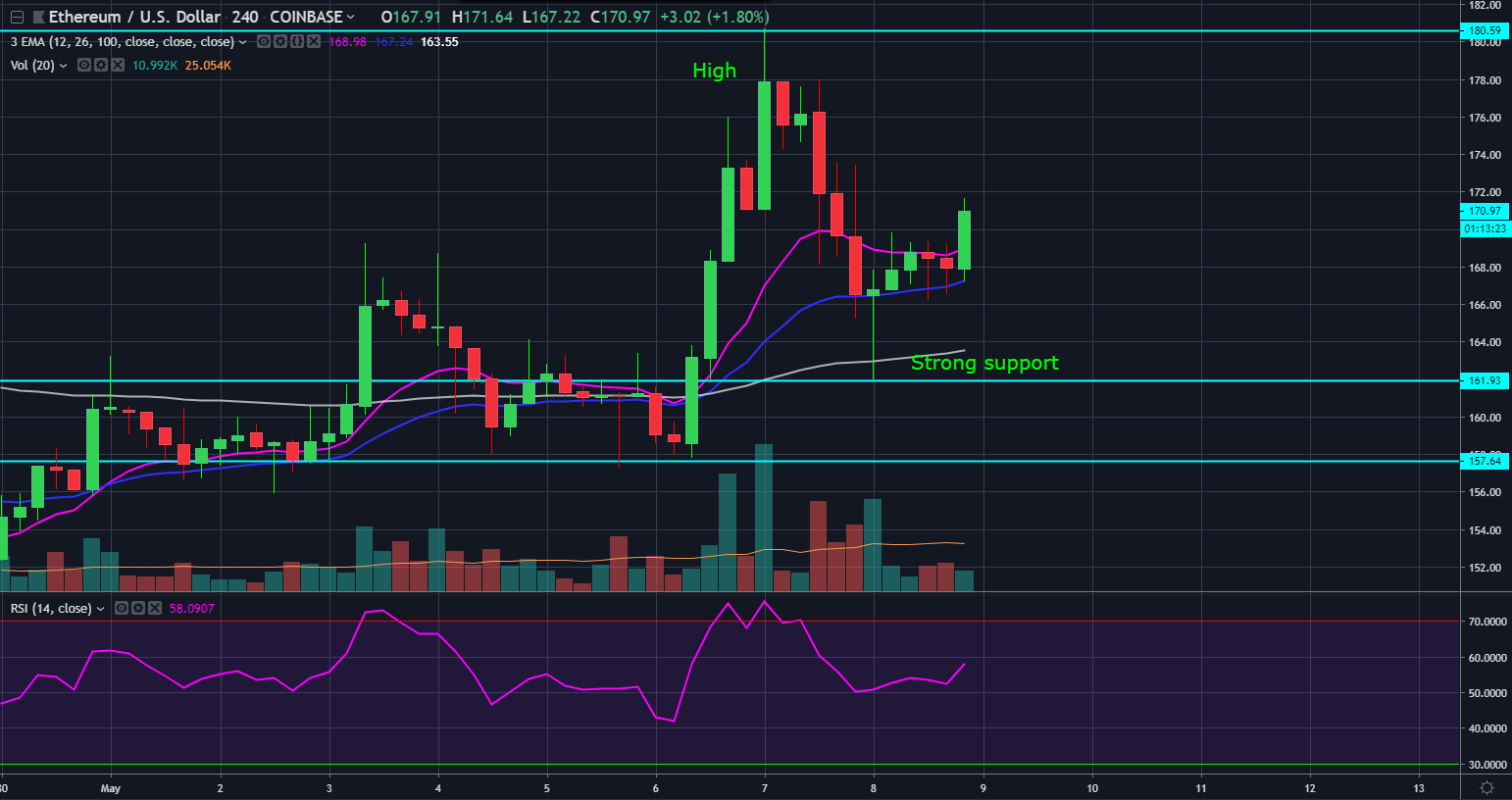 Technically, Ethereum was still in an uptrend since April 2nd but it was certainly weaker than most of the other cryptos. Looking at the 4-Hour chart we can see a really strong support at $162. Bulls defended the level convincingly and formed a big lower wick candlestick, a strong bullish candlestick. The most likely scenario for the next few days is forming an equilibrium pattern with a lower high being formed right now and perhaps a higher low before the break.
Considering how the entire market has swapped to an uptrend, it is more than likely for Ethereum to break bullish. Time will tell but most technical indicators seem to illustrate a very bullish approach for Ethereum. Historically this kind of moves seem to have been the spark for altcoin bullish runs and history does tend to repeat itself.
Timing couldn't be better. Historically, $ETH popping off like this comes before any significant #altcoin run.

Expect #Ethereum to bolt for a few days ⚡️ pic.twitter.com/ciUTgMjYS8

— Satoshi Flipper (@SatoshiFlipper) May 6, 2019
About Whaleagent
Whaleagent.club is the Most accurate crypto signals group in the world. We provide easy to follow educated signals that are based on Market research & Technical Analysis. Our signals are being shared to monitor our personal trades aka journey. We are trading at Bitmex, Bittrex, Binance. If you want to watch our Trades in live, simply subscribe via the website as a Premium Member.
Image Credits: TradingView