What is Ethereum Classic (ETC)?
Ethereum Classic was a fork of Ethereum that happened because of a hack on the DAO. It was a complex Ethereum smart contract. The money stolen couldn't be accessible for 28 days so the Ethereum community had 2 options, a soft or a hard fork. 
Eventually, it was decided that a hard fork was the best course of action and the Ethereum Classic was created. Ethereum Classic software doesn't allow updates which means ETC can never switch from PoW to PoS like Ethereum did. A lot of people are still using Ethereum Classic though, and it's still one of the top cryptocurrencies in the market.
Miners
The ETC community from the top mining pools have confirmed the support makes up over 75% of the network hash rate. It is related to client node after updating the system in preparation for the hard fork. Ethereum is always ahead of the schedule for supporting the hard fork.Almost all major exchange wallets are updated to support compatibility for the hard fork.
Current Situation of ETC
Ethereum Classic is currently trading at $4.83 after a recent overall market crash. Before that Ethereum was trading at around $6 in a slow daily downtrend. The all-time high for Ethereum Classic was $47.7 in December 2017 and the low of $0.45 in July 2016.
ETC is currently ranked 20th by Market Capitalization and enjoys huge daily trading volume of around $1 billion today and around $700 million on average.
Predictions for ETC in 2019
Considering the recent market dump, the predictions for ETC in 2019 change drastically unless the market can recover just as aggressively.
TradingBeasts
According to the analysis done by TradingBeasts, ETC could reach a price of $4.71 by the end of 2019, a price that seems to be really accurate even after the recent crash.
WalletInvestor
WalletInvestor analysis shows an uptrend for ETC especially in the last month of 2019 with ETC hitting $7.2 by the end of it. This is also feasible if ETC can create an uptrend.
DigitalCoinPrice
DCP seems to agree with WalletInvestor as they see ETC hitting $7.68 by the end of 2019, again, we don't know if the recent crash was taken into consideration.
Our Prediction
Even before this recent crash, ETC wasn't doing too well. The daily chart was in a downtrend for months and was just setting up a daily Equilibrium pattern that eventually broke bearish with a ton of followthrough. ETC lost more than 20% of its price in 1 day but has seen a huge bounce of another 20% to the upside, going from $4.1 to 4.92 in 1 day and a half.
The daily downtrend is clearly still in place and will certainly not change any time soon unless the whole market recovers miraculously. The weekly chart isn't any better as ETC has been in a downtrend here for months. Again, it looks really tough for the bulls to change this trend any time soon.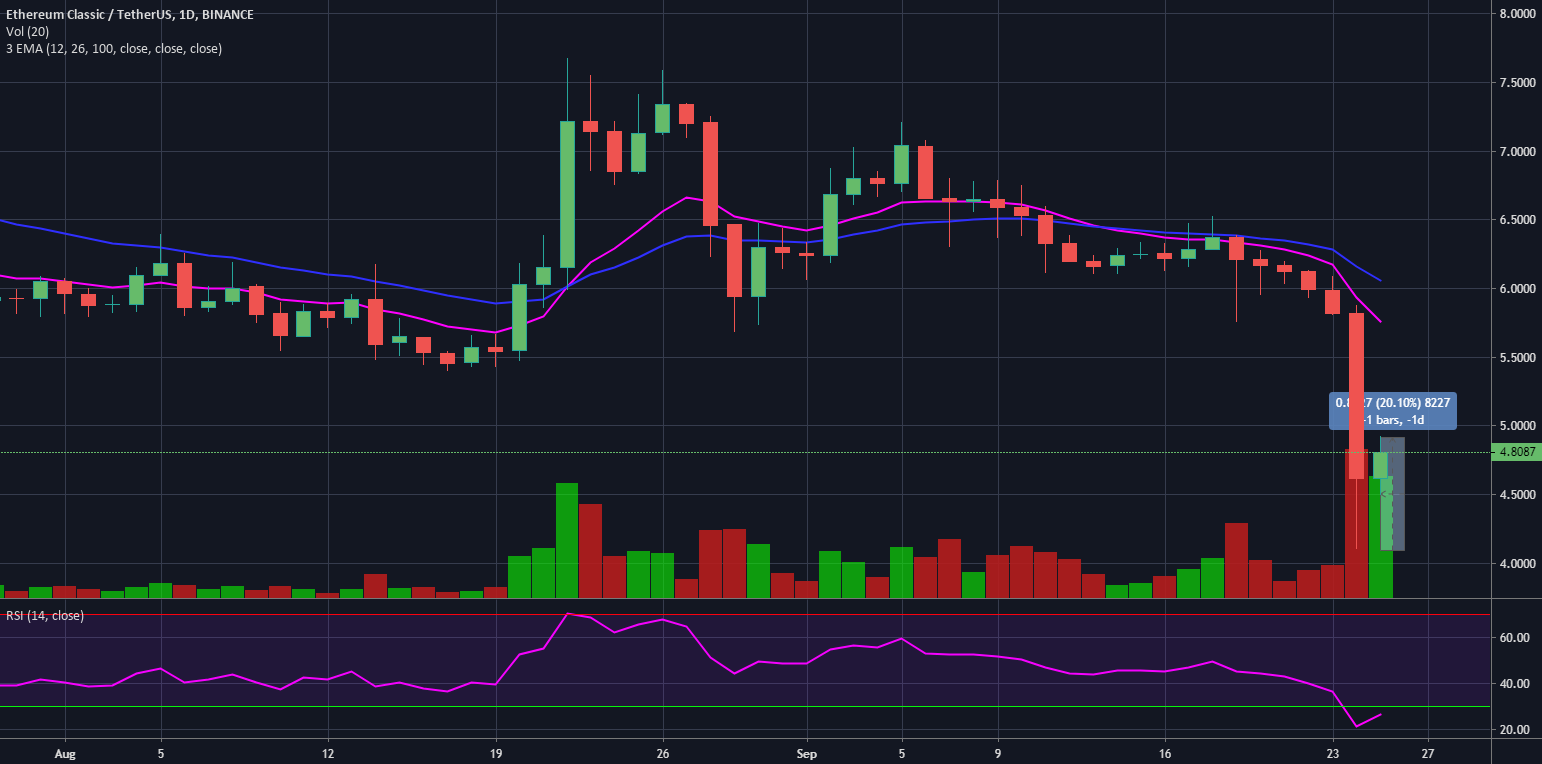 Finally, the monthly chart could be somewhat helpful for the bulls. They are at least trying to set a higher low compared to $3.65 but they are only hoping to set an Equilibrium pattern at most. The RSI is overextended here and could help the bulls see a small bounce but it remains to be seen.
Considering all the charts are showing a downtrend, we don't see ETC recovering any time soon. Although the bulls could see some upside action before the bears take over again. It's possible for ETC to jump back up to $5-6 by the end of 2019 but the continuation is definitely still going to be bearish. The minimum value for ETC would be around $3.
Our Prediction for 2020
There is actually a pretty detailed roadmap for Ethereum classic for 2019 and even 2020. The ETC developers are currently working to maintain a multi-geth that supports multiple networks as well as building a node client entirely from scratch.
These are definitely major updates and it's great that they have transparency by showing the users what's next. However, the recent downtrend on all time-frames will be tough to beat. ETC could certainly overcome it by 2020 but the momentum wouldn't be too strong.
We believe ETC could hit $6-7 by the end of 2020 if the bulls are able to set an uptrend on all time-frames by then.
Our Prediction for 2023
Clearly there is a lot of interest still for ETC. One would think that ETC is close to dying as Ethereum. It is still updated by Vitalik himself, is number 2 in terms of market capitalization. However, the community behind ETC seems to be strong enough to keep the coin at the top.
If 2020 is able to set an uptrend for ETC, we think it could hit an all-time high again in 2023 as we believe useful altcoins will see a huge bull run by then.
Our Prediction for 2025
At this point, most cryptocurrencies are either dead or really popular. Ethereum classic could very well be one of the popular ones.
If everything goes as planned for ETC. We could easily see the bulls push ETC above $50 and perhaps even touch $100.
About Whaleagent
Whaleagent.club is the Most accurate crypto signals group in the world. We provide easy to follow educated signals: based on Market research & Technical Analysis. Our signals are being shared to monitor our personal trades aka journey. We are trading at Bitmex, Bittrex, Binance. If you want to watch our Trades in live, simply subscribe through the website as a Premium Member.
Whaleagent.club content should not be considered as an investing parameter and the user should do their own research before investing. Price prediction is based on the data collected from various sources.