Ethereum on the daily time frame broke the low of $233 which was support and it's clearly more bearish than Bitcoin and the others. Our new daily lower high is $254.4 and anything under that level is just a lower high of a bounce attempt. The next support is at $222.8, really important support level because after that, there is no nearby support level and would be notable.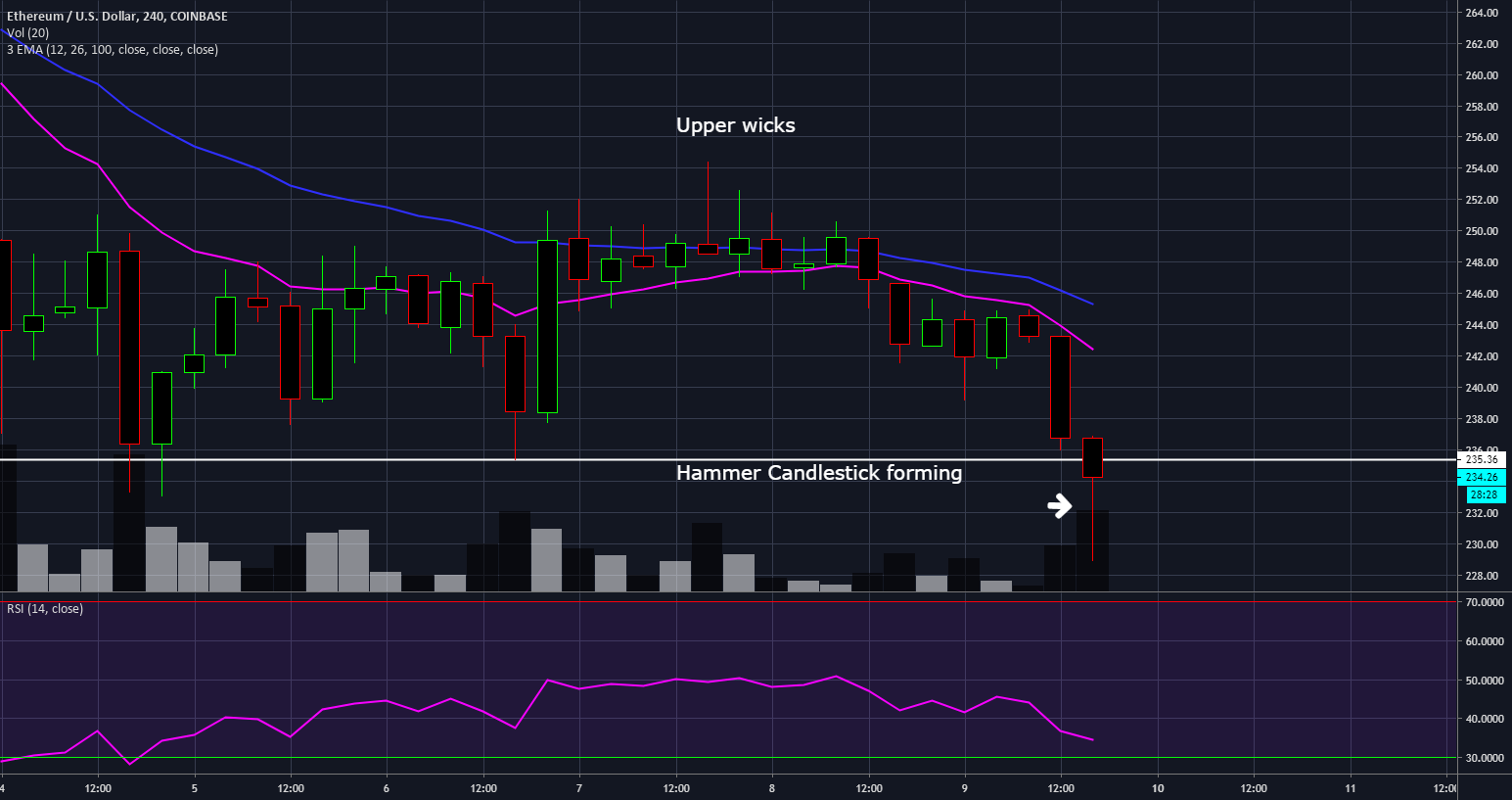 This is a scenario where all the top cryptocurrencies are going down, Ethereum is simply going down faster and we can clearly see that in the ETH/BTC chart. The 4 Hour chart was certainly indicating a lack of strength even though it was a trend change. There was barely any continuation after we changed the trend, hitting $251. A lot of upper wicks started to appear which indicates lack of strength and bears holding the price.
Nonetheless a bullish candlestick is forming in the 4 Hour Chart and the RSI is getting closer to the oversold zone which could indicate a small bounce but we have to be cautious and realize we are still in a downtrend on the daily chart.
Ethereum 2.0 development is on schedule and might play an important role when it's finally completed, although this is planned to happen in 2021 so it is still a long way until that.
I'm blown away by recent progress on the #Ethereum 2.0 execution layer!@VitalikButerin, @wjvill, @cdetrio and @alexberegszaszi presented at the Scaling Ethereum conference today. All terrific, but Casey's brief history review at ~1h46 was my fave.https://t.co/uMu1luBqzv

— Ben Edgington (@benjaminion_xyz) June 7, 2019
About Whaleagent
Whaleagent.club is the Most accurate crypto signals group in the world. We provide easy to follow educated signals that are based on Market research & Technical Analysis. Our signals are being shared to monitor our personal trades aka journey. We are trading at Bitmex, Bittrex, Binance. If you want to watch our Trades in live, simply subscribe via the website as a Premium Member.
Image Credits: TradingView