What is ICON (ICX)?
ICON is a decentralized network that enables other Blockchains to transact with one another without any other third-parties involved. ICON is open to anyone, any Blockchain can join the network and connect with all the other Blockchains. ICON is basically an ecosystem for Blockchain projects, transactions on the ICON network are not controlled by any centralized authority.
ICON hopes to create specific communities tailored for each industry like finance, public services, logistics, etc. These communities will handle tasks using smart contracts.
ICON has created 'Nexus', a multi-channel Blockchain which connects other Blockchains via Portals, an essential component of ICON that connects independent Blockchains to Nexus.
Current Situation of ICX
ICON (ICX) is currently ranked 54th by market cap and has an average daily volume of $12 million. ICX is currently trading at $0.198 and the overall ROI since the launch is at -51% meaning that ICX is worth less now than what it was at the beginning.
The all time high was $12.64 in January 2018 and the all time low is $0.18 in February 2019 although the current price is really close to the all time low.
Predictions for ICX in 2019
Things aren't looking too good for ICX this year, the recent months have been quite a roller-coaster, however, the overall trend has been negative.
CryptoNewsZ
According to CryptoNewsZ, ICX could reach $1 by the end of 2019 with a mini bull, this prediction seems quite improbable right now, though.
WalletInvestor
Wallet Investor has far worse prediction for ICX, they think it will be worth around $0.0298 by the end of 2019. This actually seems probable.
DigitalCoinPrice
According to them, the price of ICX by the end of 2019 will be around $0.32. Their analysis says that ICX is actually a good long-term investment.
Our Prediction
The daily chart for ICX is clearly in a massive downtrend. The last few months have been quite volatile for ICX. Just 2 weeks ago, ICX enjoyed a massive 28% surge, however, this surge didn't last too long and almost all gains are now gone.
In May ICX was extremely volatile and almost any day was a 10% change in price. Either way, the daily chart is in a downtrend and the bulls aren't showing up at all, the short term is clearly in favor of the bears.
The weekly chart is even worse with ICX reaching all time low levels, ICX was in a head and shoulders pattern that broke bearish with a ton of continuation. ICX is currently trading far below the weekly EMA's and the RSI is approaching the oversold area, however, this doesn't necessarily mean ICX will benefit from a surge.
The monthly chart looks extremely negative for ICX. From June 2018 up until now, ICX has seen only 3 green months. The long term is not showing good signs and almost all technical indicators are pointing towards ICX achieving lower lows. The RSI is extremely oversold in the monthly chart but it doesn't seem to be helping the bulls.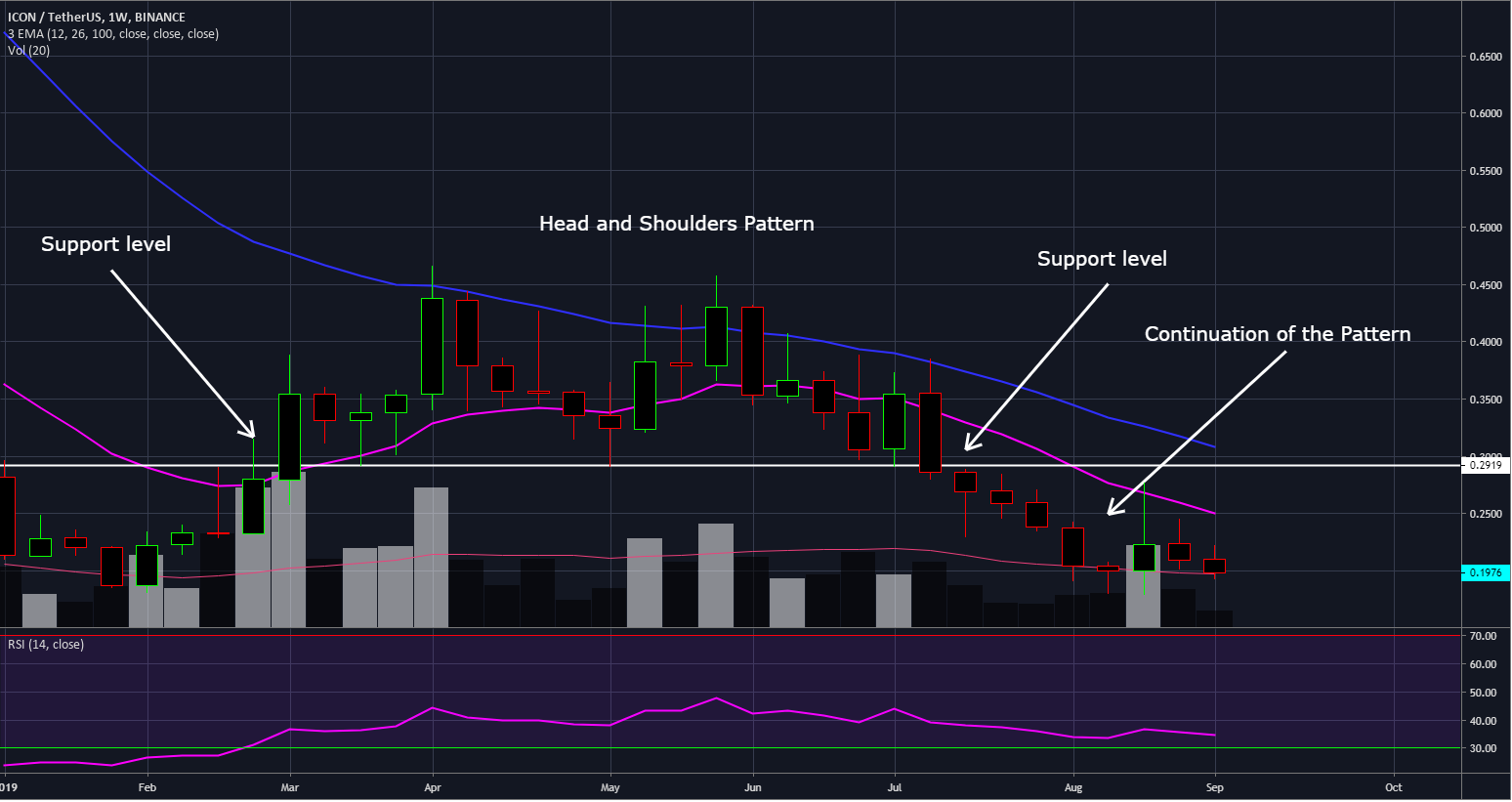 The most likely scenario for ICX will be a lower low and the price by the end of 2019 will probably be around $0.10.
Our Prediction for 2020
ICON's team is really active and pushing updates every single month. They update the roadmap regularly and they are currently working on the ICONex chrome extension update as well as other updates.
ICON has also recently announced their TestNet 3rd phase that will start on September 4th. ICON is not only a platform to connect blockchains but also a decentralized exchange.
ICON's DEX implementation was complete this year. This decentralized exchange works through the use of flexible tokens which can be created to hold one or more tokens as connectors. A flexible token is basically a regular token that allows users to buy and sell them directly through their own SCOREs at prices that adjust regularly.
Clearly, the ICON's project has a lot going on, aside from the bad outlook from technical analysis, the fundamental analysis certainly looks much better. It's possible that ICX will recover by 2020 and we could see it trading at $0.4-0.5 again.
Our Prediction for 2023
Continuing with our fundamental analysis, it's important to note that ICON's technology is actually used by established companies and they also benefit from great partnerships with businesses like Pantera Capital, CMCC and others.
Most of the updates and technological improvements have been finished with no issues. It does seem like ICX is a great investment to hold long term but it's hard to say if people will view it like that. The alt season could comeback in 2020, something that would help ICX tremendously.
We could see ICX trading at levels not seen before, however, the most likely price for ICX by the end of 2023 will be $5 following a long and steady uptrend.
Our Prediction for 2025
ICON is an established company, they will be around for a long time, even if they are not able to implement everything, their coin will still be worth something in the future. We have to assume at this point that most alt-coins are dead, it's already pretty rough for most alt-coins in 2019, we can only imagine how bad it's going to be by 2025, only a few useful alt-coins will exist or be worth anything, thousands will die.
We can assume that ICX will hit its all time high again by this point, perhaps reach $15-20.
About Whaleagent
Whaleagent.club is the Most accurate crypto signals group in the world. We provide easy to follow educated signals: based on Market research & Technical Analysis. Our signals are being shared to monitor our personal trades aka journey. We are trading at Bitmex, Bittrex, Binance. If you want to watch our Trades in live, simply subscribe via the website as a Premium Member.
Whaleagent.club content should not be considered as an investing parameter and the user should do their own research before investing. Price prediction is based on the data collected from various sources.