What is IOTA (MIOTA)?
IOTA is an open-source distributed ledger that enables micro-transactions without fees as well as data integrity for machines. IOTA is an innovative blockchain that doesn't group transactions into blocks like traditional blockchains, instead IOTA creates a stream of transactions entangled together.
The IOTA Foundation is a non-profit organization behind the IOTA cryptocurrency. The IOTA Foundation consists of experts in fields like engineering or business that work on the development of the IOTA protocol.
The main mission of IOTA is to become the platform behind transaction settlements and data integrity for the Internet of Everything, IoT. IOTA is able to achieve a higher transaction throughput and can scale much better than traditional Blockchains.
Current Situation of MIOTA
MIOTA is currently ranked 18 by market cap and enjoys an average $5.5 million daily volume. The overall ROI for MIOTA is negative at -62% with a current price of $0.236.
The all time high for MIOTA was set in December 2017 at $5.69 and the all time low was set in July 2017 at $0.147.
The current trend for MIOTA has been negative, at least for the past 3 months and the price has been descending slowly.
Predictions for MIOTA in 2019
DigitalCoinPrice
Their analysis and price forecast shows MIOTA hitting $0.467 by the end of 2019. DigitalCoinPrice says MIOTA is a good long term investment and the future will be positive.
TradingBeasts
According to TradingBeasts, MIOTA could reach a price of $0.30 by the end of 2019, this means that MIOTA needs a slight uptrend to get there, certainly possible.
WalletInvestor
According to them, the price of MIOTA by the end of 2019 will be $1.52, certainly a really positive prediction, however, at this time it seems quite unlikely.
Our Prediction
MIOTA, like many other altcoins, is currently facing a prolonged downtrend. In fact, yesterday, MIOTA just set a 2019 low of $0.226, clearly things aren't looking to good for MIOTA in the short term. The RSI has been overextended several times on the daily chart, however, the bulls have been unable to see any significant bounce.
The weekly chart is also in a downtrend, although it seems to be calming down recently. The volume has been dropping significantly for the past few weeks which indicates a big move is close. The weekly RSI is not yet overextended, although, the bulls didn't really do much when the RSI of MIOTA was extremely overextended in 2018.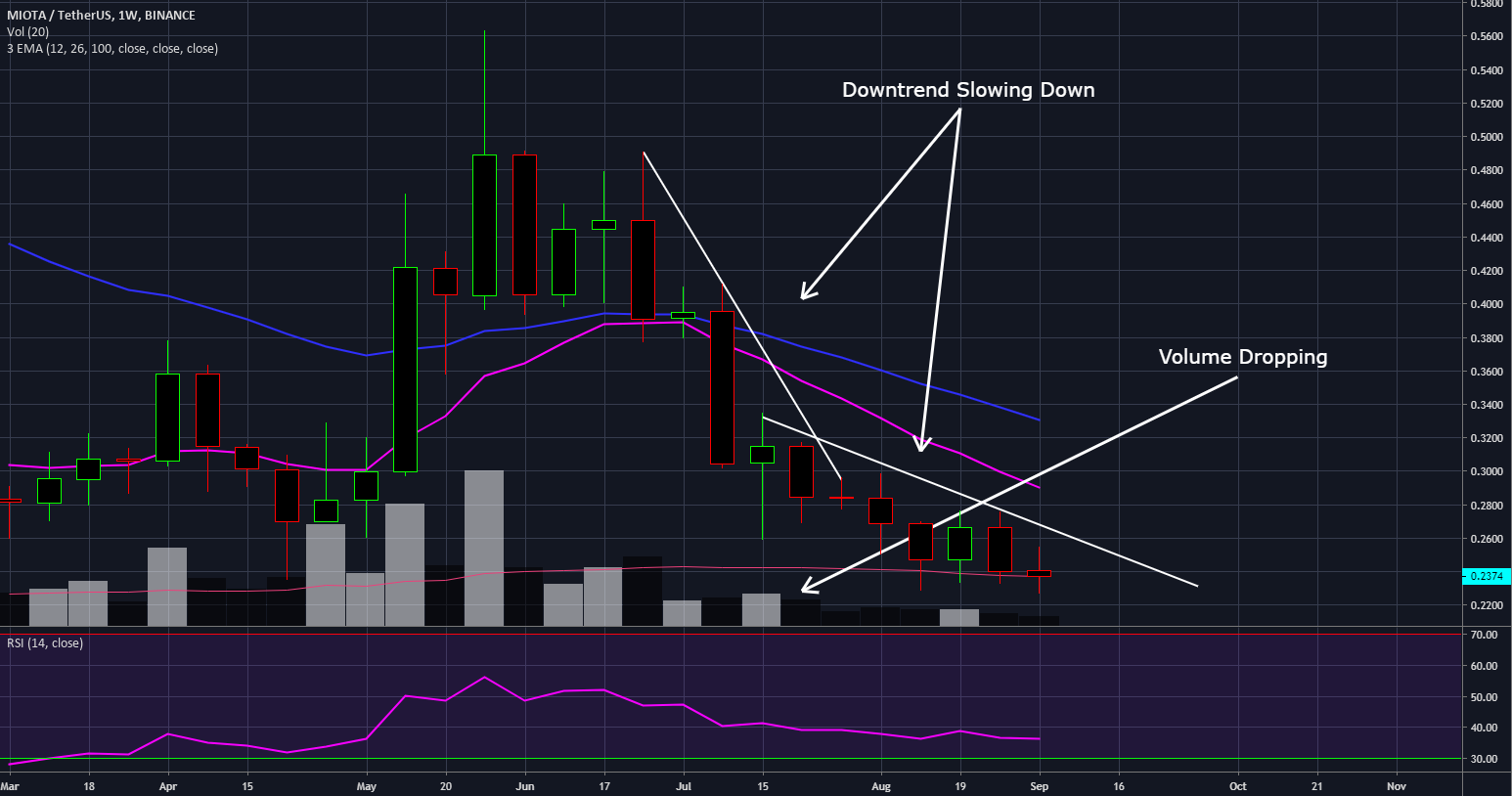 The monthly chart is also in a massive downtrend and again, the volume has been dropping significantly. The RSI is currently in the oversold area and the bulls are hoping to see a bounce soon.
The near short term doesn't look good for MIOTA, however, the bulls do have some hope thanks to the RSI's. They could see some significant bounces and although they will not be able to change the trend by the end of 2019, they might be able to see 20-30% gains. We think MIOTA could trade at around $0.35 by the end of 2019 if everything goes right.
Our Prediction for 2020
So what are IOTA's plans for the future? Their roadmap is actually very impressive, the IOTA's team is working on a ton of projects and updates. They are currently researching things like spam prevention and detection, automatic peer discovery, economic incentives and a ton of other projects.
The fundamental analysis for IOTA looks really impressive, the price might be going down and the Technical analysis might not look great for the short term but the fundamentals are certainly there. Keep in mind that IOTA's team consists of actual experts in those fields and they are working on a lot of projects.
IOTA is currently used by developers as well as organizations so it's quite clear there are a lot of applications and uses for it. We think MIOTA could be trading at around $1 by the end of 2020.
Our Prediction for 2023
The community of IOTA is experiencing fast growth, the projects on the platform have been growing exponentially and steadily. IOTA currently has more than 200 projects on the platform as well as 84 different ecosystem developers and more than 3000 community members.
Let's take a look at the partnerships of IOTA. The foundation has been working with giants like Volkswagen, Bosch, U.S. Bank as well as other cryptocurrency projects like Qtum, Skuchain and even some casinos like BitDice.
IOTA has been working with a lot of developers and has been able to secure a lot of amazing partnerships.
The price of MIOTA by the end of 2023 should hit ATH's again, perhaps even achieve $10.
Our Prediction for 2025
There isn't much left to say about IOTA, the company is clearly growing, securing more partnerships, working on updates and technological improvements and the community keeps growing. The fact that big names like Bosch or Microsoft are working with them, means they are already fit for the 'mainstream' public.
MIOTA could be one of the highest ranked coins by market cap by 2025, most alt coins will be dead by 2025 and only a few will be able to survive, the money will be concentrated in those few coins that have actual real world value. MIOTA could easily hit figures like $20-50 by 2025.
About Whaleagent
Whaleagent.club is the Most accurate crypto signals group in the world. We provide easy to follow educated signals: based on Market research & Technical Analysis. Our signals are being shared to monitor our personal trades aka journey. We are trading at Bitmex, Bittrex, Binance. If you want to watch our Trades in live, simply subscribe via the website as a Premium Member.
Whaleagent.club content should not be considered as an investing parameter and the user should do their own research before investing. Price prediction is based on the data collected from various sources.