Most of the top cryptocurrencies entered what is known as a tightening pattern with lower highs and higher lows. While most of them are still in this pattern, Litecoin took the lead and broke out of it with follow through action.
Yesterday, Litecoin gained 13% and traded as high as $103.9 breaking the resistance at $97. We have seen some follow through today and Litecoin is currently trading at $102.75.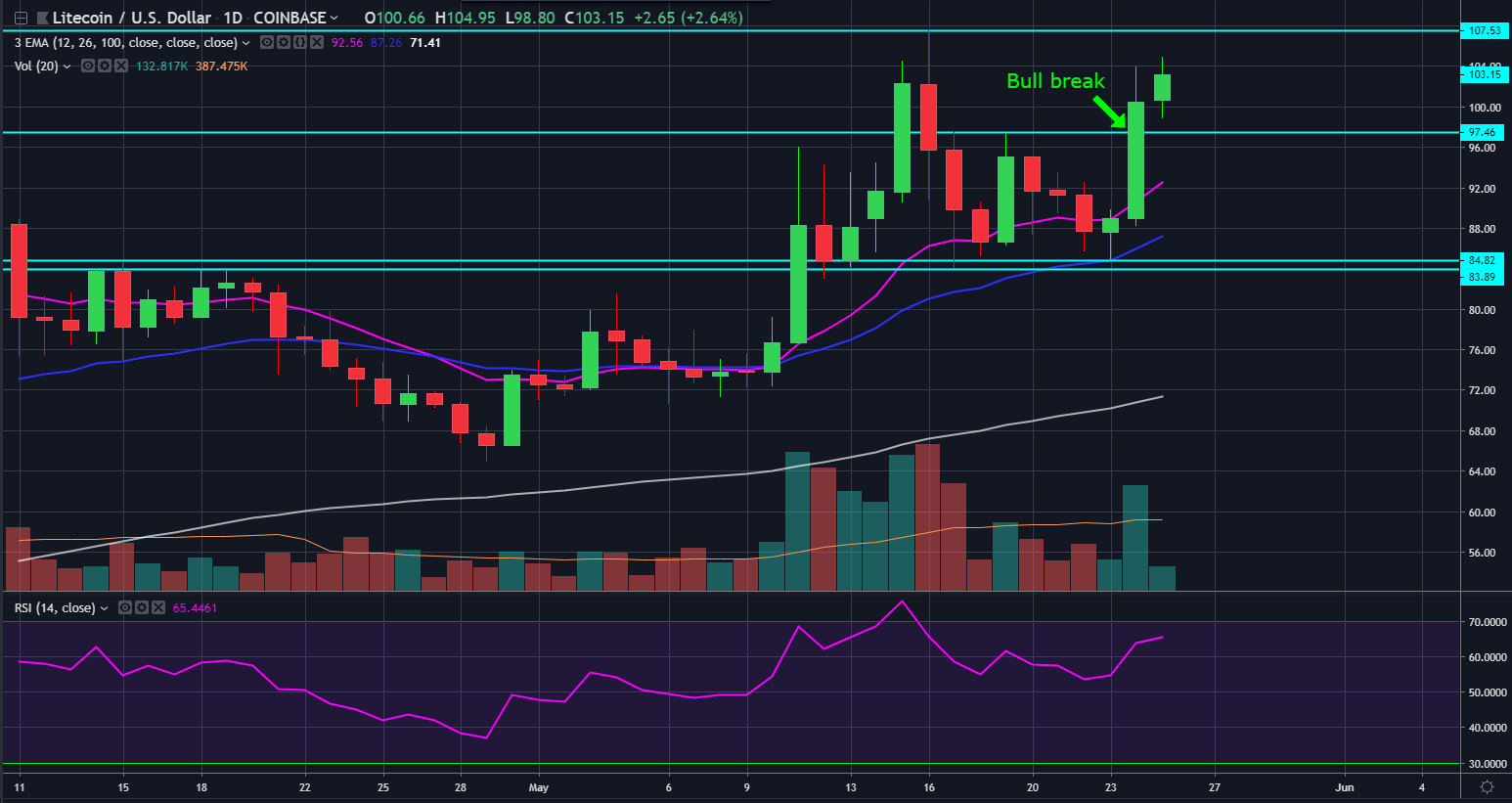 In the chart above we can see that the next resistance lays at $107.6 (The 2019 High). Unfortunately for Litecoin bulls, they started a bit too early and will now need significant follow through to break the resistance. The RSI is not yet overextended, however it is really close. While $5 might not seem much, we have to take in count that the bulls already burned a lot of momentum yesterday with the 13% gains move. There is a good case for bulls, though. Bitcoin is also very likely to break out of the tightening pattern in the next few days, that could certainly fuel Litecoin bulls as well and help them break the 2019 resistance.
Another important point is that Litecoin is only 73 days away from its 2nd halving. Cryptocurrency halving is known to have a huge impact historically on the price and could help Litecoin tremendously.
Litecoin is 74 days from its 2nd halving

It has made it this far from its creation in 2011, and stands as one of the most secure, reliable cryptos behind Bitcoin

It is one reason I am long on Litecoin#Litecoin #LTC

— Crypto Capital Venture ⚡ (@cryptorecruitr) May 23, 2019
About Whaleagent
Whaleagent.club is the Most accurate crypto signals group in the world. We provide easy to follow educated signals that are based on Market research & Technical Analysis. Our signals are being shared to monitor our personal trades aka journey. We are trading at Bitmex, Bittrex, Binance. If you want to watch our Trades in live, simply subscribe via the website as a Premium Member.
Image Credits: TradingView