After a significant pullback across the whole crypto market, Litecoin bulls didn't need long to prove they are still strong. Litecoin saw 7% gains yesterday and another 7% today, trading right now at $119 after the low of $97 just 3 days ago.
Not all the coins have done the same and Litecoin has diverged once again from the herd. Bitcoin is seeing some significant gains but not to the level of Litecoin.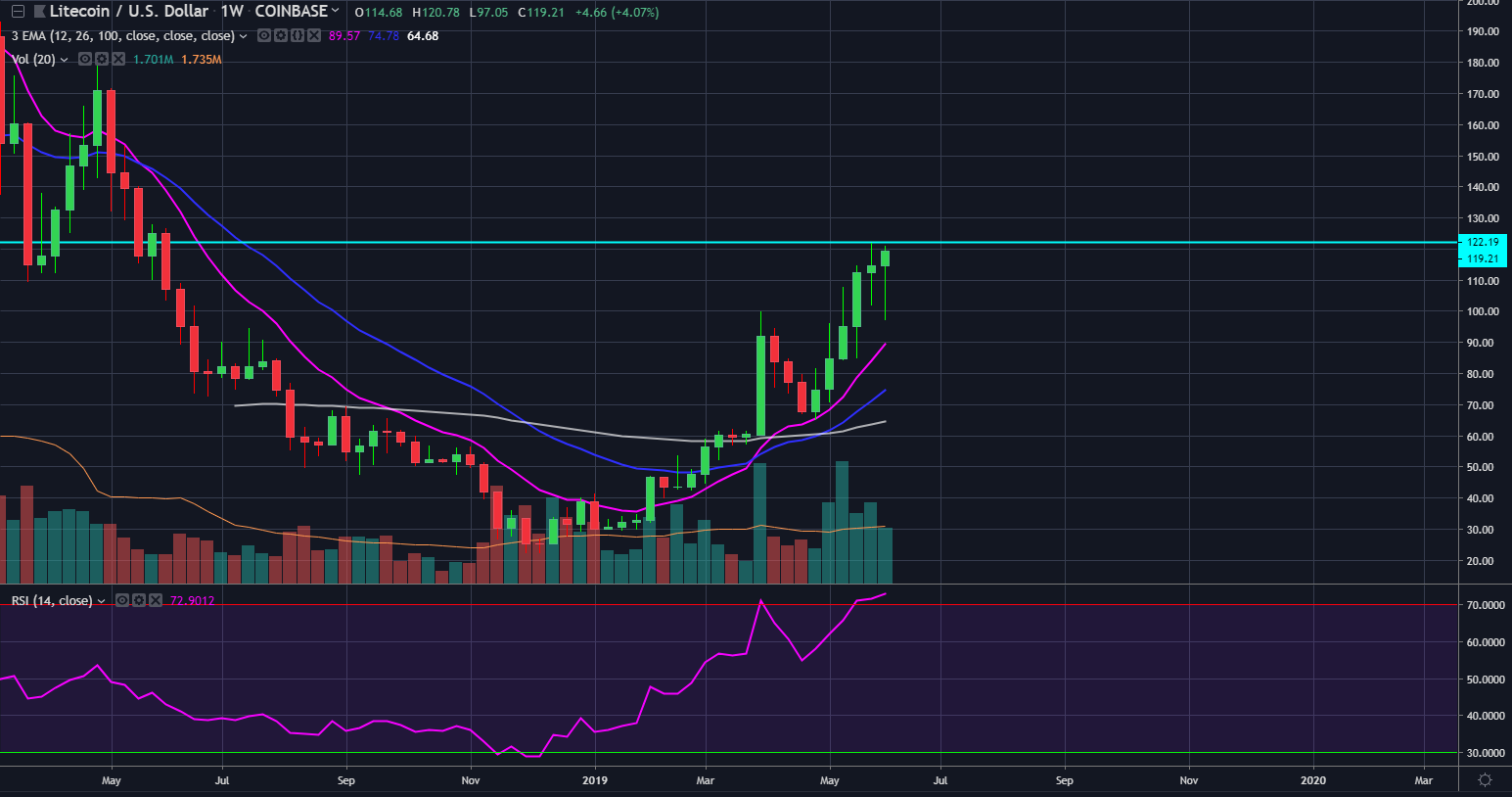 Looking at the weekly chart, Litecoin has now formed a very strong bullish hammer candlestick which shows a lot of strength for the bulls. The key difference between Litecoin and the others is that LTC has already consolidated in the weekly chart. On April 8 Litecoin suffered 3 weeks in a row of consolidation. This is one of the main reasons that Litecoin could easily break the 2019 high and continue much further compared to the other coins. Bitcoin and others still need some consolidation eventually, even if this weekly candlestick turns out to be a hammer candlestick.
Litecoin overtook EOS and Bcash at the same time on CMC and it's now number 4 by market cap. Halving is also getting closer which could boost the bull move even further.
This is what litecoin did 4 years ago before last halving…

be prepared for blast off #ltc #litecoin #bitcoin #btc #litecoinhalving @johnkim77 @cryptorecruitr @CryptoSavy1 @filbfilb @Josh_Rager @PeterLBrandt pic.twitter.com/PzxpYZFUzM

— Master ⚡️ (@xtdisnkfe) June 7, 2019
About Whaleagent
Whaleagent.club is the Most accurate crypto signals group in the world. We provide easy to follow educated signals that are based on Market research & Technical Analysis. Our signals are being shared to monitor our personal trades aka journey. We are trading at Bitmex, Bittrex, Binance. If you want to watch our Trades in live, simply subscribe via the website as a Premium Member.
Image Credits: TradingView