NEO has been weaker than most of the other cryptos and it's now forming a bear flag on the daily chart, currently trading at $12. The weekly chart is still far weaker than the rest of the market even though we are in a weekly uptrend.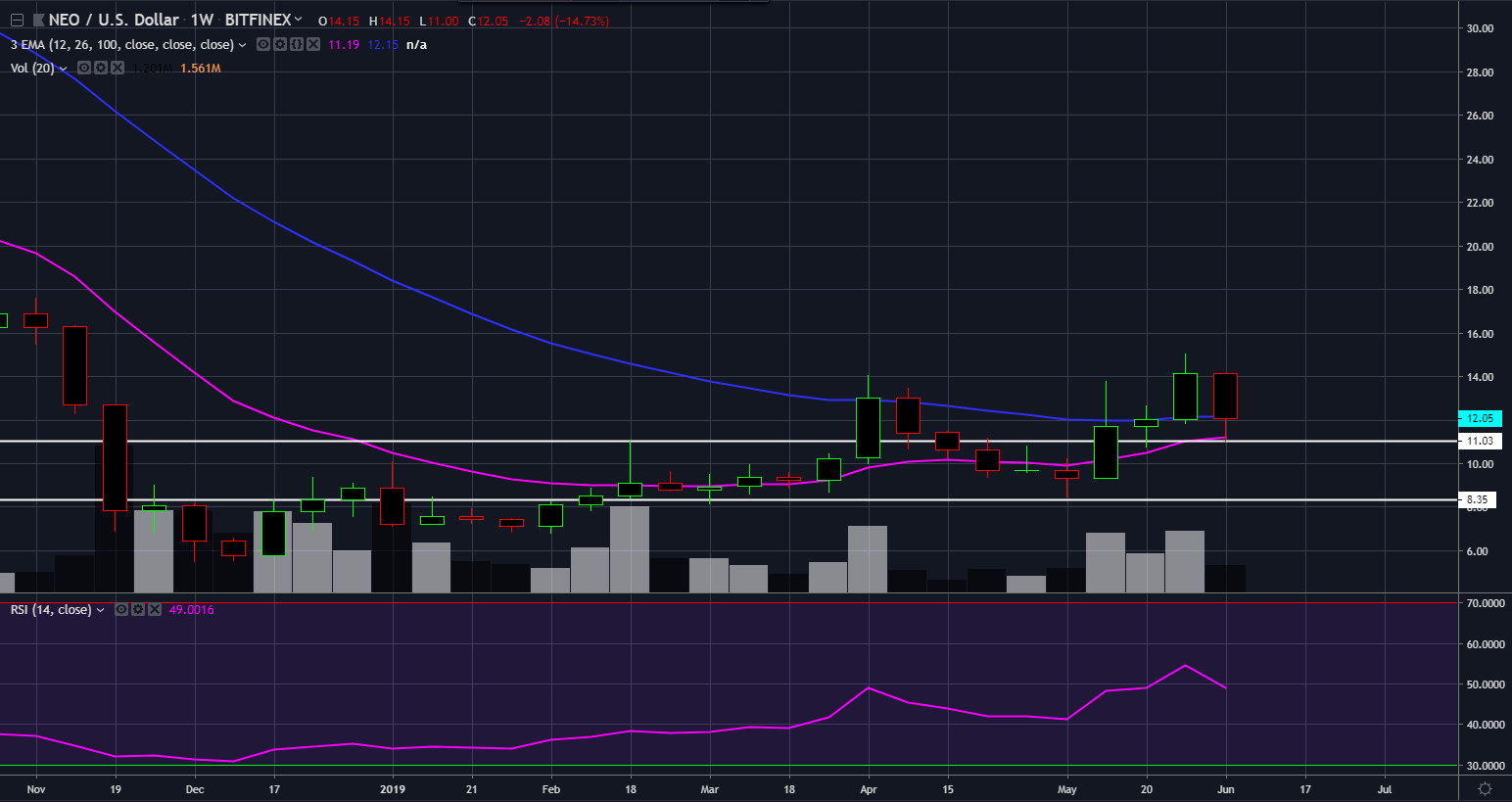 With this recent pullback, NEO broke the 12 day EMA on the weekly chart and tested the 26 day EMA, something that didn't happen with Bitcoin. In fact Bitcoin is still not even close to the 12 day EMA. One thing to note is that the 12 and 26 EMA's are getting closer to a bullish cross and it might happen in the following weeks if the uptrend continues. Another significant indicator is volume, bull volume has been way higher than bearish volume and signifies bull strength.
The monthly chart looks really tight for NEO and a violent break could happen at any time. NEO 3.0 is also on the way and seems to be ahead of schedule, NEO's GitHub page lists the upgrade as 62% complete. The next few days are going to be crucial for NEO, if the bear flag is destroyed and we see bullish continuation, NEO could become one of the top gainers.
Successfully upgraded NEO MainNet on Monday! The long-waited dBFT 2.0 & NEO-CLI 2.10.2 is proven to elevate the stability and overall performance of the MainNet. We'll let the numbers speak .

Learn more in the article by NEO core developer @Laborious1558 https://t.co/x3CXEF24Dr pic.twitter.com/nHWm2GKmkD

— NEO Smart Economy (@NEO_Blockchain) June 5, 2019
About Whaleagent
Whaleagent.club is the Most accurate crypto signals group in the world. We provide easy to follow educated signals that are based on Market research & Technical Analysis. Our signals are being shared to monitor our personal trades aka journey. We are trading at Bitmex, Bittrex, Binance. If you want to watch our Trades in live, simply subscribe via the website as a Premium Member.
Image Credits: TradingView