What is Cardano (ADA)?
Cardano is a cryptocurrency and platform capable of running financial applications. The Cardano platform consists of many layers. It gives the platform a lot more flexibility and allows updates to be done in a very simple way with soft forks.
According to Cardano, they are the only ones using actual scientists. A  group of leading academics and engineers to develop the platform. Cardano doesn't use the classic PoS algorithm, instead the team created a brand new algorithm called 'Ouroboros'. This algorithm is the first ever to be provably secure.
Cardano is currently working with a few groups of developers like 'Emurgo'. The team that is in charge of the development and support of commercial ventures while integrating them into Cardano's blockchain.
IOHK is another group founded in 2015 contracted to design, build, and maintain the Cardano platform.
Current Situation of ADA
Cardano is currently ranked 12th by market cap and enjoys a $50 million volume on average per day. Cardano is already listed on the top biggest exchanges.
ADA is currently trading at $0.0454 which is 10% higher than at the beginning of 2019. The trend has been sideways for the first 3 months of the year. Then a nice uptrend for the next 3 months and finally a pretty big downtrend for the last few months.
The overall ROI since the launch of Cardano is at 109% with an all-time high of $1.33 and a low of $0.017
Predictions for ADA in 2019
Similarly to other coins, ADA has been in a pretty rough downtrend for the last few months.
CryptoNewsZ
According to them, ADA could touch $0.1 by the end of 2019, they also think that ADA is great as a short and long term investment.
WalletInvestor
WalletInvestor has a negative forecast for ADA, they believe Cardano is not a good long term investment and that ADA will hit $0.008 by the end of 2019.
TradingBeasts
According to TradingBeasts analysis, ADA will be hovering around $0.06 by the end of 2019, a positive prediction.
Our Prediction
Clearly, the situation is not great right now for ADA. The bulls are currently attempting a trend change in the daily chart. However, these haven't had much success in the past.
The weekly trend looks very similar to other coins. 6 negative weeks in a row but with a far lower volume than before. Which is really the only good news for the bulls at this point. The EMA's are way above the price on all time frames and the RSI is not overextended anywhere.
The monthly chart could be helpful for the bulls but a lot of work still needs to be done. They are currently attempting to set a higher low compared to $0.027. The bulls would love to see a break of the high after that. However, it is highly unlikely the best chance for them is to simply create a weekly Equilibrium Pattern.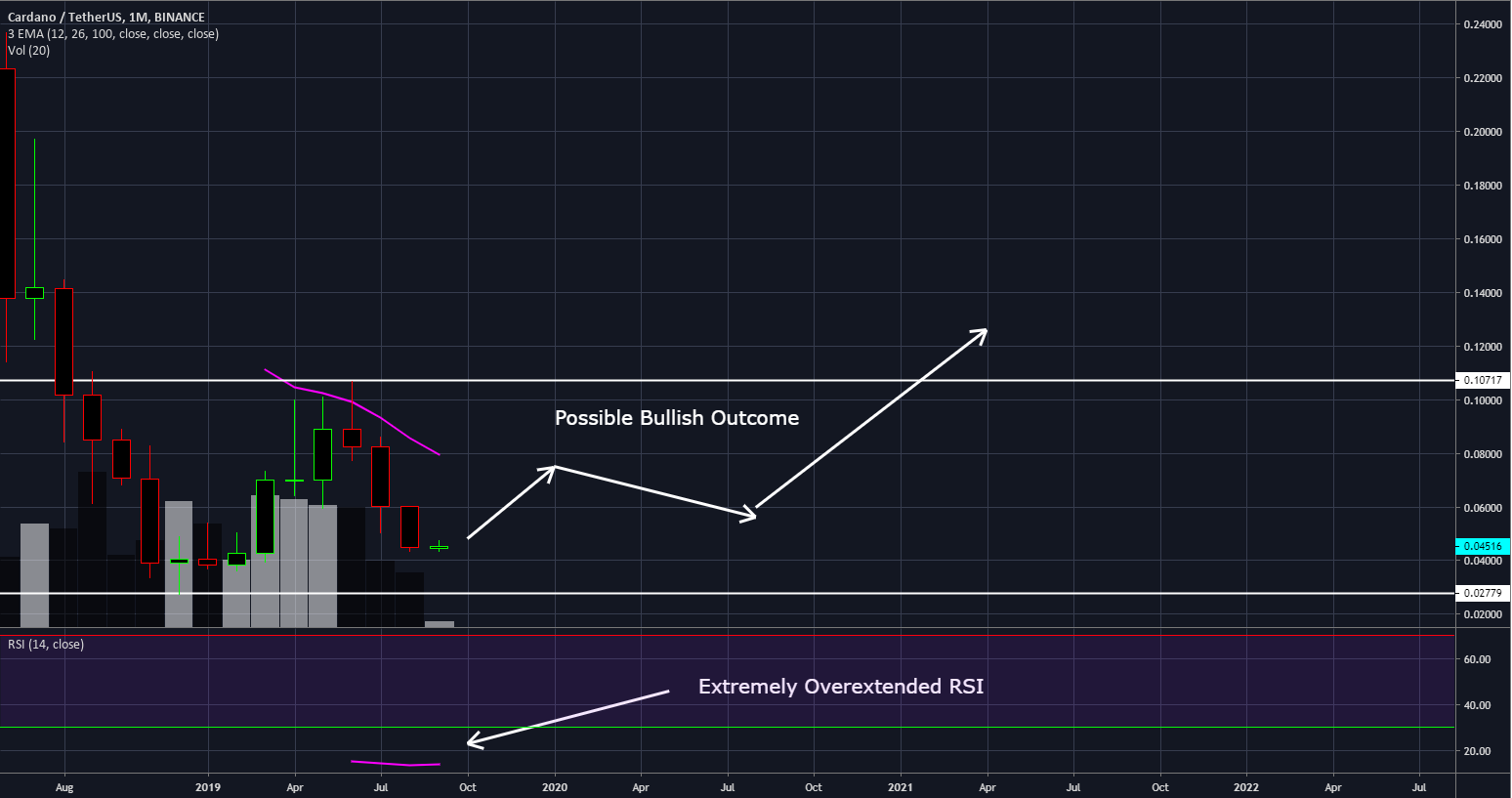 There is something very significant to note about the monthly chart though. Currently, only at 13 points, the bulls can definitely see some upside action within the next few months. The price is predicted at around $0.075 the most.
Our Prediction for 2020
In 2019 Cardano roadmap is more focused on scaling. The Cardano team will optimize and improves the network's scalability. This is called Basho, named after a famous Japanese poet.
The Cardano team will try to make a perfect decentralized network. This requires maintenance and improvement of the capacity over time. A decentralized way without the interference of an authorized party.
Cardano will introduce a voting and treasury system and will become fully decentralized. Considering these factors, Cardano is definitely set for success in the future. We could very well see $0.5-1 figures.
Our Prediction for 2023
Cardano's mission is to create a whole cryptocurrency ecosystem, the applications for Cardano in the future range from identity management to a credit system.
Cardano uses a PoS algorithm which means users can benefit from staking ADA. Staking means users will look to hold ADA for long periods of time or even years. This essentially means there are less volatile moves in the market and the price is far more stable at around $4-5.
Our Prediction for 2025
Cardano will be able to gain mass adoption by 2025 if the team plays their cards correctly. The price for ADA in 2025 could be around $10 if everything goes according to plan.
About Whaleagent
Whaleagent.club is the Most accurate crypto signals group in the world. We provide easy to follow educated signals: based on Market research & Technical Analysis. Our signals are being shared to monitor our personal trades aka journey. We are trading at Bitmex, Bittrex, Binance. If you want to watch our Trades in live, simply subscribe via the website as a Premium Member.
Whaleagent.club content should not be considered as an investing parameter and the user should do their own research before investing. Price prediction is based on the data collected from various sources.