What is Electroneum (ETN)?
Electroneum is an ecosystem for digital payments that use blockchain technology to create a decentralized environment. The coin is a mobile-based payment system and solution that uses the ETN coin, a store of value used for daily purchases.
ETN has more than 3 million registered users and ETN acceptance is growing heavily in the past months because the user base is growing too. Payments through ETN are instant thanks to the Payment API.
Electroneum operates legally everywhere, the company embraces KYC and AML procedures to comply with the law. This is allowing ETN to work with big corporations and even the government.
Current Situation of ETN
ETN has been in a daily downtrend for a while now, the cryptocurrency can be quite volatile at times, in fact, today, ETN has surged 15% trading at $0.004.
Looking at the weekly chart, ETN has been trading sideways for the past year basically. ETN does lack volume so it's not a surprise to see volatile moves.
Predictions for ETN in 2019
Considering the lack of volume, it's hard to make accurate predictions for ETN even in the short term.
Uslifed
According to Uslifed, ETN will hit a figure of $0.75 by the end of 2019. This figure seems highly unlikely considering the current price of $0.004.
TradingBeasts
TradingBeasts has a much safer approach, they think ETN will be worth around $0.006 by the end of 2019. Clearly this figure is much more likely. Their prediction is based entirely on Technical Analysis.
Digital Coin Price
According to DigitalCoinPrice, ETN will hit $0.055 by the end of 2019. They think ETN will increase in the future and that it is a profitable long-term investment.
Our Prediction
Again, looking at the daily chart, ETN is in a clear downtrend, however, there is a huge lack of volume for the past 2 months and a half. The bulls have been able to break above the 12-day EMA today, however, this isn't the first time the bulls broke above the EMA's and saw no continuation afterward.
If we look at the ETN's performance for 2019, we can see that the minimum price has been $0.033 and a maximum of around $0.082. ETN has been oscillating between these 2 figures throughout all year. It is pretty hard to determine the next move for ETN.
The most likely scenario is ETN continuing its sideways path. At most, ETN could perhaps hit the high of 2019 again, however, considering ETN has been unable to change the trend, the most likely figure will be something around $0.035.
Our Prediction for 2020
The Electroneum project has been running since 2017. The team has been updating and improving the platform every month. The next features planned are the launch of a full instant Payment system, a Gig Economy website, and a vendor directory. However, these features aren't explained in detail in ETN's official roadmap, something that investors and crypto users do not appreciate.
The biggest concern about ETN for the future is the lack of liquidity. The trading volume for ETN has been dropping since the end of 2017 and it's now averaging only around $150,000 per day. This volume is extremely low for a coin that is supposed to be about payments. It's certainly not for the lack of exchanges, ETN is already listed on KuCoin and Huobi, two really big exchanges.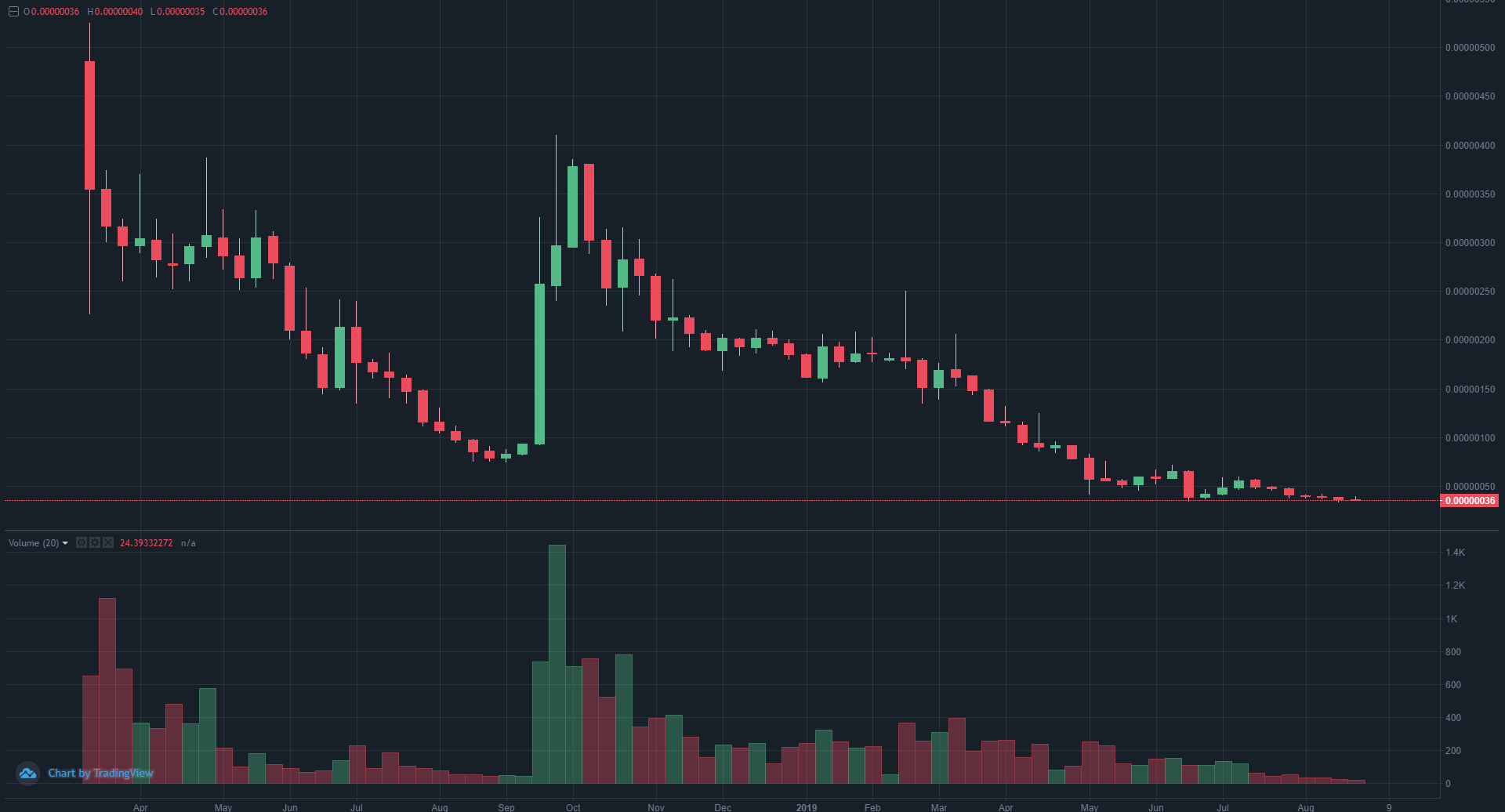 If the team is able to come up with the mentioned updates, then 2020 will be a good year for ETN and we could see ATH's at $0.18, however, if ETN doesn't achieve anything in 2020, the current downtrend will move forward and we will likely just see the price crumble even more, probably below $0.001.
Our Prediction for 2023
Unfortunately, ETN's roadmap doesn't mention anything about future updates besides the few we talked about, we don't know their plans. If they are able to really reach users worldwide, ETN could obviously become one of the biggest cryptocurrencies in the world.
The Electroneum team has done everything they proposed to do, so it's clear the team is professional and capable of delivering things on time, the only issue is that we don't know what their plan for the future is. Taking that in the count, ETN will only be alive in 2023 if the team is able to deliver.
Taking that in the count, ETN could easily see prices close to the $1 figure.
Our Prediction for 2025
There are only 2 main possibilities for 2025, Electroneum is either totally dead by then or one of the most popular cryptocurrencies in the world.
If ETN becomes a worldwide currency, we will see corporations using it, retailers, big businesses, and average people. If something like that were to happen, it would mean ETN is used by the majority of people in the world, the price would need to significantly increase to meet the demand, figures like $10 or even more would be not only possible but needed.
About Whaleagent
Whaleagent.club is the Most accurate crypto signals group in the world. We provide easy to follow educated signals: based on Market research & Technical Analysis. Our signals are being shared to monitor our personal trades aka journey. We are trading at Bitmex, Bittrex, Binance. If you want to watch our Trades in live, simply subscribe via the website as a Premium Member.
Whaleagent.club content should not be considered as an investing parameter and the user should do their own research before investing. Price prediction is based on the data collected from various sources.