What is EOS (EOS)?
EOS is a decentralized system that uses the blockchain technology to enable the development hosting and execution of DApps. The EOS is a pretty new project founded in January 2018 and has had a lot of success.
It aims to provide all the necessary tools to create decentralized applications. The platform contains all the resources needed like tutorials and guides as well as other tools.
Current situation of EOS
EOS had a tremendous start, For the majority of the first half of 2019, EOS has performed extremely well. After a starting price of $2.58 in January 2019, EOS had a massive bull run up to $8.47 only 5 months later.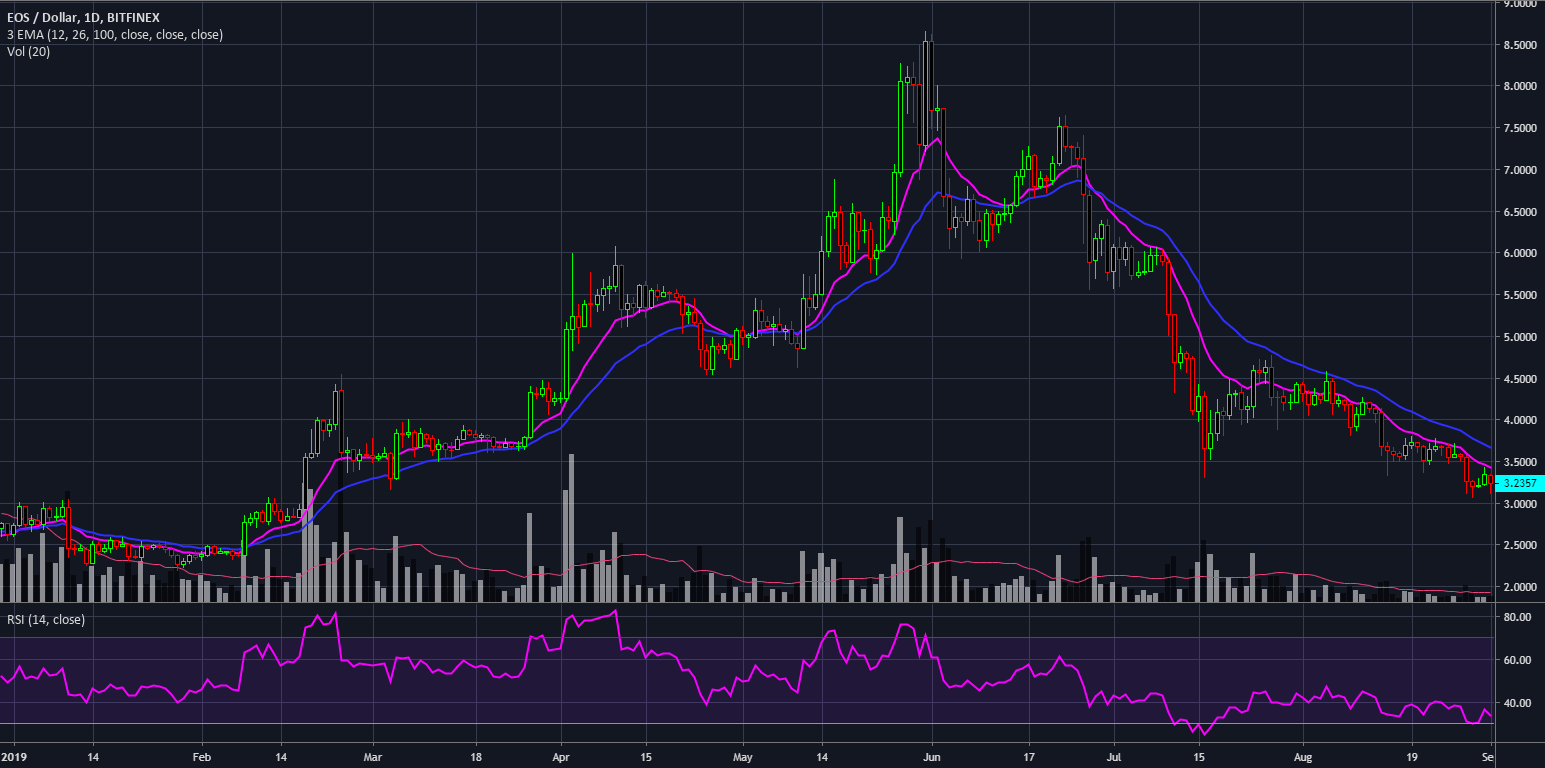 The whole crypto market experienced a pretty big pullback after that, however, it seems that EOS has been affected a bit more, the pullback was a bit too much for EOS and it's currently trading at $3.23 which is really close to the initial price. The daily chart has been in a downtrend since the high and EOS shows no signs of recovery right now.
Predictions for EOS in 2019
The overall sentiment for EOS seems to be negative, at least in the short term, considering the end of 2019 is really close, it would be no surprise seeing EOS go even lower.
Wallet Investor
According to Wallet Investor, the average price of EOS by the end of 2019 will be $4.33 and the maximum price will be $7.37. These figures seem a bit too high considering the current trend.
BuySellHodlApp
BuySellHodlApp states that the majority of users are selling their EOS right now and only 26% think holding is a good option right now. It seems that the majority of people think EOS will stay around the same price or perform slightly better in the upcoming months. Their prediction for 2019 is $4.71, again a figure that seems a bit too high.
TradingBeasts
TradingBeasts is basing their prediction solely on Technical Analysis, according to them, EOS will hit $3.41 by the end of 2019. Certainly a realistic figure.
Our Prediction
As mentioned above, the daily chart is currently in a massive downtrend but let's check the longer time-frames. The weekly chart looks a bit better, although bears were able to confirm a downtrend, the overall look for 2019 doesn't seem as bad. Clearly the pullback is not healthy at this point and bulls are trying their best to change the trend. Their best bet at this point is a bounce from an overextended RSI, however, the RSI hasn't been overextended in quite a while.
The monthly chart is actually in favor of the bulls, even after the recent crash. The bulls can still confirm an uptrend if they hold the $1.55 support level and break the $8.65 resistance afterward. Obviously, this isn't easy to achieve but it's definitely possible.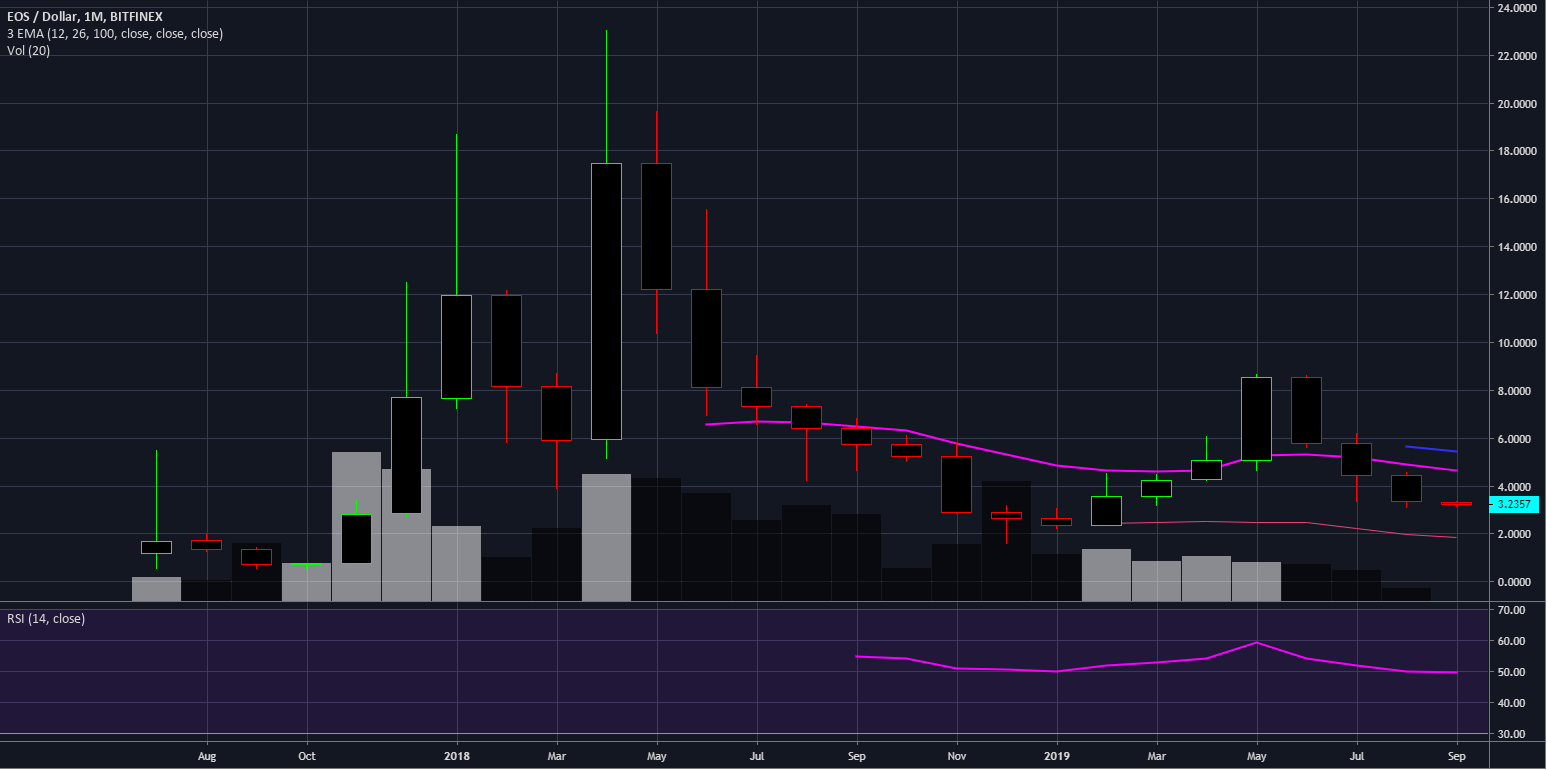 The bears are losing a lot of volumes recently which indicates the bearish momentum might be over and the bulls could bounce back up, at least half at around $6.06. The most likely price will be around $4 though.
Our Prediction for 2020
We have to take in count that EOS is a fairly new project, there is still a lot of room for growth and we haven't seen everything that EOS has to offer yet. Studies have shown that over 50% of EOS DApps are used on any given day. A figure that dwarfs the 10% of ETH DApps.
EOS DApps have found a lot of use when it comes to gambling casinos. Gambling has been one of the most popular uses for cryptocurrencies. There are over 400 DApps built on the EOS platform and the number keeps growing every day.
The said Coin has an extensive roadmap, called the 'strategic vision'. EOS is planning to enhance performance by exploring advanced database technologies, improvement of throughput on multi-core machines via multi-threading feature enhancements, and many more improvements.
The Team knows what they are doing, they have a very specific plan in mind and they are obviously able to develop it.
Considering all these factors, we believe that EOS will see another ATH of $23.02 by the end of 2020.
Our Prediction for 2023
The team is definitely confident about EOS. In 2019 alone, they attempted two buybacks of their stock. Buybacks are pretty normal for many companies, the main reason a company wants to perform a buyback is that they believe their assets will experience growth. Buybacks also help to keep the price somewhat stable.
EOS has a bright future, they have a lot of money and a very competent team. EOS is the fastest-growing space in the crypto market.
There are a lot of industries that can make use of EOS, gambling is obviously one of them but there are more. The e-sports industry is growing heavily, a cryptocurrency like EOS that is able to process over 1 million transactions per second is the perfect currency for real-time betting.
Based on all these factors we can confidently say that EOS can hit a price of $50 by 2023, only if everything goes according to plan.
Our Prediction for 2025
At this point, EOS could even be the top 1 cryptocurrency. EOS ranked 5th in less than a year when it first started, there is clearly a lot of hype around EOS and it's just the beginning. The fact that EOS blockchain can process millions of transactions per second is an indication that EOS will still be around in the future.
If cryptocurrencies really become mainstream, there will be a big need of faster transaction speeds as well as lower fees. EOS is planning to actually get rid of all fees. There is no doubt that EOS will do well in the future, we could even see EOS hit $100 by 2025, time will tell.
About Whaleagent
Whaleagent.club is the Most accurate crypto signals group in the world. We provide easy to follow educated signals: based on Market research & Technical Analysis. Our signals are being shared to monitor our personal trades aka journey. We are trading at Bitmex, Bittrex, Binance. If you want to watch our Trades in live, simply subscribe via the website as a Premium Member.
Whaleagent.club content should not be considered as an investing parameter and the user should do their own research before investing. Price prediction is based on the data collected from various sources.