What is Litecoin (LTC)?
Litecoin was initially created by Charlie Lee as a fork of Bitcoin. Litecoin's main mission was to become a cheaper cryptocurrency than Bitcoin as well as achieving higher transaction speeds.
Litecoin uses a slightly different PoW system that doesn't need as much computational power as Bitcoin. Additionally, Litecoin seems to be almost immune to flood attacks. It is something that Bitcoin has been a victim of. Litecoin charges a fee for every single output.  Bitcoin charges the same fee for numerous tiny outputs which makes a flood attack economically viable.
Current Situation of LTC
Litecoin was among the top cryptocurrencies by market cap. In fact, it was ranked 2nd for a number of years, however, other cryptocurrencies have been slowly taking over and LTC is now ranked 5th, still a really high rank. LTC is currently trading at $67.
There was a positive sentiment among Litecoin holders because of the last Litecoin halving. However, the price didn't really change much and in fact, went down after the event.
Predictions for LTC in 2019
2019 for Litecoin was really positive at least for the first half or so of the year. However, during the recent 2 months, Litecoin entered a pretty rough downtrend.
AtomicWallet
According to AtomicWallet, Litecoin could see a price between $200-400 in 2019 because LTC has always been 'unexpected' crypto.
CryptoPolitan
CryptoPolitan thinks that the most likely price for LTC will be around $200 by the end of 2019. They claim it could be even higher if the altcoin season returns, however, this doesn't seem to be the case so far.
DigitalCoinPrice
Digital Coin Price has a more conservative approach and thinks LTC will be sitting at $117 by the end of 2019 with a possible maximum of $136
Our Prediction
Looking at the daily chart, it's clear that LTC is in a pretty heavy downtrend. The downtrend started all the way back in June and the bulls have been unable to stop it. The bulls are currently fighting for the 12 and 26-day EMA's but again, they have been unable to break above them for more than 1 day.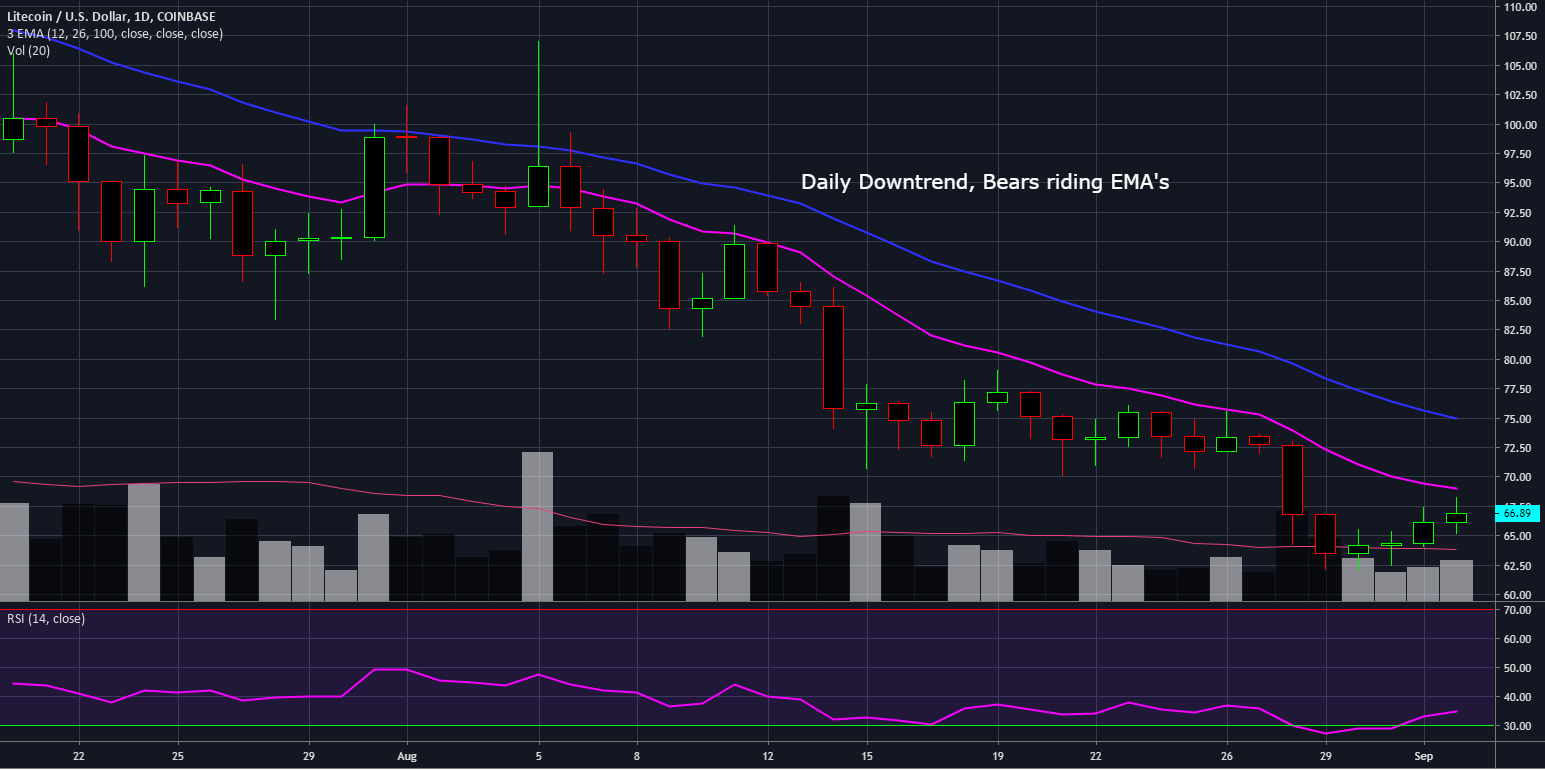 The weekly chart is also in favor of the bears and the EMA's are looking for a bearish cross within the next two weeks. The weekly chart is in a downtrend but the RSI is not yet in the oversold area. The only good news for the bulls is the lack of volume, however, this might not be enough to stop the bears.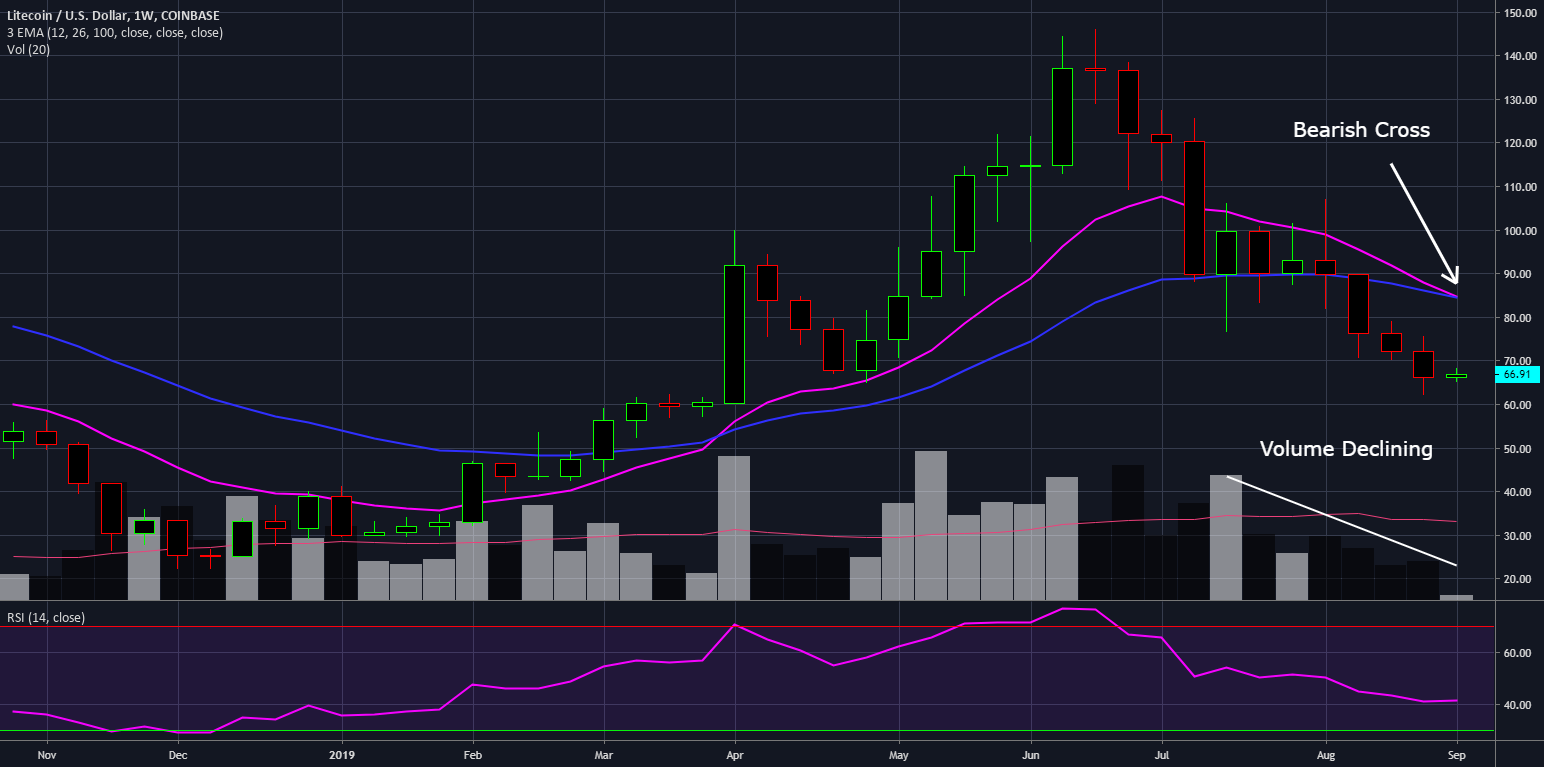 Lastly, the monthly chart. LTC is doing much better in the monthly chart, they have set a low of $22.17 and the chart will not be in a confirmed downtrend until the bears are able to break below $22.17. The bulls have more room to work with here, they can set a higher low using the 26-day EMA and try to break the high of $150 to confirm an uptrend.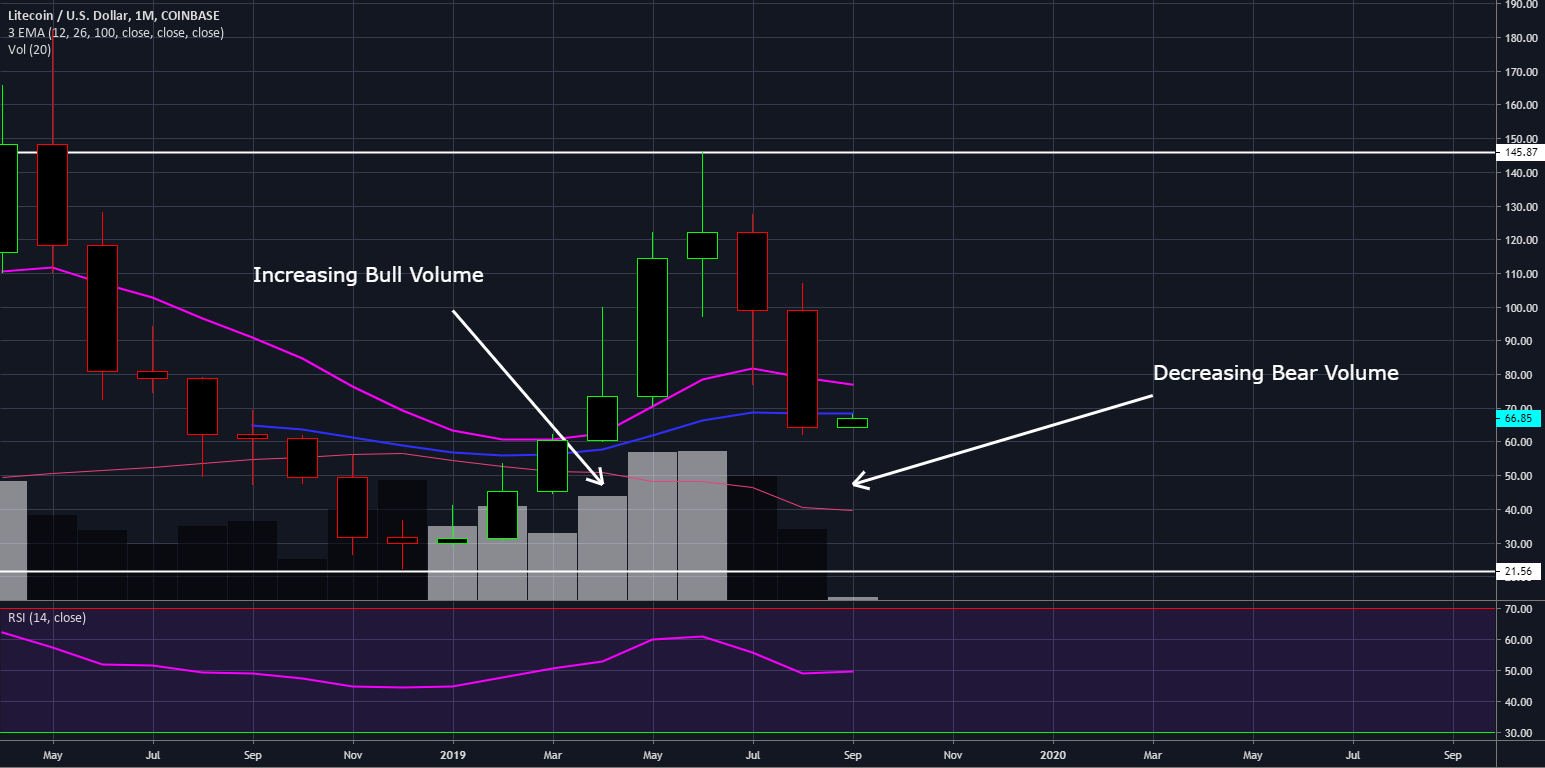 At this point, both options seem to have the same chances of happening so it's tough to know where Litecoin is headed. The most likely scenario is going to be a higher low compared to $22 and a lower high compared to $150 so the price is going to end up more or less in the middle at around $90.
Our Prediction for 2020
Although Litecoin doesn't have an official roadmap, the developer team is still working hard and pushing updates. Currently, LTC is looking to launch a LTC debit card for their 'PayWithLitecoin' (PWL) big project. The PWL project aims to promote Litecoin to businesses so they can accept it as payment.
The Litecoin team is also actively participating in events and promoting LTC. Clearly, Litecoin is still very much alive and could easily climb back and regain its second rank on CMC.
If the bulls are able to confirm a monthly uptrend in late 2019, Litecoin will probably hit highs of $200-300 in 2020.
Our Prediction for 2023
The next Litecoin halving is set to happen on 04 August 2023. The last one didn't have the effect that everyone expected, although it's very likely that LTC did so well in the first half of 2019 because of the upcoming halving. There is a saying in the investment world about 'buy the rumors, sell the news'
It is inevitable for LTC to experience some growth, otherwise, it will just die and mining won't be profitable anymore, considering LTC has been alive for so long and it's still ranked so high, it's safe to assume it will still be alive in 2023. Litecoin would be trading above the ATH of $420 by then, probably well above $500.
Our Prediction for 2025
The future of Litecoin is promising, it's already being used as a payment system in many businesses. It could very well take Bitcoin's place as a global currency. Litecoin has all the features needed to become a global currency and the developer team is working towards optimizing it even more.
In 2025, Litecoin will probably be established as a really strong currency, used for daily purchases like groceries. The price could easily hit $1000 and beyond.
About Whaleagent
Whaleagent.club is the Most accurate crypto signals group in the world. We provide easy to follow educated signals: based on Market research & Technical Analysis. Our signals are being shared to monitor our personal trades aka journey. We are trading at Bitmex, Bittrex, Binance. If you want to watch our Trades in live, simply subscribe via the website as a Premium Member.
Whaleagent.club content should not be considered as an investing parameter and the user should do their own research before investing. Price prediction is based on the data collected from various sources.