What is OmiseGO (OMG)?
OmiseGo is a decentralized platform that uses blockchain technology. It enables businesses and individuals to secure access to a wide variety of financial servers. The OMG network can process p2p transactions instantly in real-time.
OmiseGO eWallet is a specially designed wallet for businesses. Their customers connect to a digital marketplace where they can pay for goods and services and track their digital assets, all in one place.
The potential of OmiseGO is almost limitless. There are already numerous real-world applications that use cases like Burger King in Thailand launching their OmiseGO eWallet.
Current Situation of OMG
OMG is currently ranked 40th by market cap on CMC and holds an average daily volume of $40 million.
OmiseGO is currently trading at $1.09 which isn't far away from the price at the beginning of the year, $1.45
OMG has a positive ROI of 104% which means that the approximate return on investment if purchased at the time of the launch is 104%, so it basically has doubled in price.
Predictions for OMG in 2019
OmiseGO has had a decent performance this year. Looking at the big picture, OMG has been basically trading sideways for the majority of the year.
TradingBeasts
According to the analysis of TradingBeasts, OMG will reach a price of $1.262 by the end of 2019. A pretty conservative prediction.
Changelly
The analysis done at Changelly shows OMG at around $1 as a minimum for the end of 2019 and an average of $5 in 2019-2020.
DigitalCoinPrice
DigitalCoinPrice has a very positive outcome for OMG by the end of 2019, they think OMG will be able to hit $1.73 by then.
Our Prediction
OmiseGO is currently trading at $1.086 which is basically the price that OMG was trading. The strong daily uptrend for the first half of the year was wiped out. It was wiped in the last 2 months by an even stronger downtrend.
Clearly, the short term isn't looking too good for OMG. The bulls have been unable to break above the daily EMA's and the volume has been declining for the last 2 months.
The weekly chart is looking really bad too. OMG had 6 weeks in a row of negative gains and the bulls are nowhere to be seen. OMG is trading way below both EMA's an incredibly enough. The RSI is not even over extended yet. The lowest price OMG has hit this year is $1.023 and last week the bulls were able to barely hold $1.0247. A break below that support level It's looking almost inevitable at this point.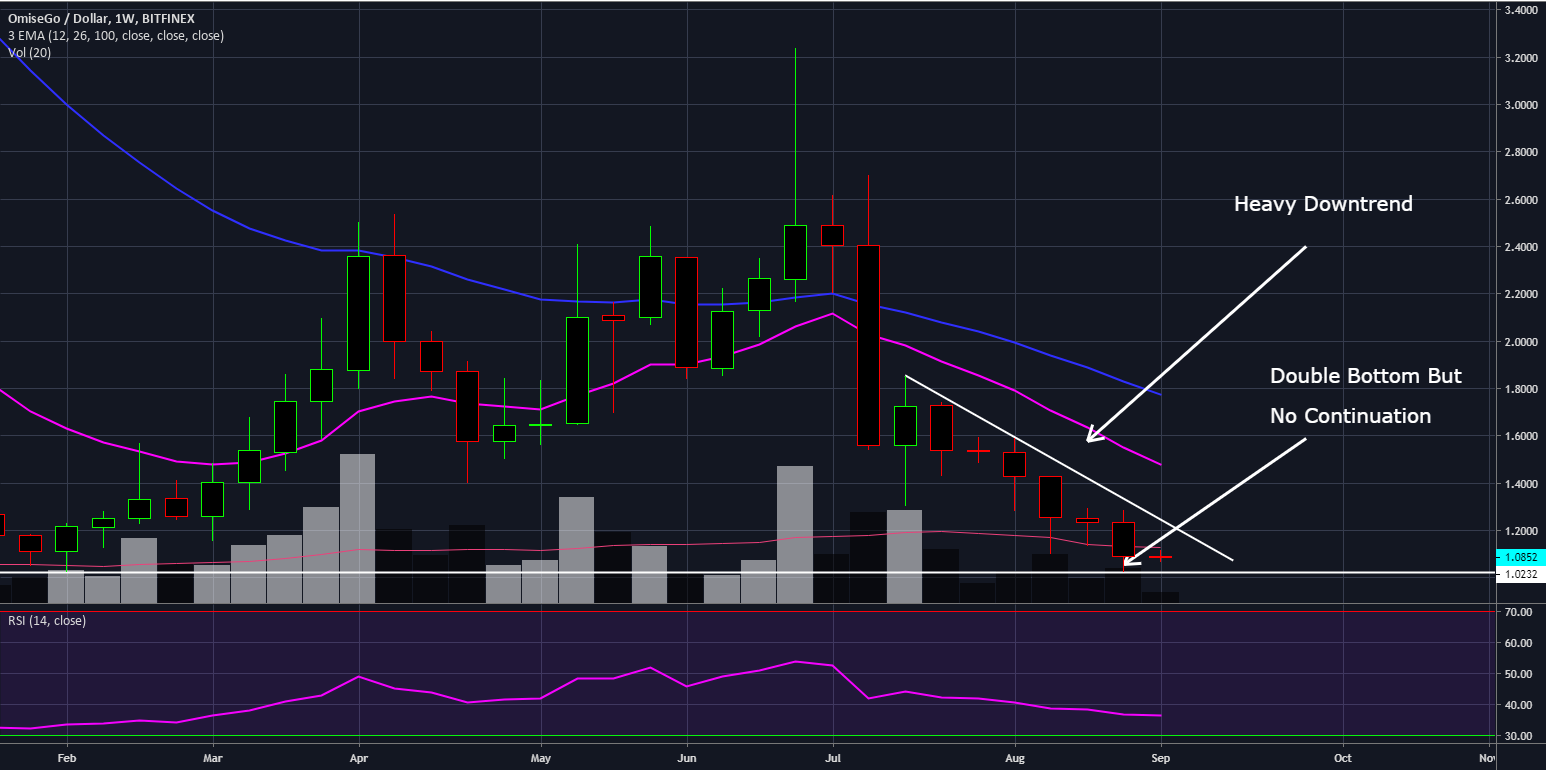 The monthly chart is in a downtrend too and there isn't too much hope for the bulls here. The bears have enough volume behind every move. The 12-day EMA is far above the current price and the 26-day EMA is, in fact, all the way up at $6.09.
Clearly, this year isn't looking too great for OMG. The most likely scenario seems to be a break below the support level. The possible price of OMG at that point will be below $1, probably something around $0.85.
Our Prediction for 2020
The Technical indicators might not be great for 2019. However, 2020 will be a whole different year and the really long-term indicators aren't too bad for OMG. Notable figures like Vitalik, the creator of Ethereum, have expressed their interest in coins like OMG.
Right now my favorite token model is OMG-style staking tokens. Reasons:

* Not a medium-of-exchange token
* Clear valuation model (expected discounted future tx fees minus node operation cost)
* Requires running node to get returns, not passive income (so more legally defensible)

— vitalik.eth (@VitalikButerin) December 12, 2017
The OmiseGO roadmap includes a lot of upgrades in the future like a Decentralized exchange on the main net. A scalable PoS Blockchain. DEX as a hybrid PoS. Obviously the team of OMG is working hard and has a clear plan for the future. Considering important figures like Vitalik and others are support OMG. It wouldn't be a surprise if OMG hits its ATH in 2020 again.
If the altcoin season starts next year, OMG could definitely hit $26 again. If not, we could look at a more conservative price of $10 based on technical indicators.
Our Prediction for 2023
OmiseGO has a unique technology that can be used in many real-world applications. Companies are currently making use of OMG. For example, Hoard Exchange, a video-game company is using the OmiseGO Network.
Shinhancard, an affiliate of Shinhan Financial Group which is one of the largest credit and card issuers in South Korea. It is also leveraging OmiseGO's expertise and tools.
The fact that real-world big companies are already making use of OmiseGO when the team is still preparing a ton of upgrades, means that the future will most likely be even better. At this point, we will see OMG hit its ATH and beyond, probably $40-50.
Our Prediction for 2025
There isn't much more to say at this point, OMG has clearly proven they are capable of delivering upgrades on time and they are certainly capable of working with big businesses.
OMG could easily hit the amazing $100 mark in 2025.
About Whaleagent
Whaleagent.club is the Most accurate crypto signals group in the world. We provide easy to follow educated signals: based on Market research & Technical Analysis. Our signals are being shared to monitor our personal trades aka journey. We are trading at Bitmex, Bittrex, Binance. If you want to watch our Trades in live, simply subscribe via the website as a Premium Member.
Whaleagent.club content should not be considered as an investing parameter and the user should do their own research before investing. Price prediction is based on the data collected from various sources.