What is TRON (TRX)?
Tron is a decentralized platform that uses the blockchain technology to create a free and global digital content entertainment platform. It was founded by Justin Sun in 2017.
Tron is trying to eliminate third-parties from the equation to connect users in a peer-to-peer way through the blockchain technology. Throughout all 2019, Tron's team has announced a wide variety of upgrades to the Tron platform infrastructure.
Odyessy, which is the mainnet of Tron was upgraded again and improving security as well as stability. According to Tron's website, the public chain is already performing around 2,000 transactions per second.
The Tron Foundation also announced recently their $20 million buyback plan to create even more market stability. Justin Sun, the CEO, said that his top priorities right now include listing Tron on major US exchanges like the upcoming Binance US exchange.
Current situation of TRON
Tron is currently trading at $0.015. After a pretty steep daily downtrend that has been extended for more than 2 months at this point. Tron's 2019 high was $0.0409 after a huge bull run from $0.0184 in January of 2019.
There is some good news for the short term. However, the volume of this recent downtrend hasn't been too amazing. Which means bulls could easily make a nice comeback.
Predictions for Tron in 2019
There are only 4 months left of 2019 and a lot of people and firms are making a lot of predictions regarding Tron.
Capital.com
According to Capital.com technical analysis, TRX is expected to reach $0.08 by the end of 2019. This figure seems a bit too high with only 4 months left to go but it's certainly possible.
Wallet Investor
Wallet Investor has a bearish approach when it comes to Tron. They think that Tron at most could reach $0.04 by the end of 2019. However, the most likely price will be around $0.0119. According to their Technical Analysis, Tron is a really bad long-term investment.
Our Prediction
If we look at the daily chart, Tron is clearly in a downtrend which shows no signs of changing any time soon. The short term is clearly bearish. If we take a look at longer time-frames like the weekly chart, Tron is not doing too good there either. The weekly chart is currently in a downtrend too and the EMA's have crossed bearishly around 4 weeks ago.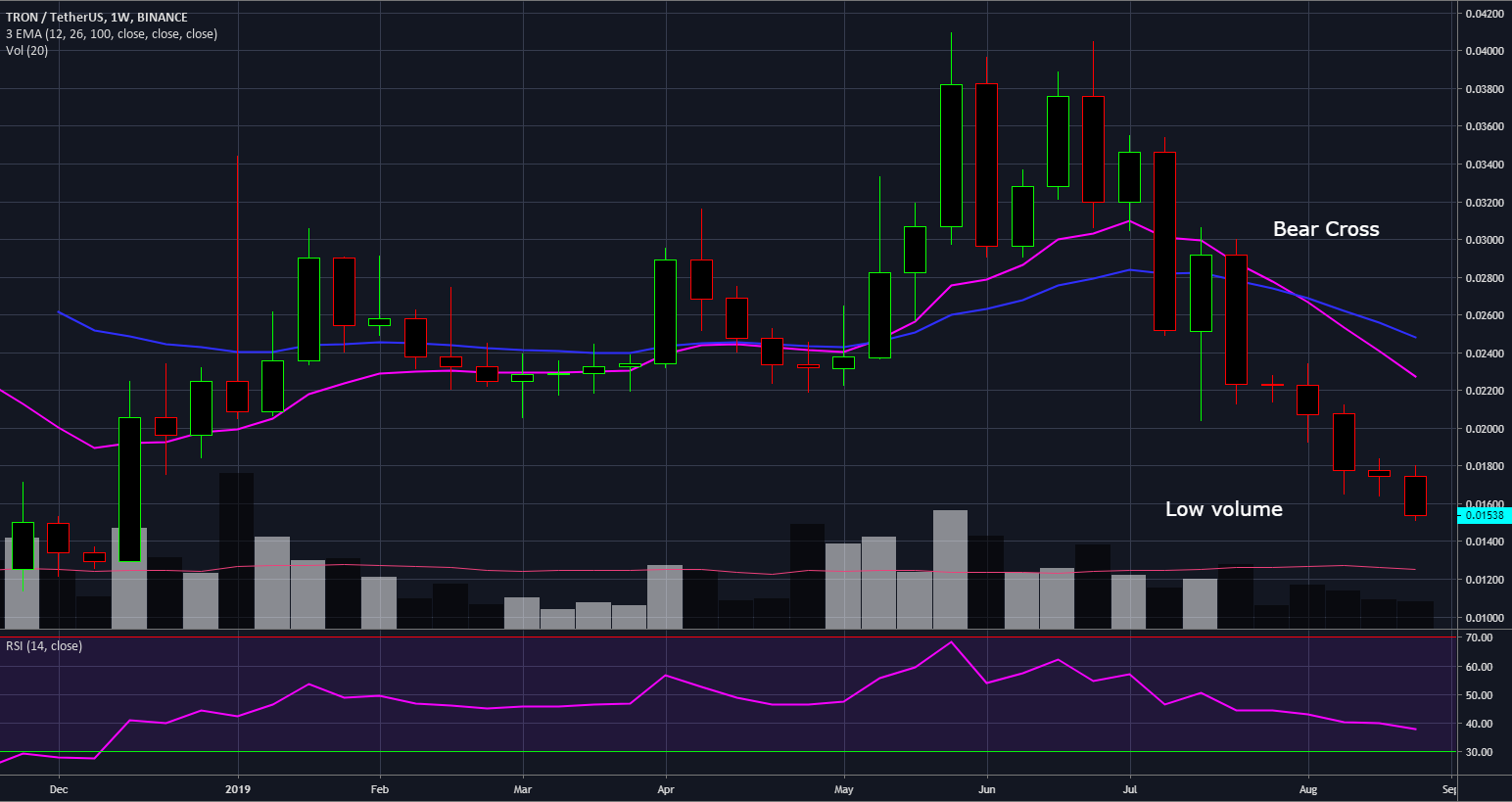 The only good news for the bulls is the lack of volume. However, that might not be enough to see any significant upside action. The bulls at this point would need to somehow break both EMA's. Bulls should break the resistance at $0.0306 in order to change the weekly trend. Something that seems highly unlikely. Their best bet at this point would be to form an Equilibrium pattern and set a lower high compared to the resistance mentioned above.
The monthly chart might give bulls some hope, though. Tron was in a monthly uptrend and the bears haven't confirmed a downtrend just yet. They would need to either break below the support at $0.01107 or set a lower high compared to $0.04095.
The most likely price for Tron at the end of 2019 is going to be a figure between the resistance at $0.0409 and the support at $0.011.
Our Prediction for 2020
For 2020 we will have to look at some Fundamental Analysis first. Tron is definitely one of the most popular projects in the crypto market and its CEO, Justin Sun is working hard to promote TRX. In fact, Justin has lunch pending with the billionaire investor Warren Buffett.
Tron has an extensive roadmap ahead, the next stage is called the 'Great Voyage' which will enable Tron to launch ICO's. This will be completed by mid-2020. This is only the 3rd stage out of six in total.
When it comes to technical analysis, 2020 could be a great or really bad year. There is a lot of uncertainty right now in the monthly chart. It's not clear if Tron will be able to stay in a monthly uptrend or if the bears will take over. Considering the extensive roadmap ahead as well as the current overall market situation, TRX could easily hit its ATH of $0.1 again, however, we could also see price lower than $0.011 if the bears are able to take over.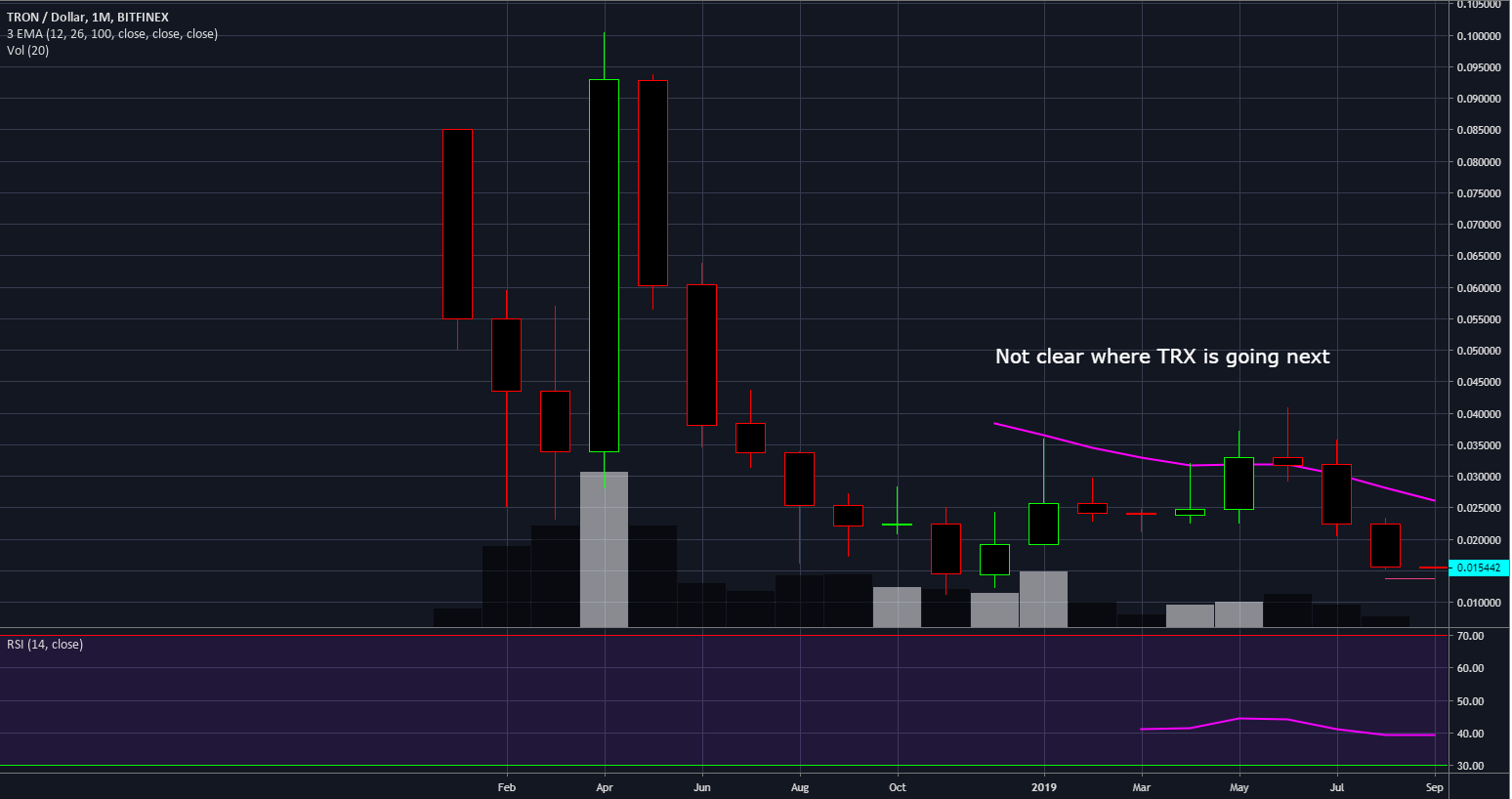 Our Prediction for 2023
The next stage in Tron's roadmap is called 'Apollo' and it's set to be completed by mid-2021. Tron will be able to launch its own tokens similar to Ethereum. The next stage is set to happen in 2023 and will be called 'Star Trek'. At this stage, the Tron Network will have all the features a gaming platform needs. TRX gamers will be able to play games and get rewarded for it in TRX coins.
With all the upcoming updates and upgrades to the Tron Network is difficult to see TRX not doing well by 2023. TRX has experienced huge bull runs before, in 2018, TRX jumped from $0.028 all the way up to $0.1 in just 1 month. Considering this fact and other variables we are confident saying that TRX can easily reach $0.50 and beyond in 2023.
Our Prediction for 2025
The last stage of Tron's development will start in late 2025 and it's called 'Eternity'. Users will be able to create their own decentralized gaming market platforms as well as raising funds. So far, the developer team of TRX has been able to meet pretty much all deadlines. If they keep this pace and complete all the stages by 2025, we will easily see TRX surpass the $1 mark.
Nothing will be able to stop TRX at this point and it could easily become one of the top 3 cryptocurrencies or even top 1 surpassing Bitcoin. TRX will have a ton of uses. Every member of the platform will have to use TRX in order to operate. This creates a lot of demand for TRX.
About Whaleagent
Whaleagent.club is the Most accurate crypto signals group in the world. We provide easy to follow educated signals: based on Market research & Technical Analysis. Our signals are being shared to monitor our personal trades aka journey. We are trading at Bitmex, Bittrex, Binance. If you want to watch our Trades in live, simply subscribe via the website as a Premium Member.
Whaleagent.club content should not be considered as an investing parameter and the user should do their own research before investing. Price prediction is based on the data collected from various sources.