What is Verge (XVG)?
Verge started out somewhat as a joke cryptocurrency named DogeCoinDark in 2014 but was rebranded to Verge in 2016. Verge is now a decentralized cryptocurrency offering anonymous transactions and has partnered with MindGeek in 2018.
The cryptocurrency has suffered two 51% mining attacks in April and May of 2018 but has managed to overcome them. Verge uses TOR to obfuscate the IP addresses creating untraceable transactions.
Verge is an open-source platform that offers really low fees but high liquidity as well as fast transaction speeds. According to the official website of Verge, their main mission is to "empower people around the world by bringing blockchain transactions into everyday life."
Current Situation of XVG
Verge (XVG) is currently ranked 74th by market capitalization and it's trading at $0.0033 with a circulating supply of almost 16 billion. The trading volume of Verge has been declining since 2018 and it's now holding an average of $1.5 million daily.
The overall ROI for Verge is more than 9000% as the currency started trading at around $0.000002+ for a few years before taking off.
Predictions for XVG in 2019
XVG seems to be losing steam as the community's interest fades away. The trading volume as well as the price have been declining significantly this whole year.
WalletInvestor
According to the analysis done by WalletInvestor, Verge could end up trading at around $0.074 by the end of 2019, quite unlikely at the moment.
DigitalCoinPrice
DCP sees Verge trading at around $0.0057 by the end of 2019, a much more realistic price as the virtual currency will only need a small bull run to achieve the mentioned price.
TheCoinRepublic
According to TheCoinRepublic, Verge could end up hitting $0.0092 by the end of 2019.
Our Prediction
Overall, things aren't looking too great for Verge. The fiasco partnership with Pornhub was actually a big hit for VXG's price as investors expected something much better. It was a clear case of buy the rumors, sell the news.
Compared to the rest of cryptocurrencies, Verge has experienced a much steeper daily downtrend and has been in an overall downtrend since the end of 2017 with only a few months of uptrend in 2018.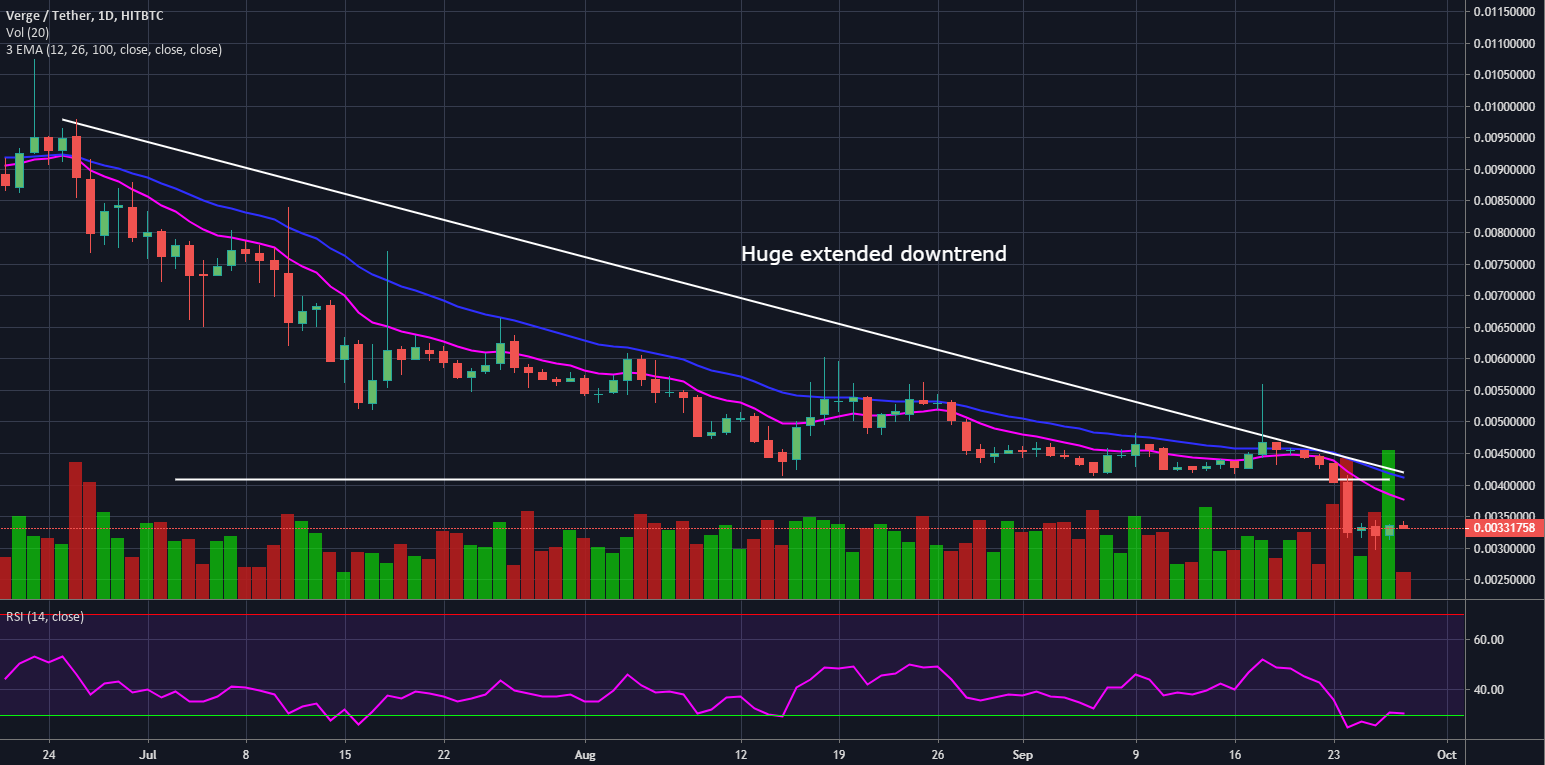 The daily trend continues to be negative and all technical indicators are signaling to sell in the short-term, mid-term and long-term. The bulls aren't showing any kind of strength and at this point, it seems the price will simply continue to decline slowly.
The weekly chart is similar and although Verge did see a small uptrend in March with the rest of the cryptocurrencies, the overall trend has been pretty much the same. The bulls have been unable to trade above the 26-period EMA for more than 2-3 weeks in a row, in fact, the 26-period EMA was acting as resistance from May 2018 up until May 2019, a whole year. The bulls could change the trend by setting a higher low and a higher high, however, as we have seen in the past, this wouldn't necessarily mean an extended uptrend.
Similarly, the monthly chart has shown no signs of recovery and the current 12-period EMA is all the way up at $0.0112 while XVG is trading at $0.0033. Taking these trends into consideration, we believe XVG will not be able to set a higher low in any of the time-frames mentioned and will simply keep declining, possibly hitting $0.002 by the end of 2019.
Our Prediction for 2020
Not everything is bad news for Verge as the team is still working hard on the project with a planned roadmap ahead. The team is currently finishing the electron-based wallet and starting on the Official Android Wallet redesign update. There is also a work-in-progress for the RSK Smart Contract Integration.
Will these updates help Verge comeback? Probably not as people are clearly losing interest in Verge and other privacy coins are taking over. We believe the current downtrend will continue and XVG will hit $0.001 or lower by the end of 2020, although a small uptrend in between could happen.
Our Prediction for 2023 and 2025
XVG has already lost around 95% of its value once when the 51% percent attacks occurred. The coin lost a lot of the community's trust and people simply switched to a similar but better cryptocurrency.
We think XVG will simply 'die' by the end of 2023 with a total collapse in price and volume while other privacy coins will rise. There is a small chance that XVG comes back only if the need for privacy coins becomes a necessity.
About Whaleagent
Whaleagent.club is the Most accurate crypto signals group in the world. We provide easy to follow educated signals: based on Market research & Technical Analysis. Our signals are being shared to monitor our personal trades aka journey. We are trading at Bitmex, Bittrex, Binance. If you want to watch our Trades in live, simply subscribe via the website as a Premium Member.
Whaleagent.club content should not be considered as an investing parameter and the user should do their own research before investing. Price prediction is based on the data collected from various sources.