What is Vechain (VET)?
VeChain was originally created in 2015 and it's currently operating in seven offices located inc cities like Paris, Singapore or Shanghai. VeChainThor is a blockchain intended for a trust-less distributed business ecosystem to enable a transparent information flow.
VET provides a secure blockchain infrastructure that can be used for tracking the quality or authenticity of products, transportation medium or storage temperature. VET uses RFID and sensors to broadcast real-time information to authorized users like the manufacturer or customer.
VeChain is basically a 3.0 Supply Chain that uses a smart contract network as the second blockchain layer. Each customer/business will be able to run and maintain their own nodes, benefiting from individual and private ecosystems.
Current Situation of VET
Vechain is currently ranked 33rd by market cap on CMC and enjoys an average volume of $23 million per day. Vechain is currently trading at $0.0044 and has been trading sideways for pretty much all 2019.
The volume has been pretty consistent for the last two months at an average of $25 million per 24 hours. VET has also been consistent when it comes to its BTC pair. Throughout the last 3 months, the VET/BTC pair has been trading more or less sideways.
Predictions for VET in 2019
The outlook for VET seems to be positive, though. The company behind VET has been able to come up with updates on time and VET is one of the few cryptocurrencies that can really say it has real world applications.
TradingBeasts
According to TradingBeasts, Vechain will hit $0.0136 by the end of 2019 with an expected maximum price of $0.017. This is certainly quite possible considering all the adoption Vechain is experiencing.
DigitalCoinPrice
DigitalCoinPrice is placing Vechain at $0.0082 by the end of 2019, again a pretty realistic figure, certainly on the lower side of predictions. According to DigitalCoinPrice, VET is a profitable investment in the long-term.
WalletInvestor
Wallet Investor thinks that VeChain won't be doing good until the end of 2019, their prediction for VET lies at $0.003 by the end of 2019, $0.0014 lower than the current price.
Our Prediction
VET started the year trading at $0.0039 and it's currently trading at $0.0043, clearly the overall trend was positive. The first half of 2019 was great for Vechain but a huge downtrend took place on June and has continued strong ever since.
The daily chart has been in a downtrend for the most part, although we have seen periods of small uptrends. VET's price is currently under both daily EMA's and the bulls have been unable to breach them since the downtrend started.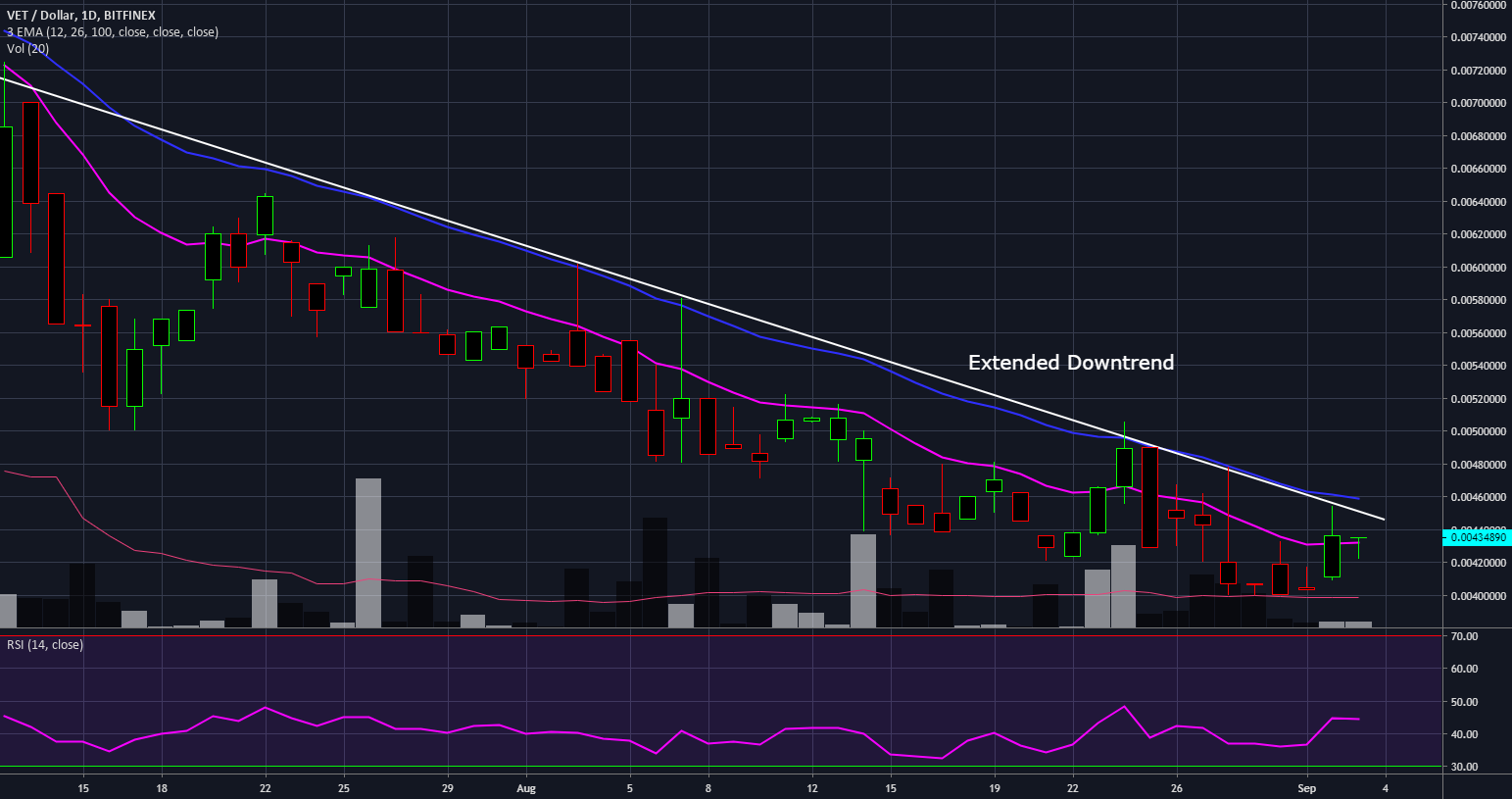 The weekly chart is also in a downtrend and VET is trading way above the 12-day EMA. The RSI is almost overextended which could give bulls a bit of hope in the short term.
Finally, the monthly chart is looking a bit better for the long term, the bulls can still set a higher low compared to $0.00325 and form an Equilibrium Pattern. The monthly uptrend was also followed by a lot of bullish volume and the recent bearish trend doesn't have too much volume which indicates a lack of strength for the bears.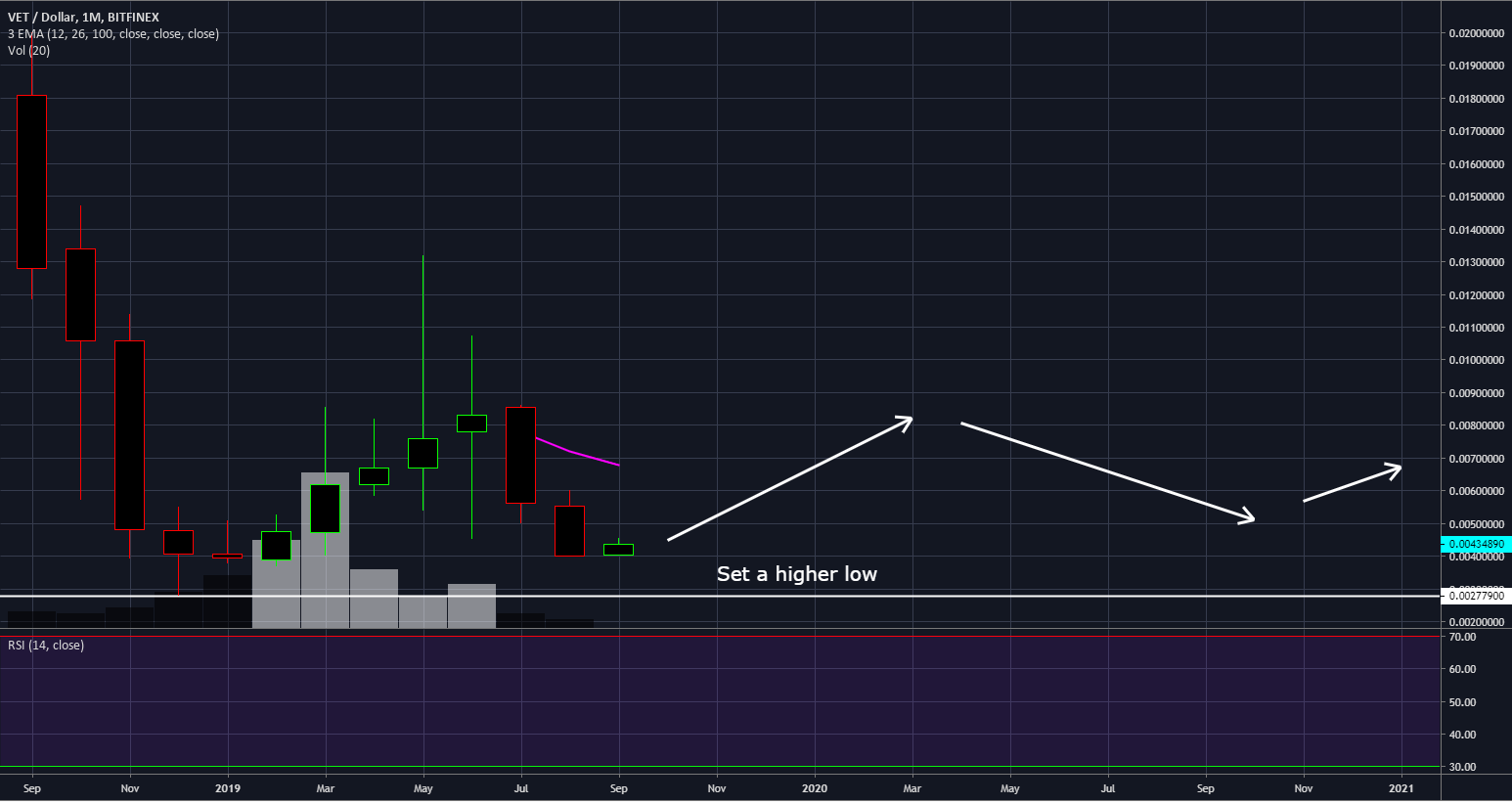 The average price by the end of 2019 is probably going to be around $0.0065
Our Prediction for 2020
Vechain, clearly has real world applications and it's currently offering solutions for a wide variety of industries like the Digital Carbon Ecosystem, Automobile, Retail, Logistics and many more.
The team is currently working on what is called 'Industry 4.0.', a collection of advanced digital technology that includes Big data and analytics, autonomous robots, simulation, horizontal and vertical system integration, the industrial internet of things, cyber-security, the cloud, additive manufacturing and augmented reality. Vechain is planning to be a stepping stone for all of these advanced technologies.
Clearly, the future for Vechain is bright if everything goes according to plan. We could easily see Vechain hit $0.01 or even break the ATH of $0.019.
Our Prediction for 2023
Vechain has been quite stable between 2018 and now. This means that in the future, a steady long-term uptrend will very likely form and VET will be able to benefit from steady and slow gains. If VET is able to break the ATH in 2020, the price for 2023 will probably be around $0.08 at an increasing rate of $0.02 per year.
Our Prediction for 2025
Using the same rate, VET would be worth around $0.12 in 2025, however, VET is more likely to blow up by then and achieve much higher prices, $0.5 or even $1 if everything went according to plan.