XRP the lagger in the crypto market finally woke up and literally exploded upwards with 25% gains in 1 day and huge volume behind it. Bulls are looking really strong and all the 5 minute dips were bought instantly with 4-5% gains within a few minutes.
The weekly time frame seems to have changed the trend but it's not as clear as the other cryptos. XRP is still somewhat of a lagger compared to most of the top cryptos. Bottom line is that we did break the resistance level on the weekly charts. The next big and very significant resistance lies at $0.466 and if we can break that, XRP will significantly change momentum for the long term.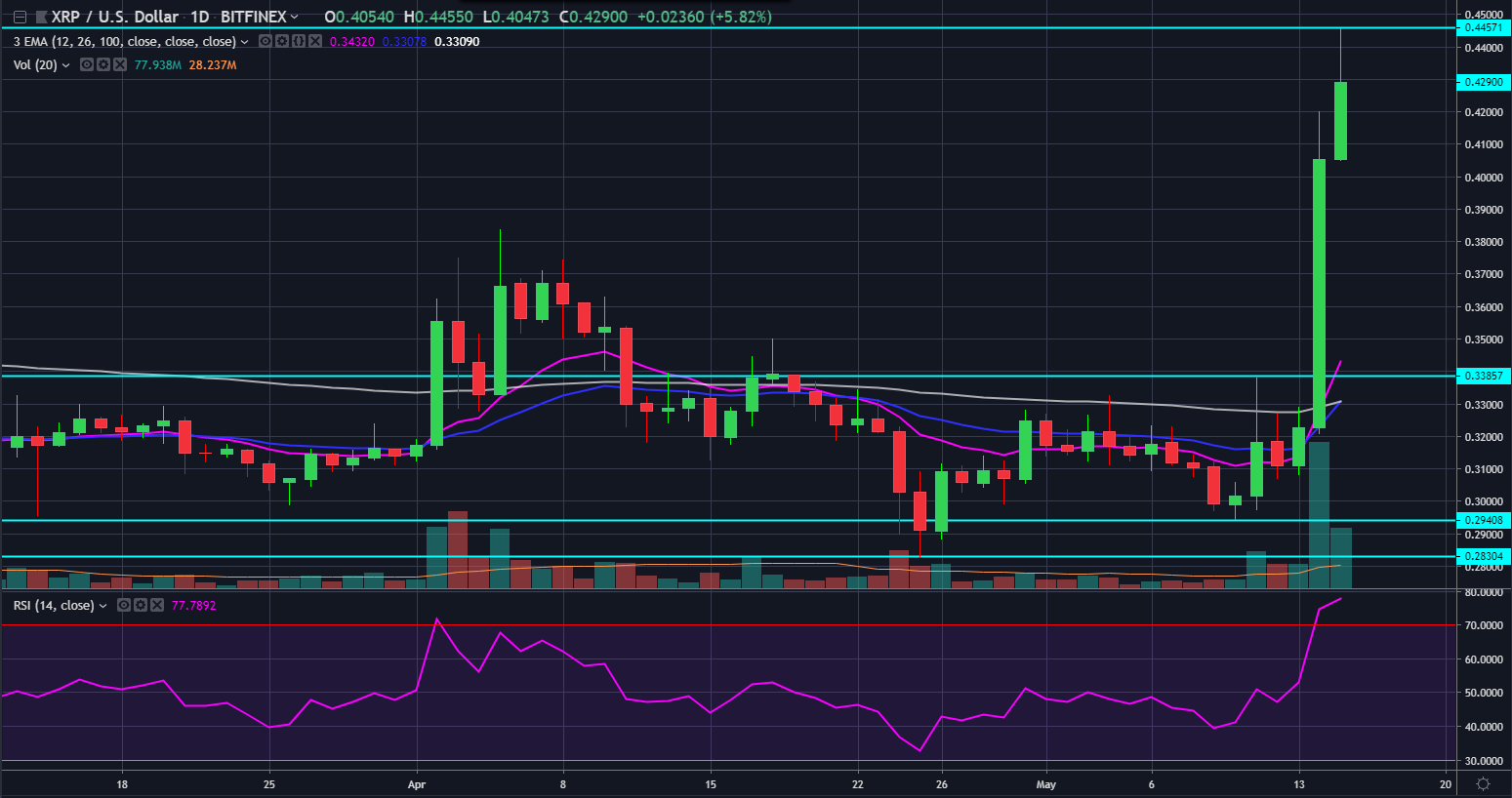 Obviously XRP looks extremely strong on the daily chart and no consolidation has happened yet. We broke multiple resistances nearby and the volume is still quite high. The 12 and 26 day EMA crossed each other and will act as a support for the next few days if we see any consolidation at all. Looking at the whole market, we haven't really started consolidating in almost any cryptocurrency and FOMO is starting to be a big factor, a lot of technical analysis is rendered useless when FOMO settles in.
The good news coming from Coinbase allowing users from New York to trade XRP definitely helped spark the bull momentum.
XRP (XRP) is now available to Coinbase users who are New York residents. New Yorkers can now log in to buy, sell, convert, send, receive, or store XRP on https://t.co/bCG11KMQ6s or using our iOS and Android apps.https://t.co/5VE1WklrWo pic.twitter.com/Zp5odgaoHs

— Coinbase (@coinbase) May 13, 2019
About Whaleagent
Whaleagent.club is the Most accurate crypto signals group in the world. We provide easy to follow educated signals that are based on Market research & Technical Analysis. Our signals are being shared to monitor our personal trades aka journey. We are trading at Bitmex, Bittrex, Binance. If you want to watch our Trades in live, simply subscribe via the website as a Premium Member.
Image Credits: TradingView